Do I need a Car Crash Attorney in Spanish?
Car accidents happen every day.  According to the Insurance Institute for Highway Safety (IIHS), in 2018 Texas had 3,305 fatal car crashes resulting in 3,642 deaths.  The National Safety Council reports that in 2019, 4.4 million people were injured seriously enough to require medical attention.  Houston is a rapidly growing city.  Consequently, there has been an huge increase in infrastructure construction as Houston widens freeways and repairs roads.  All this construction leads to more accidents as traffic patterns change. Therefore a car crash attorney in Spanish like Javier Marcos will help you with the insurance company. He will make sure they give you the right amount of money your case deserves.
Attorney Javier Marcos for car crash
Attorney Javier Marcos is a Spanish speaking crash attorney in Houston. Feel free to dial the office for your free consultation. Besides, the office is open 24 hours, just call 713.999.4444. In addition we come to you, you also get free medical care,  we all speak Spanish and you don't have to pay anything unless we win the case. Not only but also he can help you in any type of accident. Whether you need a work accident attorney, truck accident attorney, car accident attorney, bicycle accident attorney, uber or lyft accident lawyer, etc.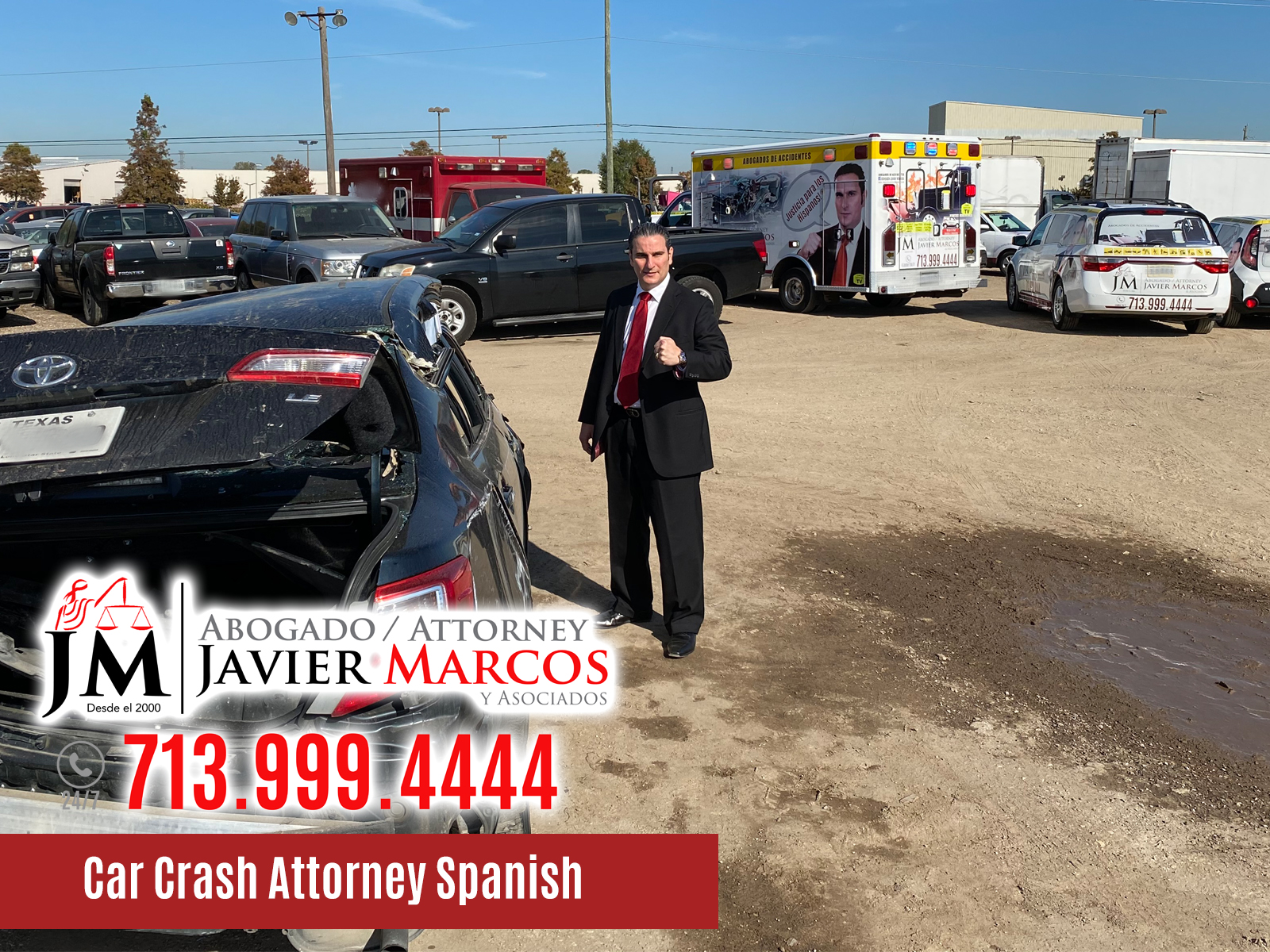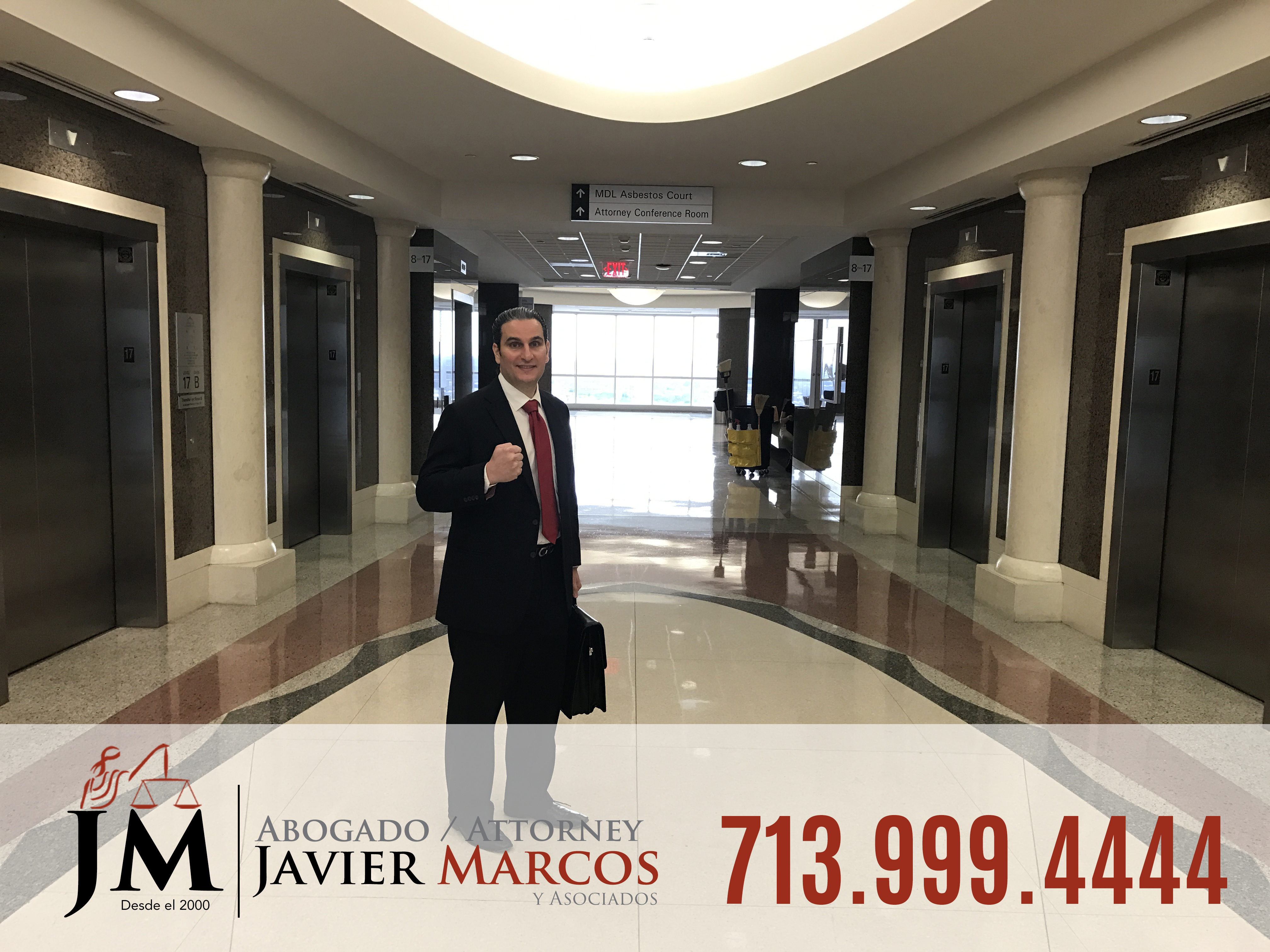 Injuries in a Crash
Injuries sustained in a car crash range from minor scratches to critical injuries that can be create disabilities for life.  Sometimes, the injury may not manifest until much longer.  Therefore it is important that you seek medical attention after any car accident that involves major damage to your vehicle.  Especially if you had air bag deployment.  Fortunately, today's modern cars and trucks have advanced systems in place to protect occupants in car crashes but whiplash and other apparent minor injuries could turn severe so a check up at a local hospital will ensure that you have a record of being professionally evaluated by a medical doctor.
es muy confiable y habla español y es muy comprometido con tus casos y es muy entregado en su trabajó
Great lawyer i recommend him
Ive had the best experience with this office! Amazing customer service! Javier Marcos really cares about ALL his clients and is the best attorney in Texas.
Es muy buen abogado. El servicio al cliente muy bueno. El abogado habla español.
There Very Professional and We've been given Exceptional services each time we use them for whatever our needs may be.. We won't use anyone but and highly recommend them for your legal services whatever it may be
Javier is a real straight shooter and works hard to get you your money. The staff are always pleasant and helpful. Highly recommended!
I recommend hiring this attorney for any personal injury matters he is a excellent attorney an his staff is very helpful and professional and caring so if you have a need for a personal injury attorney he is the man to go to, too get the most dedicated attention for your case Javier Marco's & Associates !!!
Very helpful honest lawyer. Yes I know honest and lawyer usually don't go together. Very knowledgeable in various practice areas.
Very recommended. He knows what he is doing. An attorney you can trust.
Lo recomiendo. El Abogado Javier Marcos se entiende con la gente Hispana.
El Abogado Javier Marcos es mi abogado. Siempre que quiero hablar con el esta disponible. lo recomiendo
Me parecio muy bien. Me gusta quw el abogado habla espanol. Es buena persona.
Car Crash FAQ
Question: I have been in a car crash and the person at fault has insurance.  Do I need an attorney?
Answer:  An experienced Houston car crash personal injury lawyer will work to compel insurance companies involved in your accident to properly compensate for injuries and other losses sustained.  Just letting the insurance company decide may not get you the best possible results.  There are many other issues involved for example, if the insurance company can show that you may have contributed to the accident, your claim may be reduced.  In most car crash cases involving serious injury it is the best course of action to retain an personal injury attorney with experience in car crash cases.
Question: I have been in a car crash and the other driver's insurance has offered to send me a check right away.  Do I accept it?
Answer:  No.  If you accept the payment then most likely you are agreeing to the settlement amount and agree not to seek further compensation.  Many times, the amount will be too low and may not cover all your losses.  Additionally, you may discover later that you have other losses that you did not figure in.  Insurance companies want to resolve claims quickly and at the lowest cost.  A quick offer may not take into account the full extent of injuries and losses you have incurred.  The best course of action is to talk to an attorney before accepting any compensation.  Attorney Javier Marcos offers free consultation and can help you maximize your compensation to cover all your losses.
Question: I was seriously injured in a car crash two years ago but have been too busy to hire a lawyer and sue for additional losses.  Can I still file a injury claim?
Answer:  Texas has a statute of limitations for personal injury claims is "not later than two years after the day the cause of action accrues."  This means its two years from the date the car crash that led to the injury in most cases.  There are circumstances where the two years can be extended that has to do with disability and other extenuating circumstances.  Your best course of action now is to seek the advice of an experienced personal injury attorney who can look at the merits of your case and let you know if you still have a case.
Spanish Speaking Car Crash Lawyer in Houston
That is to say  if you have been seriously injured in a car crash, seek out medical attention.  In addition, make sure that the police have been called and they will get all the pertinent information together for you in a police report. Consequently retain the services of a personal injury attorney Javier Marcos to represent your interests and use their experience to get you maximum relief for your pain and suffering. Call 24 hrs / 7 days a week at 713.999.4444.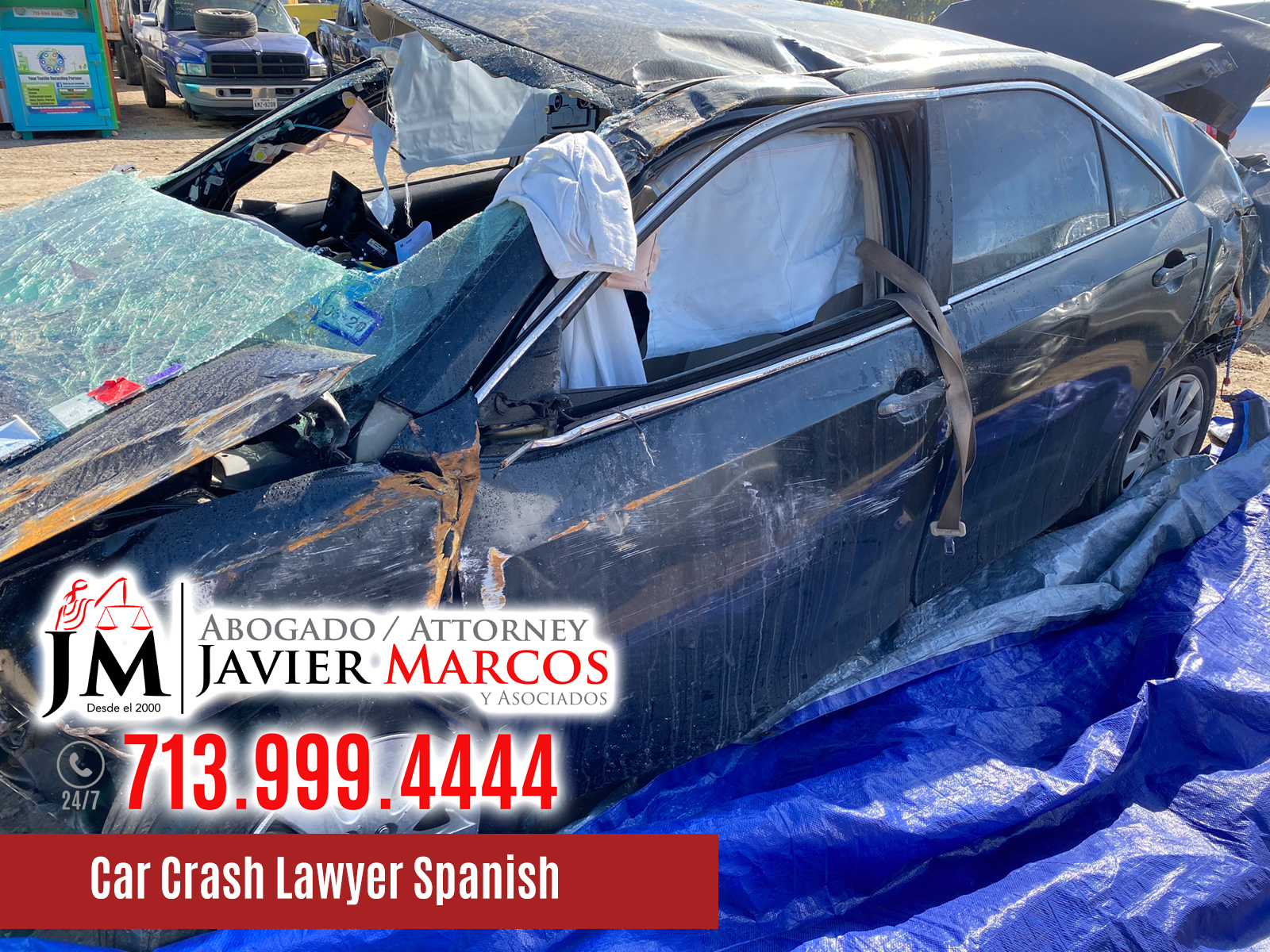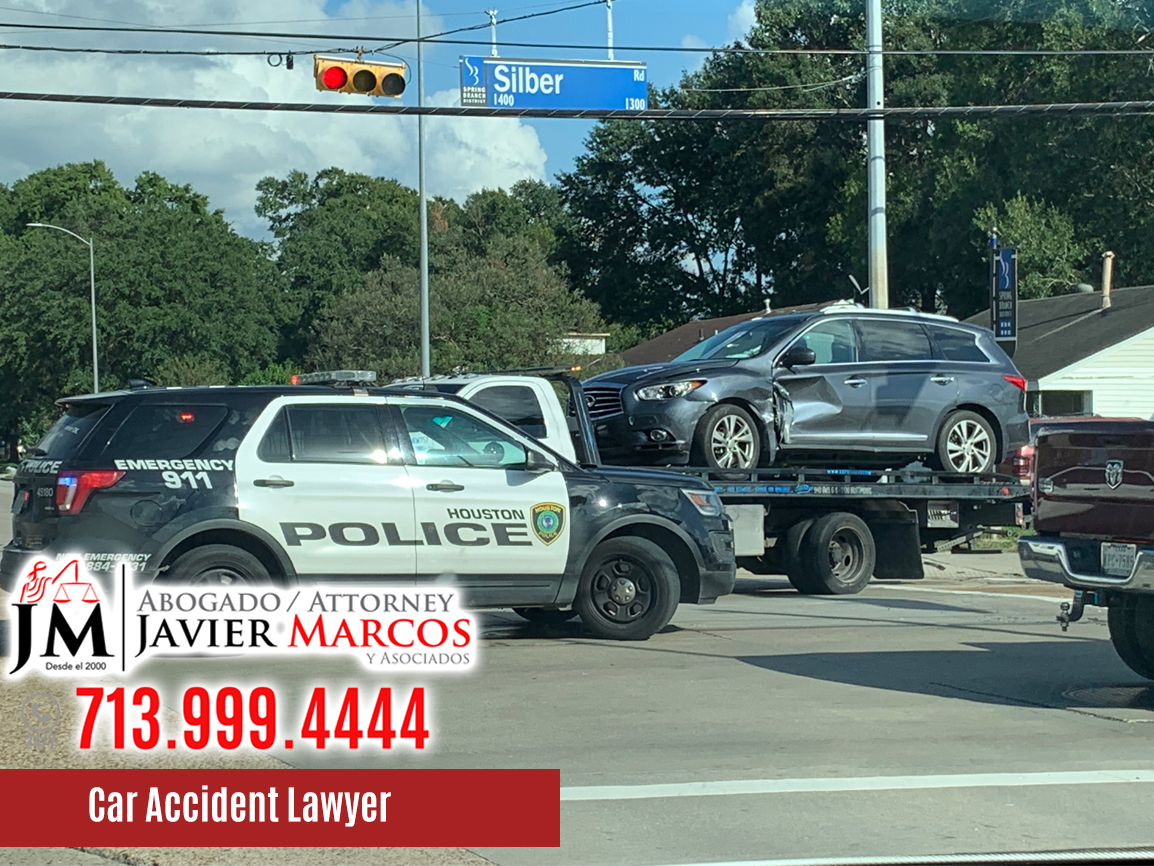 How much Compensation Can I Expect from an Auto Accident?
In many car accidents, people just let insurance adjusters take control of the situation and accept whatever is awarded.  That is why the fact is that when it comes to auto accidents, insurance adjusters are there to minimize the money that insurance companies must award.  As a result, they are here to offer you the lowest settlement possible.  This is the reason why the best course of action at the time of the car accident is to give the other party your basic contact and insurance information.  Then if you have been hurt in the accident, seek medical attention and work on getting an experienced auto accident attorney on your side.
In other words, the insurance company may contact you to offer a settlement.  It may be tempting to accept this settlement but realize that once you do, you cannot typically go back to them and ask for more if you have more out of pocket expenses.  It is very important that you consult with an auto accident attorney BEFORE you accept any settlement offer.  The personal injury attorney will assure that you are properly and fully compensated including:
Current and possible future medical treatments
Any lost wages and any possibly diminished future earnings
Pain and suffering
Punitive damages for negligence
Wrongful death damages, if applicable
Other expenses you may have incurred
If you've suffered an accident, you have a right to file a lawsuit to recover your losses, medical expenses, treatment, pain & suffering, lost wages, inability to work or function, property damages, and others. If Spanish is your first language, do not worry, Attorney Javier Marcos is fluent in Spanish and everybody in the office speaks Spanish fluently and are available 24 hrs a day, seven days a week.
It's important that you call attorney Javier Marcos as soon as possible so that you can start your medical treatment, improve your legal position, preserve evidence, and learn your rights.
Attorney Free Consultation,  receive money for your accident, its ok if you do not have any papers, we all speak Spanish, you do not have to pay anything unless we win the case, speak directly with Attorney Javier Marcos, receive medical attention at no cost, WE GO TO YOU 24 HRS. A DAY SEVEN DAYS A WEEK.  Your information is 100% confidential and we'll visit the accident site, your home, or the hospital.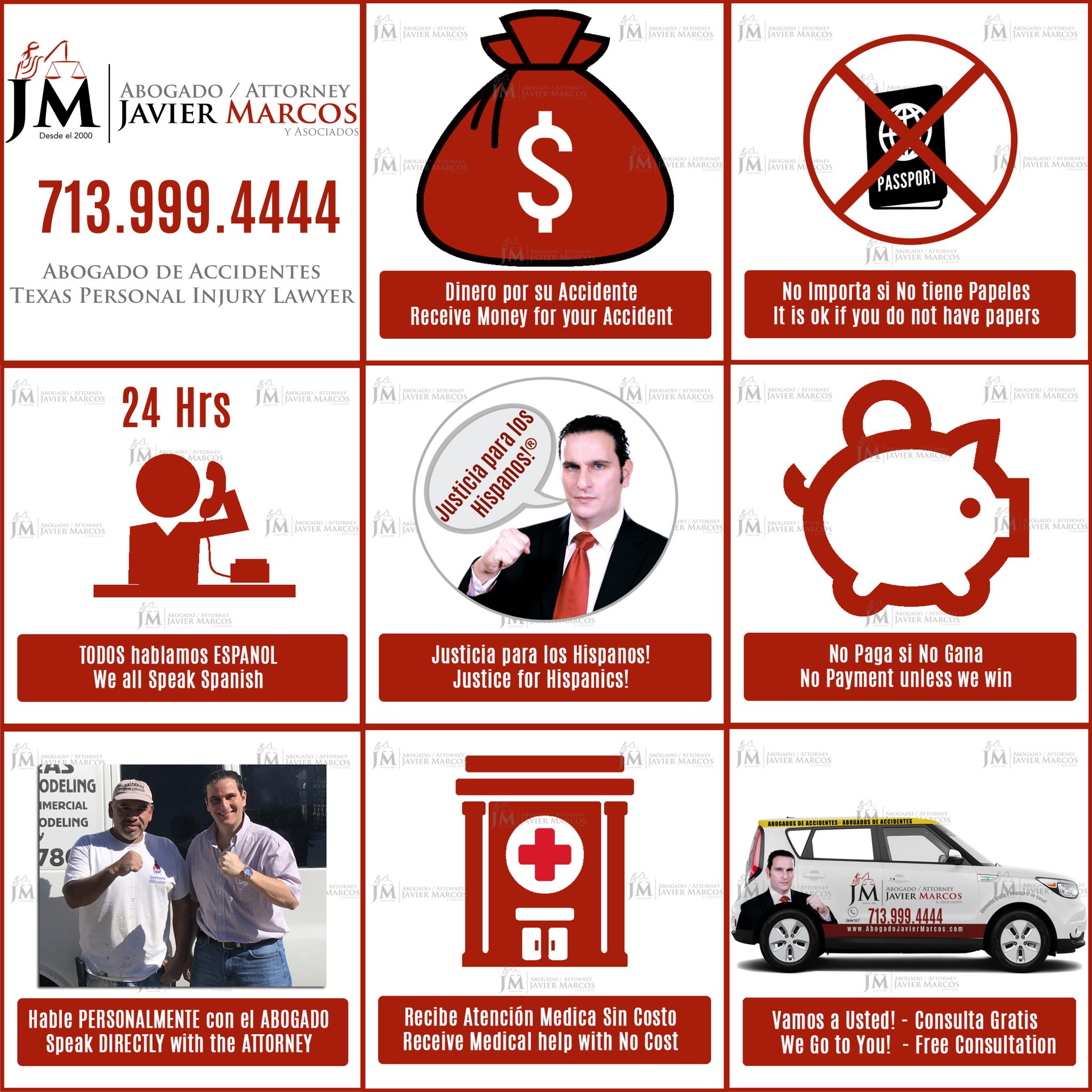 webadmin
The holiday season is finally upon us. It is time to celebrate with family and friends, attend gatherings, or head off on vacation. This also often means traveling on rain covered roads and highways with [...]
webadmin
I have had a pleasant experience with Javier Marcos. Because for your attention, for the way you work. Even the whole body, that is, the whole group here behaved excellently towards us until the end [...]
webadmin
Yes, good morning Mr. Javier. I am so happy with my case because I am done. Even being very strong and so bad and dangerous. You ended up very well with this. I am happy, [...]