What is the cost of our services for legal help with personal injury and other legal matters?
In this section, we will explore how legal fees work and how we get paid depending on the type of case you need representation for and how the case works through the system.
Personal injury attorneys work on a contingency basis.  That means you do not pay us anything up front.  We do not take a retainer payment, nor do we charge by the hour.  We get paid a percentage of the monies we win for you.  That means if we do not win, you do not pay us. 
Attorney Javier Marcos is very good at what he does.  His experience and knowledge along with the resources of his practice will ensure that you have the best representation for your injury claim.  We will deal with all the costs involved with filing your claim.  We will work hard to win your case and get you the maximum compensation you deserve.  For taking on all the costs up front, Attorney Javier Marcos will receive a percentage of the settlement of the case.  All this is explained plainly and honestly when you hire us to work for you.
What services does the office of Attorney Javier Marcos and Associates offer?
We care about our clients. We understand that we are talking to you during a difficult time in your life.
One of our main priorities is Justice for Hispanics®  Our offices are bilingual and everyone here speaks perfect Spanish and English, so there will be nothing lost to translation or nuances of the Spanish language.  We are here 24 hours a day, everyday to help you with your injury case.  Anything you tell us is 100% confidential and you pay us nothing up front.  We only get a percentage of the money we win for you.  You can visit our offices or we can come to you.  We also offer virtual, online meetings if you prefer.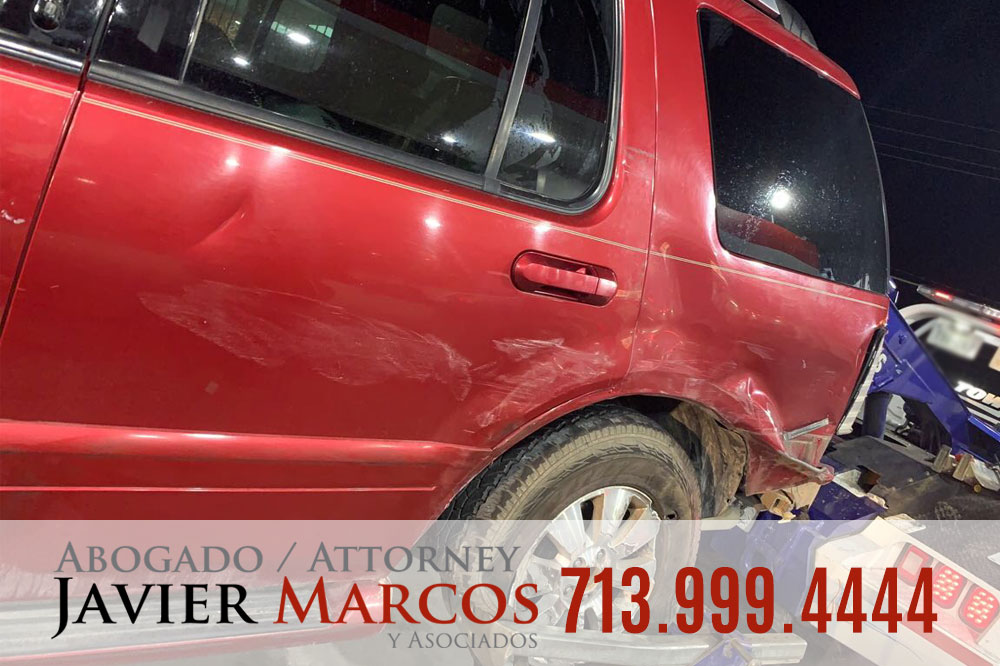 There are 2 kinds of damages
Compensation for damages:
Is a sum of money that the court awards a person for damages, losses, and injuries caused in an accident.
Pays for the injuries caused in the accident.
Covers the loss of the property that was destroyed.
Pays your debts and medical bills at the hospital.
Pays for the time you need to recover so that you can return to work.
Pays for your pain, suffering, and anxiety problems.
Is the opposite of compensation for damages.
Punitive damages punishes the person for acting outside the law.
The purpose is to compensate for inappropriate behavior and deter future behavior.
Assume a person who drives an 18 wheeler is under the influence of alcohol and is at fault for an accident with an automobile.  Also assume the Trucking company knew that the person driving the 18 wheeler had a history of alcoholism.  The person who was in the automobile files the lawsuit to recover their losses and to pay their expenses.  In addition to recovering compensation for actual losses, in this scenario, the person in the automobile can recover punitive damages from both the driver of the 18 wheeler and the Trucking company that hired that driver.
Schedule your free video or in-person consultation today. We can come to you or come by our office.
This lawyer firm is amazing. They not only fight for your rights but do it in a professional manner and recommend you the best services possible. Javier is always willing to work with you and are responsive about your case. They're additionally very kind and supportive, while it also helps the firm being bilingual helping anyone no matter the background. They will fight for your rights no matter what, and I would highly recommend. Thank you Javier Marcos for helping me and my family.
My experience with Attorney Javier Marcos is one of the best attorneys I will ever cross. In my book I think he is the best. And that is from my heart. He helped me with within 18wheeler accident. I am so happy I came to his office. I recommend him as a truck accident attorney. I have been to other attorneys and what a difference. This firm is where to go to.
By far the best Lawyers you could find, very helpful and friendly all around. Very professional and always available when you have any questions. They truly go out of their way to give you an amazing and facilitated experience throughout your case.
I experienced nothing but the best, they kept me updated on my case and if any changes they would tell me. They made sure I got the best of care when it came to medical attention too, which was great! Isabel was an amazing case manager and was always ready to answer any questions I had about my case. 10/10 would definitely recommend them to anyone in need of an attorney!
Amazing experience and they keep you up to date with everything you need! After my accident they fought deliberately for me and even got me compensation! 100% recommended 😃 Thank you Javier Marcos and Company!
I am really thankful with Javier Marcos and his team. They actually gave me more for my case than I thought! They are really nice and the best law firm team in Houston. Thank you so much for your service and will recommend for any family who just had a car accident! Thank you so much one more time!
Javier Marcos 45 North Freeway
10700 North Fwy
Houston, TX 77037
Phone: (713) 999-4444
228 Westheimer Rd
Houston, TX 77006
Phone: (713) 999-4444