Burn Injury Attorney
A burn injury attorney will help you receive compensation for your injuries. A burn at work can occur by various reasons. Such as accidents, by negligence of the workplace, by being exposed to dangerous chemicals, radiation, building fires, gases, smoke inhalation, electrocution or by working at a construction site.
A burn is a tissue injury. It can cause swelling, blisters, scars and in the worst cases shock and even death. Burns are classified as first, second and third grade. According to how deep and the severity which they penetrate the skin.
Attorney Javier Marcos
What to do in case of severe burns?
Calm down and go to a safe place, loosen your clothes to breathe better, call 911 for medical help, if you have sterile gauze wrap the affected part separately and without applying any type of ointment, do not touch or poke the blisters, then call Attorney Javier Marcos to help you with your burn case.
Attorney Javier Marcos is an accident lawyer who is ready to help you. He has more than 20 years of experience. And will help you receive the maximum compensation. Do not call insurance, call the lawyer, he will talk to them.
Español: Abogado de Quemaduras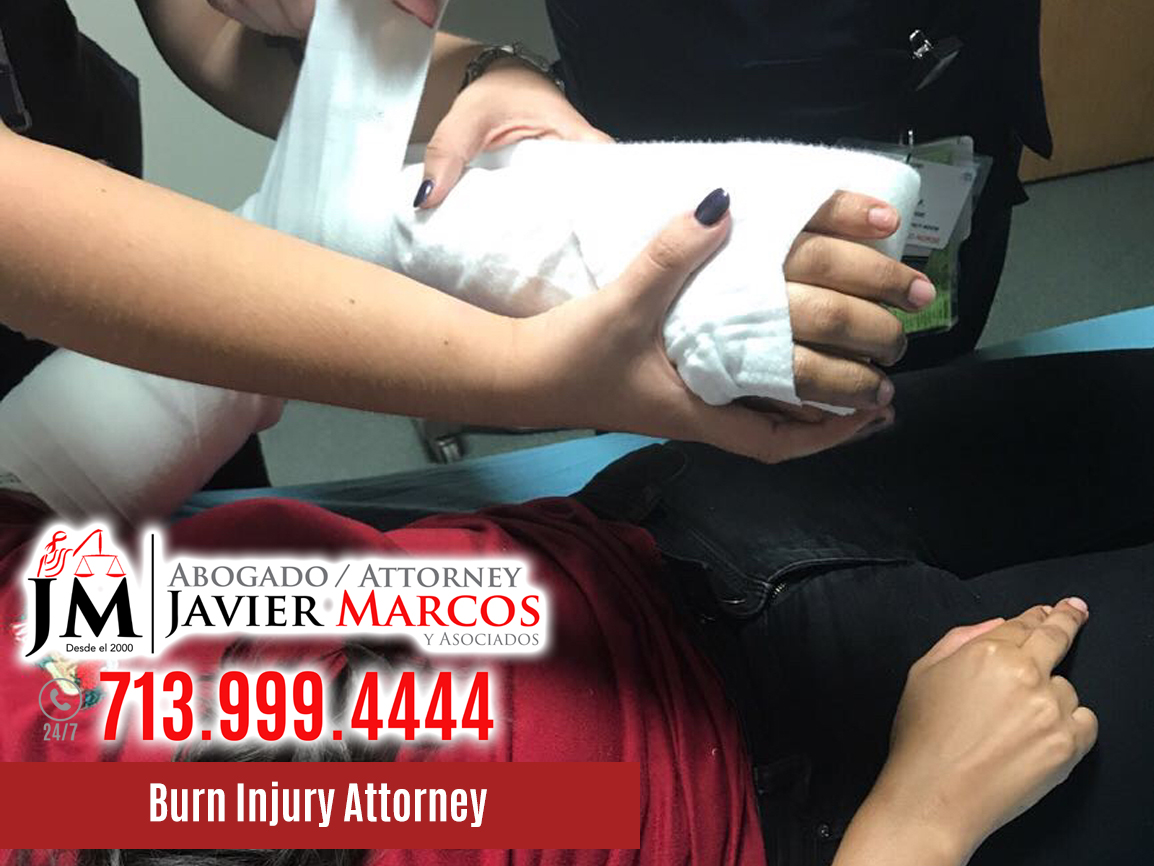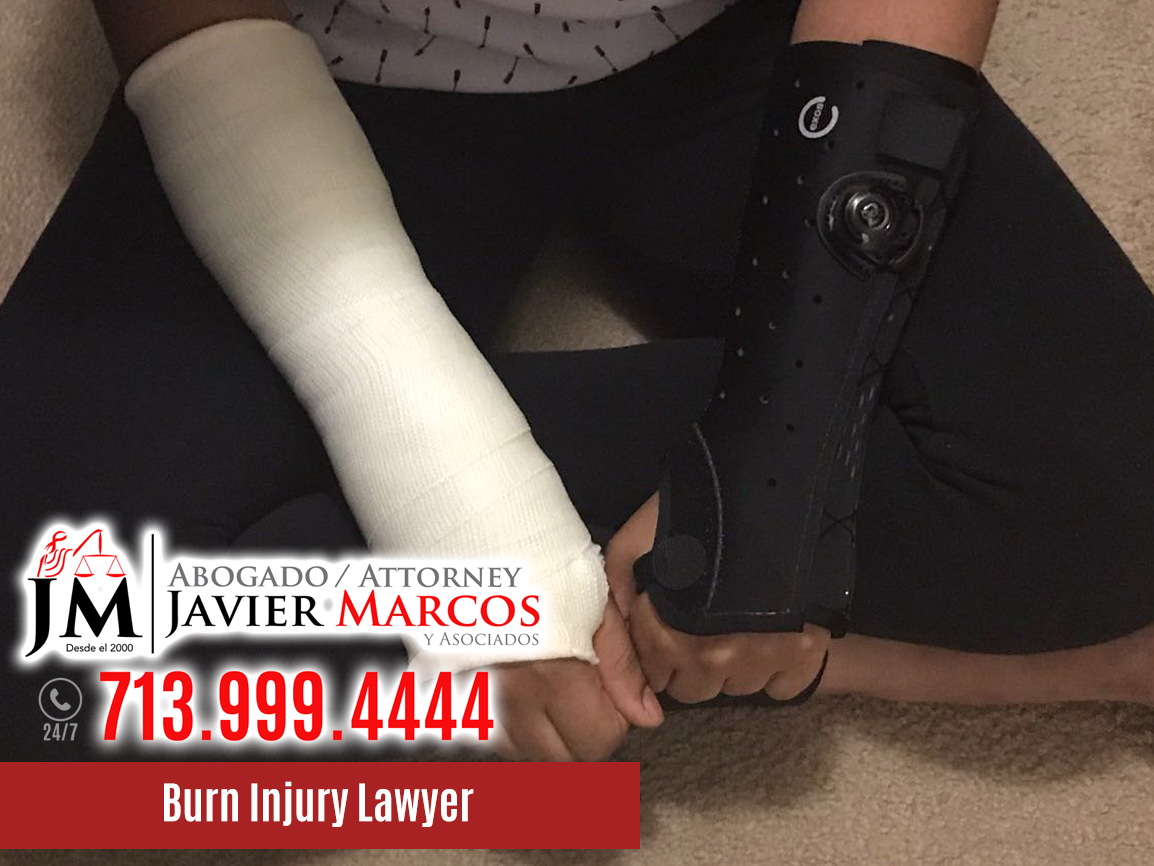 Types of burns
First degree burns damage only the outer layer of the skin. They are characterized by a reddening of the skin that hurts on contact. The most common are when the person has been exposed to the sun a lot, especially in summer.
Second degree burns damage the outer layer of the skin and the one below it. It is characterized by the appearance of blisters. Blisters are a defense system against sunburn. They protect against infections and with the liquid they contain, they hydrate the wound and help healing. They are painful. Blisters can be caused by very hot water, flames, among other factors.
And third-degree burns, damage or destroy the deepest layer of skin and the tissues under them. You can see the charred tissue. The nerves responsible for transmitting pain are destroyed, some say that third-degree burns do not hurt.
How to treat first degree burns
First degree burns are common, and many can be treated at home unlike those in second or third grade. But even so, they can hurt a lot to even leave a scar if not treated properly.
We recommend you do the following in case of first-degree burns:
Cool or place the affected part under running water.
Use petroleum jelly
Cover the burn. Cover the affected area with a clean bandage so that it does not stick.
Protect sunburn to minimize scar.
es muy confiable y habla español y es muy comprometido con tus casos y es muy entregado en su trabajó
Great lawyer i recommend him
Ive had the best experience with this office! Amazing customer service! Javier Marcos really cares about ALL his clients and is the best attorney in Texas.
Es muy buen abogado. El servicio al cliente muy bueno. El abogado habla español.
There Very Professional and We've been given Exceptional services each time we use them for whatever our needs may be.. We won't use anyone but and highly recommend them for your legal services whatever it may be
Javier is a real straight shooter and works hard to get you your money. The staff are always pleasant and helpful. Highly recommended!
I recommend hiring this attorney for any personal injury matters he is a excellent attorney an his staff is very helpful and professional and caring so if you have a need for a personal injury attorney he is the man to go to, too get the most dedicated attention for your case Javier Marco's & Associates !!!
Very helpful honest lawyer. Yes I know honest and lawyer usually don't go together. Very knowledgeable in various practice areas.
Very recommended. He knows what he is doing. An attorney you can trust.
Lo recomiendo. El Abogado Javier Marcos se entiende con la gente Hispana.
El Abogado Javier Marcos es mi abogado. Siempre que quiero hablar con el esta disponible. lo recomiendo
Me parecio muy bien. Me gusta quw el abogado habla espanol. Es buena persona.
If you've suffered an accident, you have a right to file a lawsuit to recover your losses, medical expenses, treatment, pain & suffering, lost wages, inability to work or function, property damages, and others. If Spanish is your first language, do not worry, Attorney Javier Marcos is fluent in Spanish and everybody in the office speaks Spanish fluently and are available 24 hrs a day, seven days a week.
It's important that you call attorney Javier Marcos as soon as possible so that you can start your medical treatment, improve your legal position, preserve evidence, and learn your rights.
Attorney Free Consultation,  receive money for your accident, its ok if you do not have any papers, we all speak Spanish, you do not have to pay anything unless we win the case, speak directly with Attorney Javier Marcos, receive medical attention at no cost, WE GO TO YOU 24 HRS. A DAY SEVEN DAYS A WEEK.  Your information is 100% confidential and we'll visit the accident site, your home, or the hospital.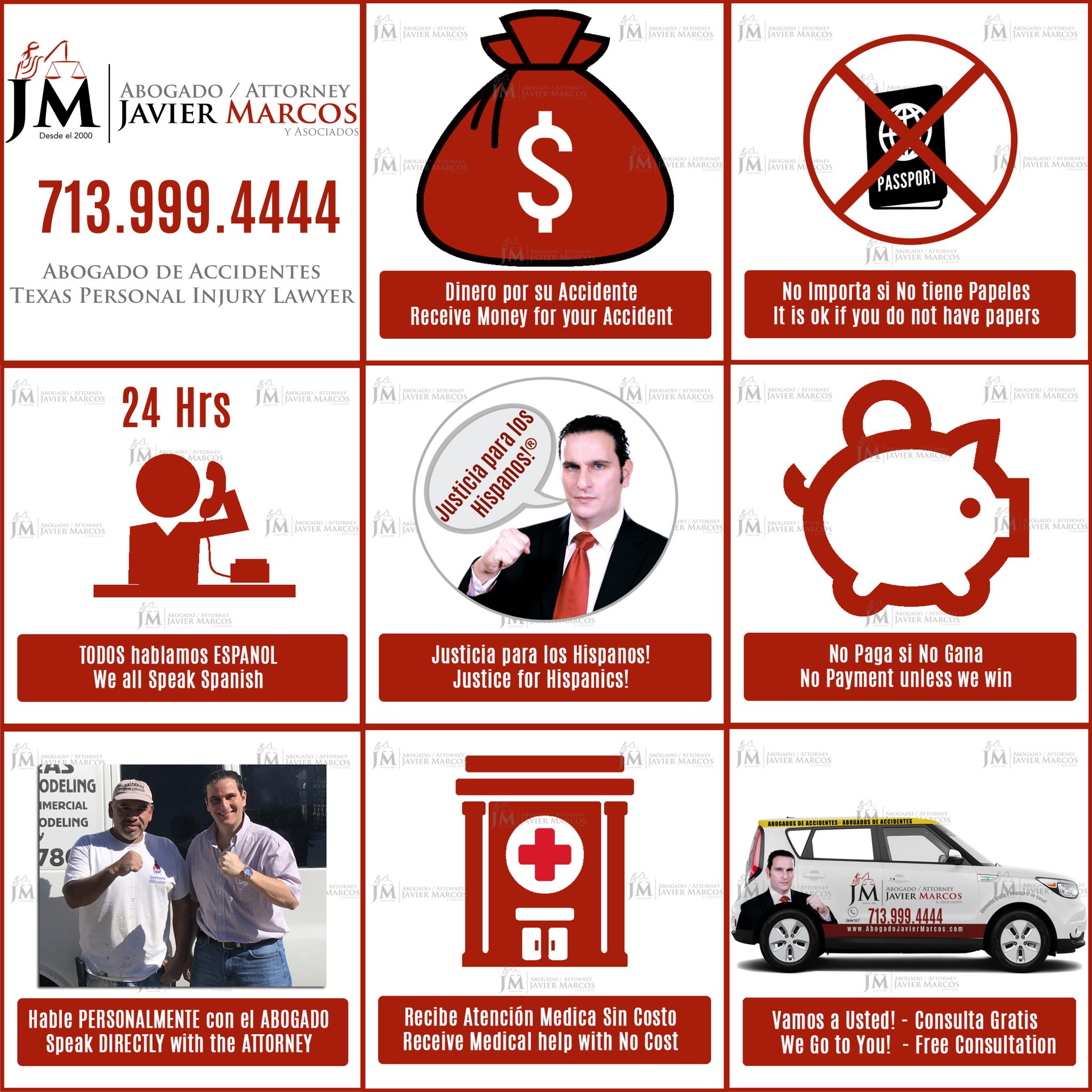 webadmin
Motorcycle accidents are a lot more common that one may think. In fact, according to the statistics by National Highway Traffic Safety Administration (NHTSA), motorcycle riders are 27 times more likely to die in a [...]
webadmin
Houston is the 4th largest city in the United States and every day there are truck accidents. The sad thing about this is that the drivers behind the wheel are not being properly trained by [...]
webadmin
The COVID-19 pandemic has caused drastic changes around the world, and Uber is no different. With the lockdown being lifted, and normal life being resumed. Uber has announced a set of safety measures that would [...]