Spanish Speaking Attorney
Why a Spanish Speaking Attorney is better for Hispanic Clients
Attorney Javier Marcos is a 1st generation American whose parents are Mexican immigrants.  He speaks Spanish and English fluently but Spanish is his primary language.  When it comes to speech, it is very important that nuances and minor details do not get lost in the translation.  Additionally, some translations although literally correct may be understood differently to the person listening.  That is why it is very important in law suits and legal cases that the lawyer and client perfectly understand each other.  A Spanish speaking attorney will be able to fully understand what his Hispanic client is trying to say and be able to help them get the best legal representation.
Javier Marcos is a Spanish Speaking Attorney
Attorney Javier Marcos is a personal injury lawyer in Houston that speaks Spanish.  His motto is Justice for Hispanics®.  He has spent his entire career helping people that have been seriously injured in many types of accidents and negligence such as car accidents, work accidents, motorcycle accidents, accidents involving 18-wheelers and commercial vehicles and much more.  Working with an attorney that speaks Spanish as their first language builds trust, avoids misunderstandings and he can sympathize with the problems that Hispanics face on a day to day basis.  It is very important that Attorney Javier Marcos gets started on your case as soon as possible to get the best results.  If you have been seriously injured call Attorney Javier Marcos today!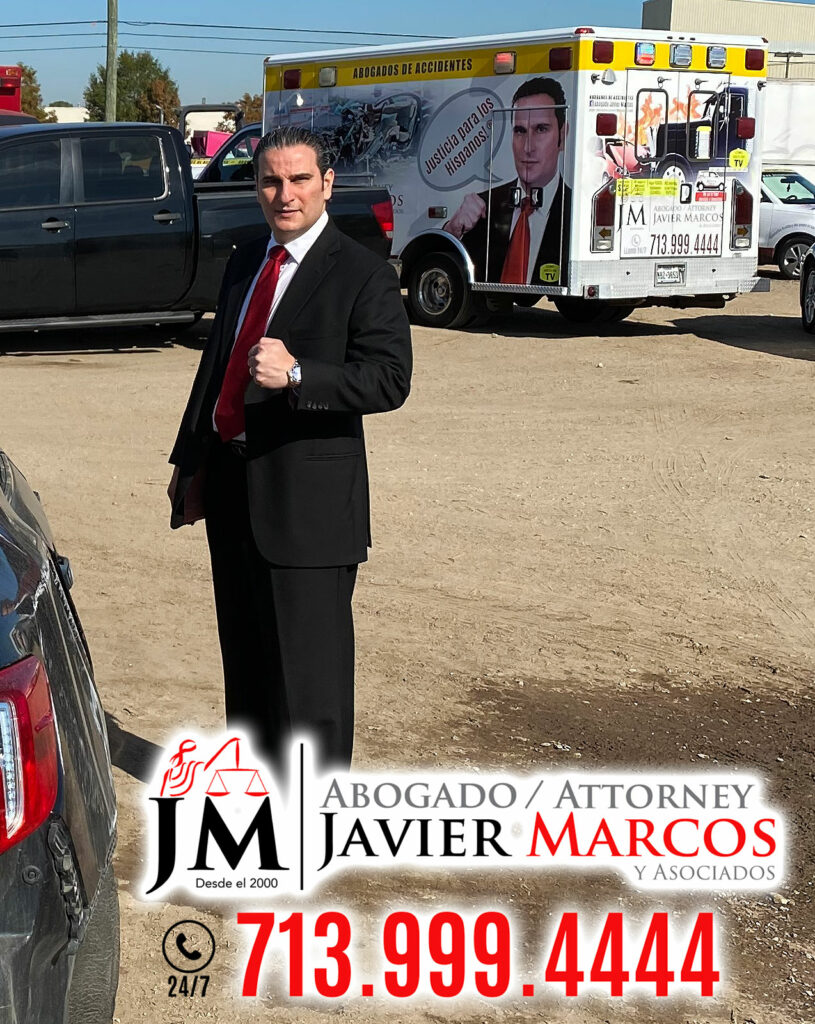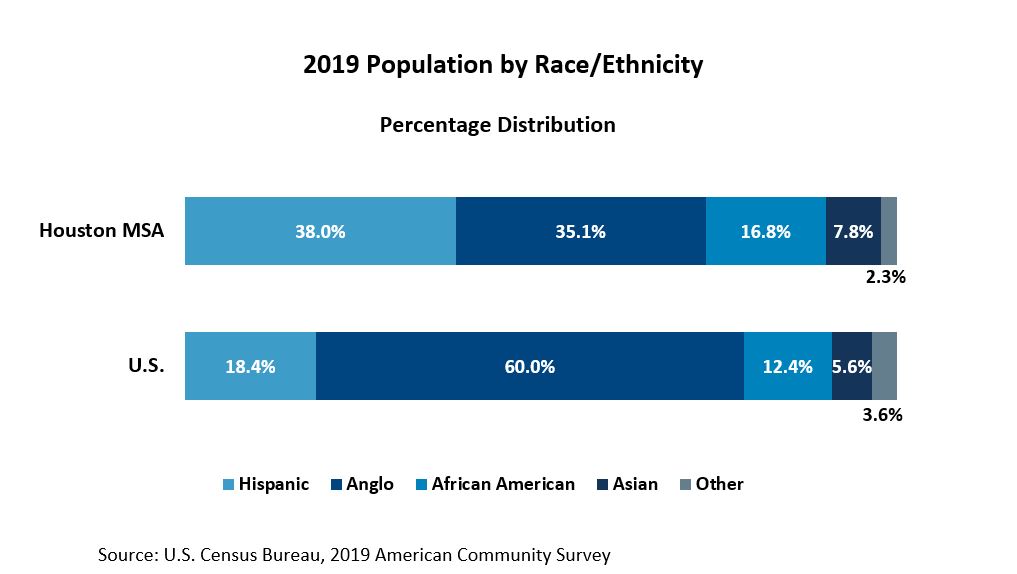 Houston is home to the 4th largest Latino population in the United States
According to the Greater Houston Partnership, Houston has the 4th largest Hispanic population in the U.S. with over 2.7 million Hispanics in 2019.  Even though the Spanish-speaking population represents over 38% of the total population, Hispanics do not have access to as much legal representation as the English speaking population.  Attorney Javier Marcos is dedicated to the ideal of Justice for Hispanics™ and will fight for your rights whether it involves an auto accident or injury at work or bad medical treatment.  Attorney Javier Marcos knows well the concerns and issues that Hispanics face.  He understands that being a Spanish speaking attorney helps him better understand his clients and what they want.
Many Spanish-speaking Victims Never File A Claim
It is an unfortunate situation that many Hispanics do not file personal injury claims.  They feel they may be misunderstood or may not get the justice they deserve.  Language is never a barrier with Attorney Javier Marcos.  Everyone in his office speaks Spanish and for many it is their native language. 
Attorney Javier Marcos understands the Hispanic population in Houston and will help as much as possible to provide the best legal representation.  He has the knowledge, resources and experience to provide aggressive legal representation in all personal injury cases.  It is very important that personal injury cases are files as soon as possible to give you the best chances of success.  If you or a loved one has been seriously injured in an accident or at work, contact Attorney Javier Marcos today!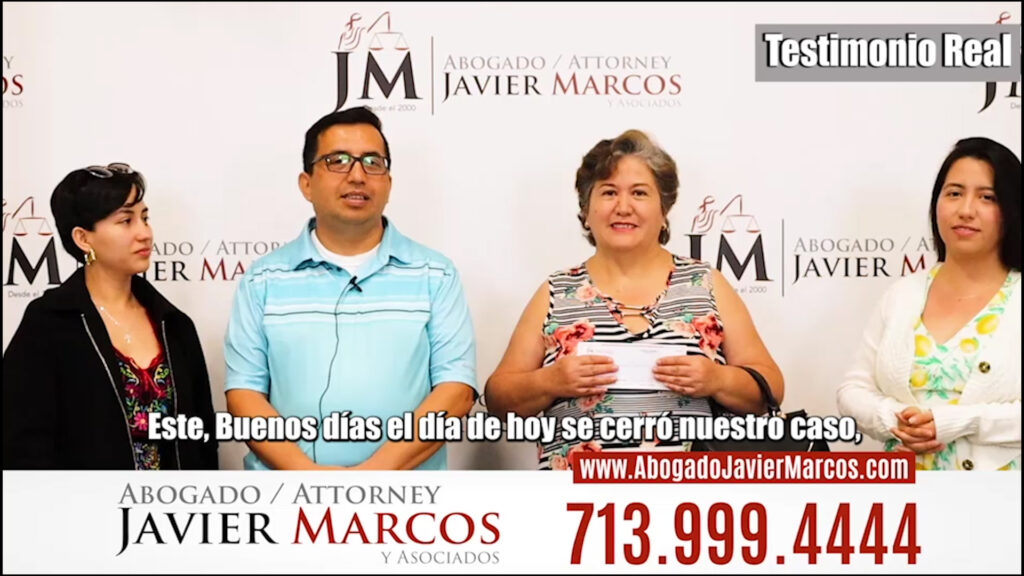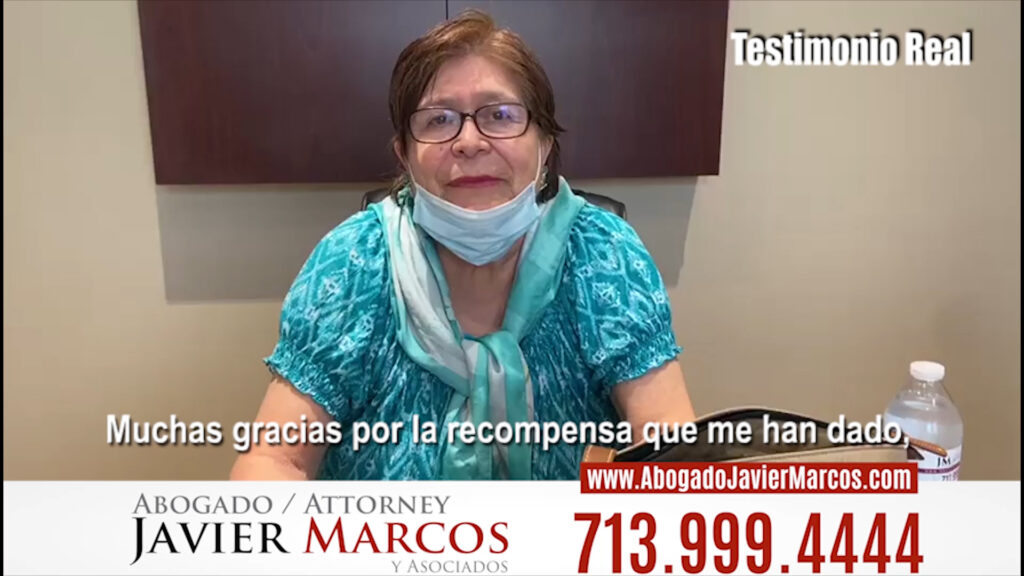 Call an Attorney that speaks Spanish | Attorney Javier Marcos
If you've suffered an accident, you have a right to file a lawsuit to recover your losses, medical expenses, treatment, pain & suffering, lost wages, inability to work or function, property damages, and others. If Spanish is your first language, do not worry, Attorney Javier Marcos is fluent in Spanish and everybody in the office speaks Spanish fluently and are available 24 hrs a day, seven days a week.
It's important that you call attorney Javier Marcos as soon as possible so that you can start your medical treatment, improve your legal position, preserve evidence, and learn your rights.
Attorney Free Consultation,  receive money for your accident, its ok if you do not have any papers, we all speak Spanish, you do not have to pay anything unless we win the case, speak directly with Attorney Javier Marcos, receive medical attention at no cost, WE GO TO YOU 24 HRS. A DAY SEVEN DAYS A WEEK.  Your information is 100% confidential and we'll visit the accident site, your home, or the hospital.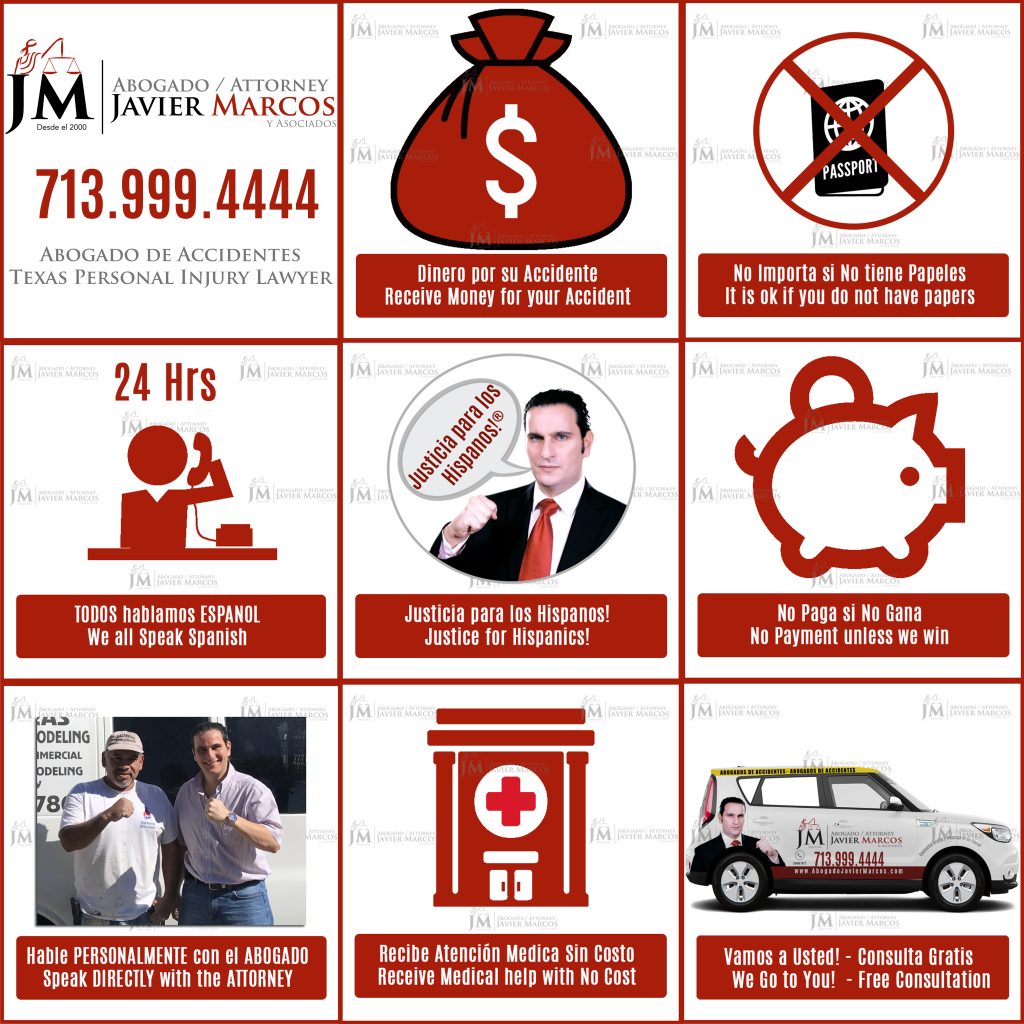 Schedule your free video or in-person consultation today. We can come to you or come by our office.
This lawyer firm is amazing. They not only fight for your rights but do it in a professional manner and recommend you the best services possible. Javier is always willing to work with you and are responsive about your case. They're additionally very kind and supportive, while it also helps the firm being bilingual helping anyone no matter the background. They will fight for your rights no matter what, and I would highly recommend. Thank you Javier Marcos for helping me and my family.
My experience with Attorney Javier Marcos is one of the best attorneys I will ever cross. In my book I think he is the best. And that is from my heart. He helped me with within 18wheeler accident. I am so happy I came to his office. I recommend him as a truck accident attorney. I have been to other attorneys and what a difference. This firm is where to go to.
By far the best Lawyers you could find, very helpful and friendly all around. Very professional and always available when you have any questions. They truly go out of their way to give you an amazing and facilitated experience throughout your case.
I experienced nothing but the best, they kept me updated on my case and if any changes they would tell me. They made sure I got the best of care when it came to medical attention too, which was great! Isabel was an amazing case manager and was always ready to answer any questions I had about my case. 10/10 would definitely recommend them to anyone in need of an attorney!
Amazing experience and they keep you up to date with everything you need! After my accident they fought deliberately for me and even got me compensation! 100% recommended 😃 Thank you Javier Marcos and Company!
I am really thankful with Javier Marcos and his team. They actually gave me more for my case than I thought! They are really nice and the best law firm team in Houston. Thank you so much for your service and will recommend for any family who just had a car accident! Thank you so much one more time!
Javier Marcos 45 North Freeway
10700 North Fwy
Houston, TX 77037
Phone: (713) 999-4444
228 Westheimer Rd
Houston, TX 77006
Phone: (713) 999-4444
Schedule your free video or in-person consultation today. We can come to you or come by our office.