Hispanic Pedestrian Accident Attorney in Houston Texas
In the metro areas as well as busy suburban areas, accidents involving pedestrians seems to be on the rise.
Accidents involving motor vehicles and people walking almost always results in some sort of injury and many times can cause serious injuries that can lead to long term or permanent disabilities.  According to this article from Texas Department of Transportation (TxDOT), pedestrian deaths are on still on the rise and now account for 1 out of 5 of all traffic fatalities.  In 2019, there were nearly 6,000 traffic accidents in Texas involving pedestrians resulting in 669 deaths and over 1,300 seriously injured.  This is a 5% increase from 2018.  One of the main reasons for this dramatic increase in pedestrian accidents is distracted drivers and distracted pedestrians as people are constantly on their phones and not paying enough attention to the roads.
Attorney Javier Marcos and your pedestrian accident claim
Attorney Javier Marcos is an experienced personal injury attorney with over 20 years helping victims of accidents and injuries caused by the negligence of others.  Javier is fluent in Spanish and English, helping thousands of clients in all types of injury cases.  When it comes to pedestrian accidents, he is very knowledgeable in Texas traffic laws and issues of right of way.  His office will come to you to get the information he needs to represent you and get you the compensation you deserve.  The consultation is free and you pay no money out of pocket.  Attorney Javier Marcos only gets paid if he wins your case.  If you or a loved one has been seriously injured due to a pedestrian accident, contact Attorney Javier Marcos 24 hours a day, seven days a week at 713.999.4444 to get started with you case.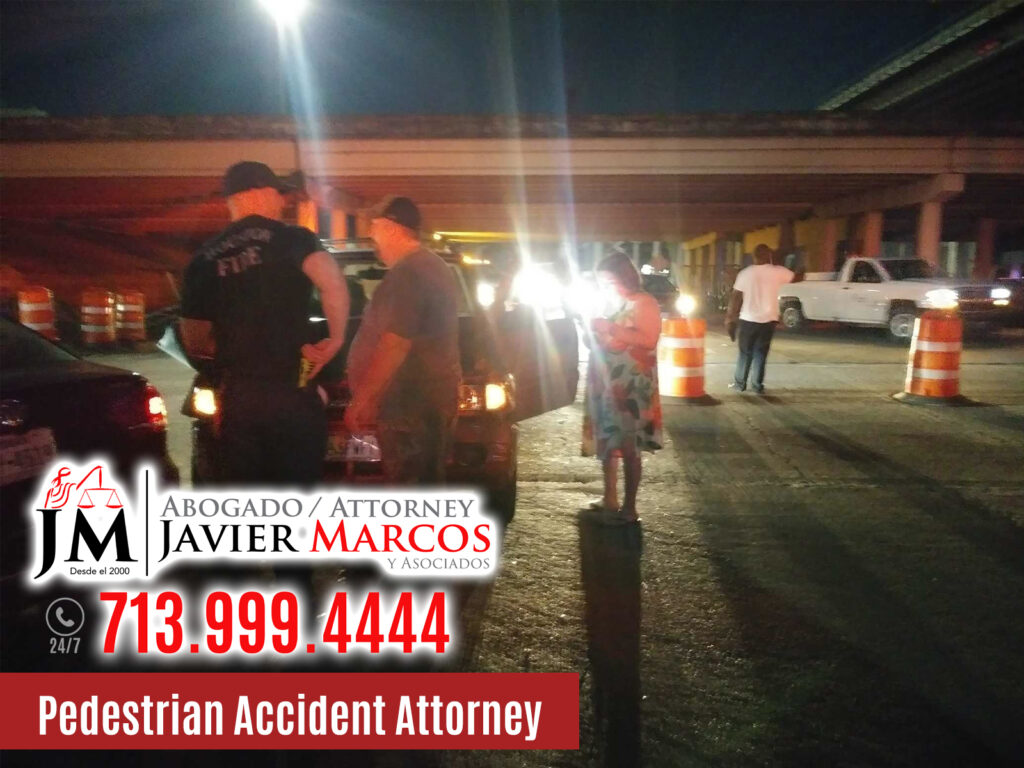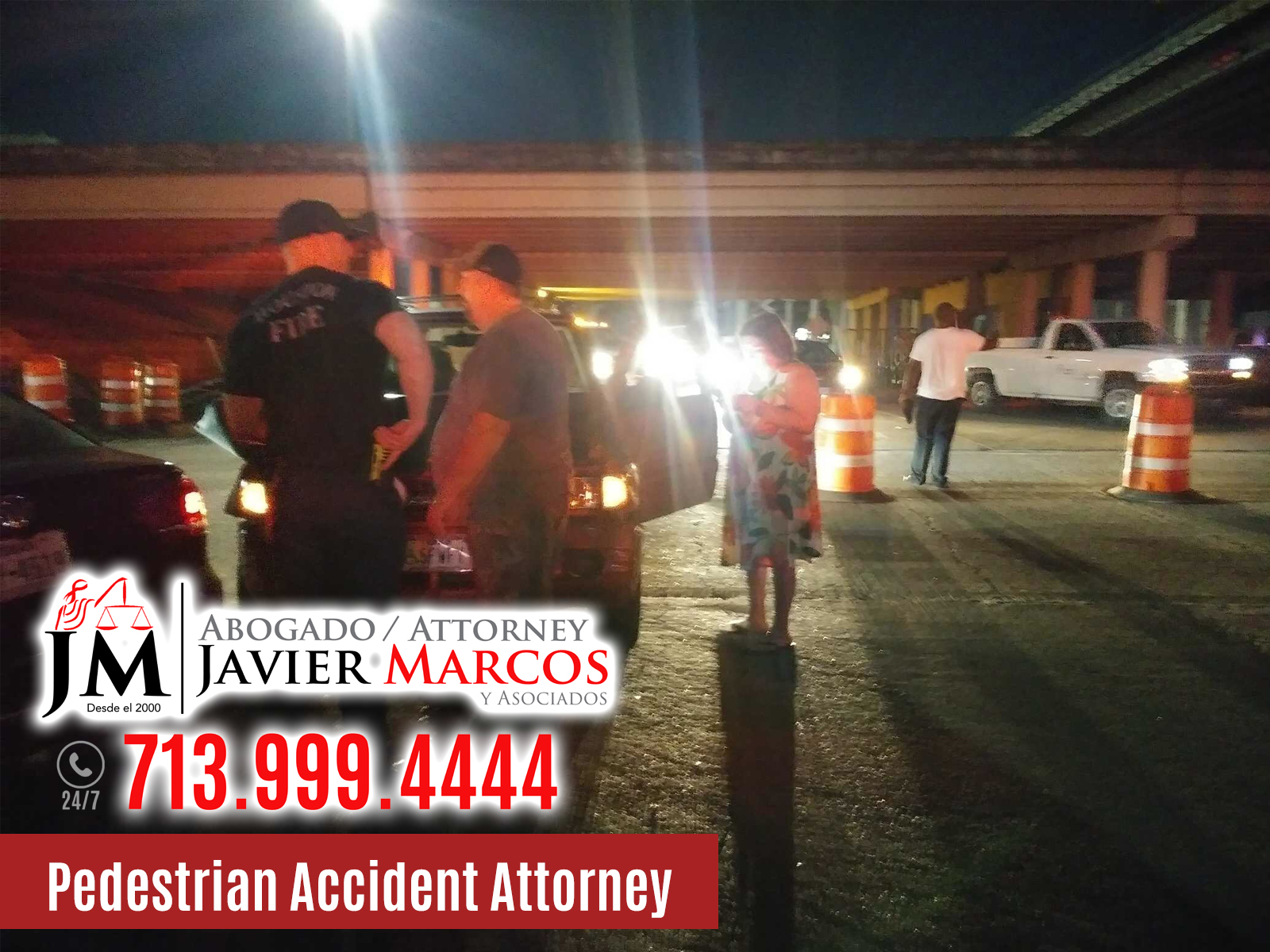 Why hire a Houston pedestrian accident lawyer?
Pedestrians usually have the right of way and it is the duty of drivers to always be aware of people crossing streets.  The Texas Transportation Code spells out specifically when pedestrians have the right of way.  If you have been injured, it is always a good idea to hire a local Houston personal injury attorney like Javier Marcos to represent your case for many reasons.  First of all, experience matters and Attorney Javier Marcos has over 20 years experience in Houston representing clients in all sorts of injury accidents.  He knows how to handle insurance companies that are trying to minimize the amount of compensation they will award.  It is proven that people who have an attorney representing them collect on average over 3.5 times more settlement compensation. 
Secondly, if you have been seriously injured, you may not be in a position to give the case enough attention to get all the compensation you deserve.  Attorney Javier Marcos will take into account all your losses as well as potential for long term or permanent disabilities.  In addition, an experienced attorney may find other parties that may have contributed to your accident that could increase the amount of compensation.
When it comes to pedestrian accidents that cause serious injuries, an experienced and knowledgeable local Houston lawyer like Attorney Javier Marcos can really help in maximizing your settlement compensation on your road to recovery.
How much does a pedestrian accident lawyer cost?
Personal injury attorneys work on a contingency basis.  You do not pay them one cent out of pocket.  Personal injury attorneys only get paid when they win your case and you are awarded compensation.
Free consultations 24 hrs.
You don't pay if you don't win the case.
Don't charge by the hour.
Don't require a retainer.
Payment to the car accident lawyer happens once the case completed.
The payment is a percentage of the monies recovered.
For more information about our costs and services when involved in a car accident, do click in Our costs page.
In what ways can a pedestrian accident lawyer help?
Investigation of your pedestrian accident claim
Once you hire Attorney Javier Marcos, his team will investigate your case.  He will get the crash report from the local police department, gather witness statements, go to the accident scene and take photos and notes about the conditions.  Information about the other drivers will be collected as well as insurance information.  He will collect all direct costs such as medical bills and other direct costs to you.
Negotiating on your behalf
This is one area that makes a difference when it comes to personal injury attorney.  Javier Marcos is an excellent negotiator with decades of experience dealing with insurance companies.  He will make sure that you get maximum compensation for your injuries and losses by taking into account all losses you incurred such as loss of work, long term issues, pain and suffering, loss of quality of life.  You can be assured that Attorney Javier Marcos knows what to go after when it comes to negotiating your settlement compensation.
Representation in court
In the event that a settlement cannot be reached, Attorney Javier Marcos is well prepared to take your case to court.  He knows all the processes and procedures that must be followed to successfully work your case.  Having an experienced personal injury lawyer like Attorney Javier Marcos by your side means you will get the best possible representation, thereby saving you the hassle of dealing with all the legalities and pressures that come with fighting a claim.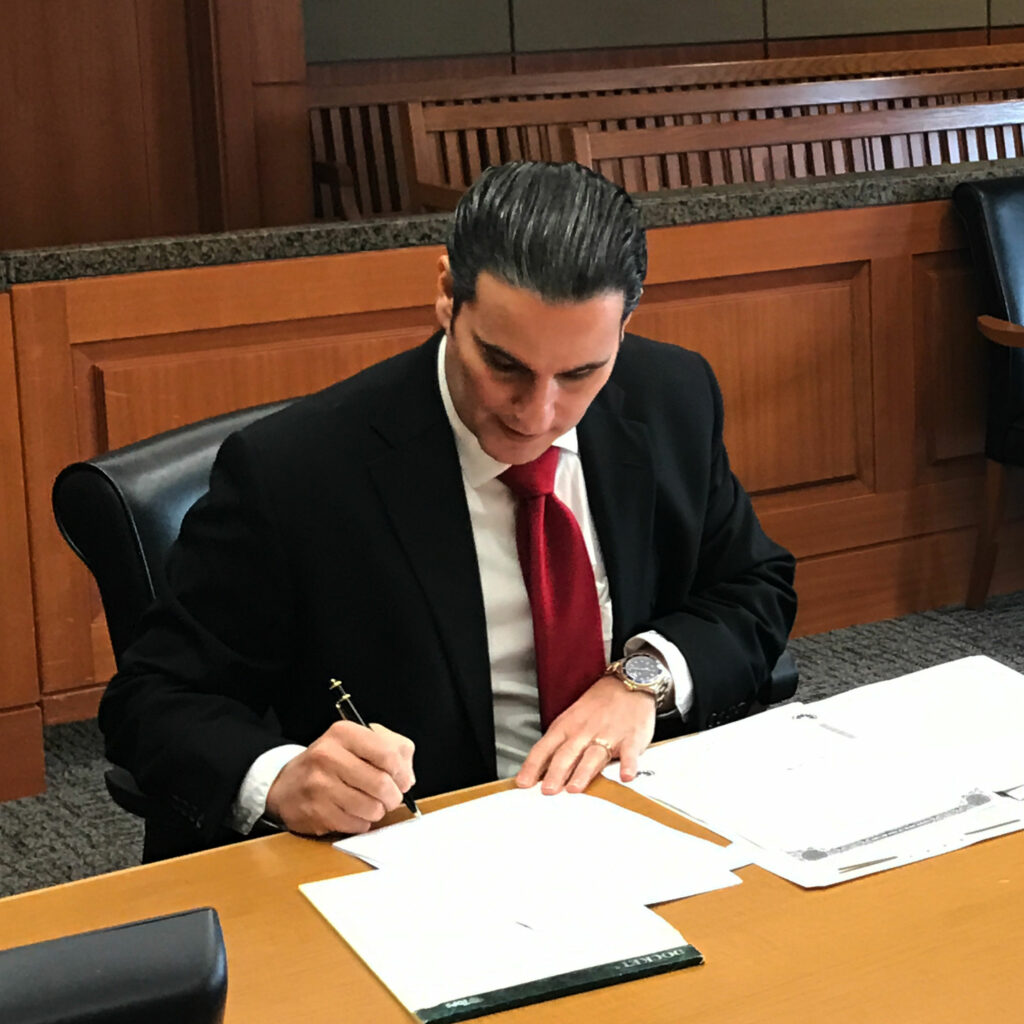 What are Common Causes of Pedestrian Accidents in Houston?
According to TxDOT, the most common cause of pedestrian accidents is distracted drivers and pedestrians.  Whether they are on their phones, talking with other people, distracted drivers especially leads to pedestrian accidents.  Other factors include construction sites in intersections that make it hard to determine when and where people maybe crossing the road and change traffic patterns.
Either way, according to the Texas Transportation code, pedestrians typically have the right of way and it is the responsibility of drivers to carefully navigate streets that have lots of pedestrians.  Pedestrian accidents have been increasing for many years.  So much so that the state of Texas has started social media campaigns to help stem the deaths and serious injuries caused by pedestrian accidents.  Remember: Drivers in Texas must always exercise "due care" to avoid hitting pedestrians.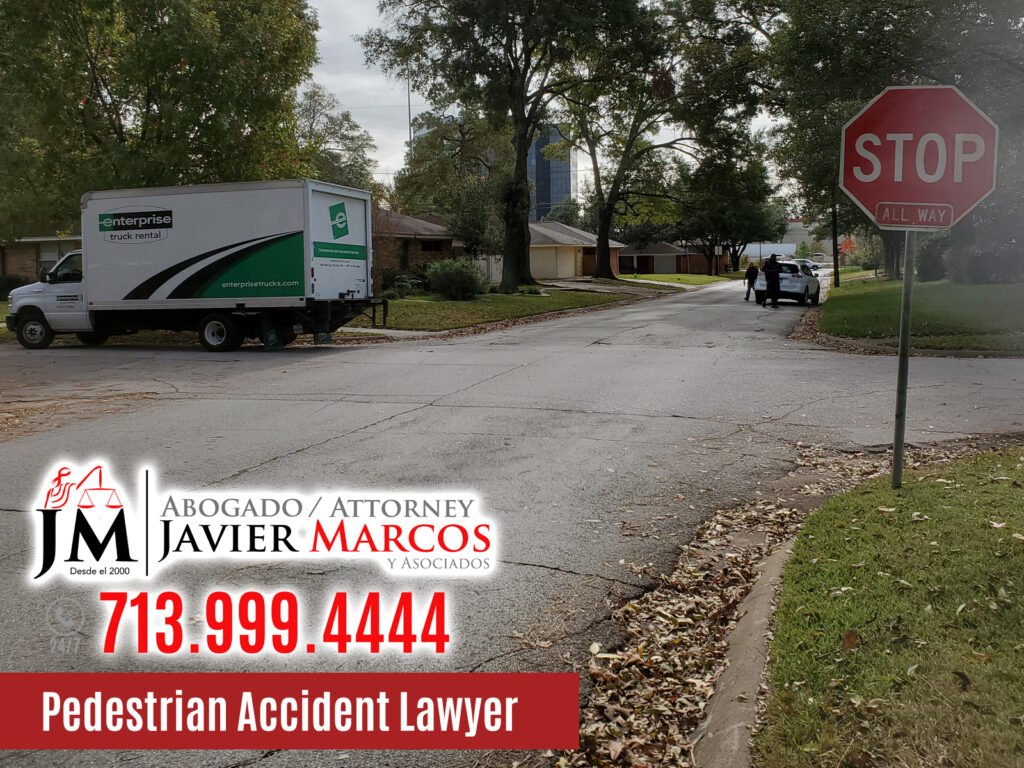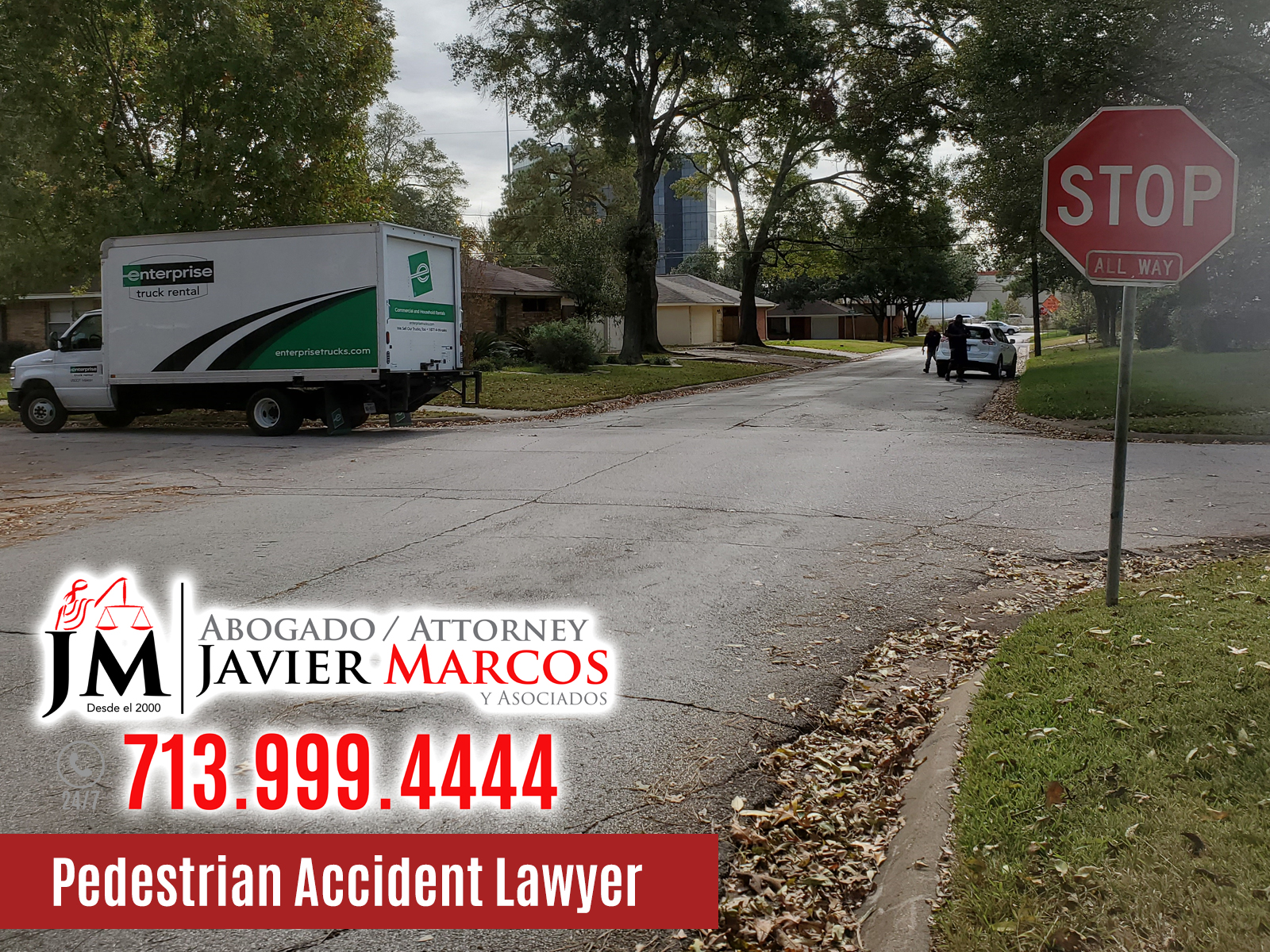 Common Types of Injuries in Pedestrian Accidents
Pedestrian accidents almost always results in some sort of injuries and many times causes serious injuries or death.  Pedestrians are not protected against any type of motor vehicle
Neck and Back Injuries
Leg Injuries
Cuts, Scrapes and Bruises
Internal Organ Damage
Brain Injuries
Permanent Disfigurement
Permanent Disability
How much Compensation Can I Expect from a Pedestrian Accident?
When it comes to any type of accident especially pedestrian accidents, the severity of the accident plays an important role in the amount of compensation you can expect.  One of the main factors is the insurance coverage the driver is carrying.  Pedestrian accidents resulting from commercial vehicle drivers can usually expect more compensation since their maximums are usually much higher and they are held to a higher standard of driving.  Either way, an experienced personal injury lawyer like Attorney Javier Marcos will ensure that certain factors are always taken into account and professionally negotiate a fair settlement on your behalf.  Some of the considerations include:
Current and future medical costs
Lost wages and possible diminished future earnings
Pain and suffering
Loss of quality of life
Punitive damages
Long-term or permanent disabilities
Wrongful death damages
Not all personal injury lawyers are the same.  Although the law is written, a good, experienced personal injury attorney will be able to maximize your compensation through precise case building and aggressive negotiating.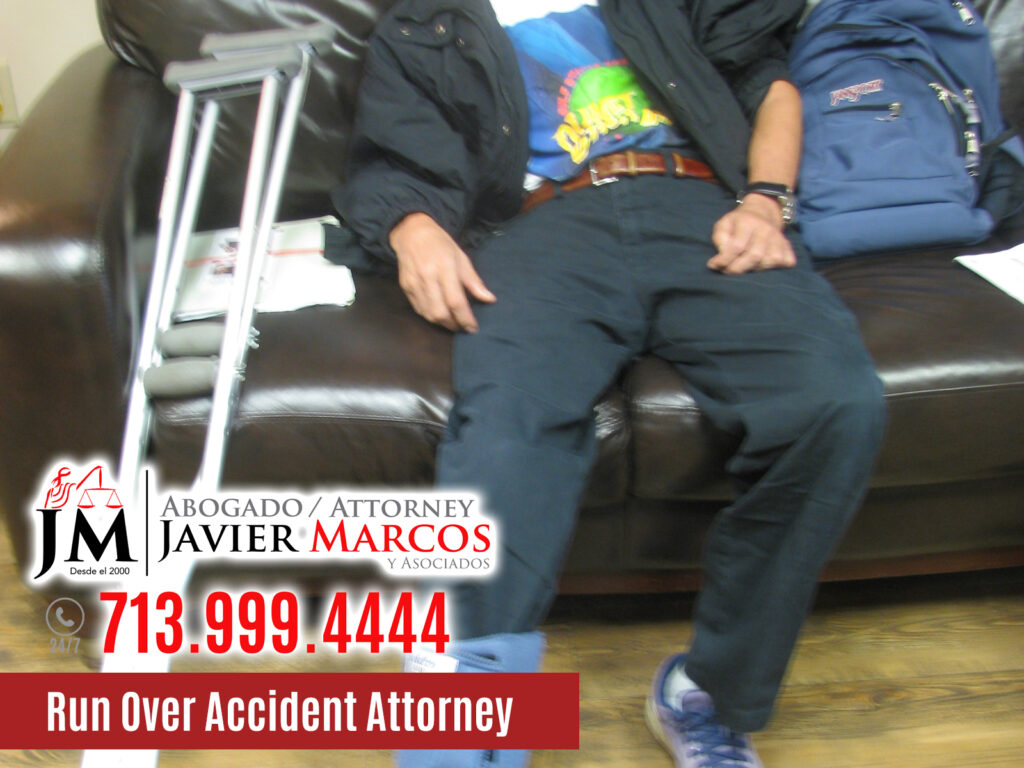 Benefits of hiring an attorney that speaks fluent Spanish and English
Attorney Javier Marcos is a Latino lawyer.  He can speak Spanish and English fluently but being of Hispanic descent, he understands the nuances of the language and culture.  These can be important in any legal case.  Be assured the Attorney Javier Marcos understands the difficulties Latinos can face when trying to get justice.
Schedule your free video or in-person consultation today. We can come to you or come by our office.
This lawyer firm is amazing. They not only fight for your rights but do it in a professional manner and recommend you the best services possible. Javier is always willing to work with you and are responsive about your case. They're additionally very kind and supportive, while it also helps the firm being bilingual helping anyone no matter the background. They will fight for your rights no matter what, and I would highly recommend. Thank you Javier Marcos for helping me and my family.
My experience with Attorney Javier Marcos is one of the best attorneys I will ever cross. In my book I think he is the best. And that is from my heart. He helped me with within 18wheeler accident. I am so happy I came to his office. I recommend him as a truck accident attorney. I have been to other attorneys and what a difference. This firm is where to go to.
By far the best Lawyers you could find, very helpful and friendly all around. Very professional and always available when you have any questions. They truly go out of their way to give you an amazing and facilitated experience throughout your case.
I experienced nothing but the best, they kept me updated on my case and if any changes they would tell me. They made sure I got the best of care when it came to medical attention too, which was great! Isabel was an amazing case manager and was always ready to answer any questions I had about my case. 10/10 would definitely recommend them to anyone in need of an attorney!
Amazing experience and they keep you up to date with everything you need! After my accident they fought deliberately for me and even got me compensation! 100% recommended 😃 Thank you Javier Marcos and Company!
I am really thankful with Javier Marcos and his team. They actually gave me more for my case than I thought! They are really nice and the best law firm team in Houston. Thank you so much for your service and will recommend for any family who just had a car accident! Thank you so much one more time!
Javier Marcos 45 North Freeway
10700 North Fwy
Houston, TX 77037
Phone: (713) 999-4444
228 Westheimer Rd
Houston, TX 77006
Phone: (713) 999-4444
Schedule your free video or in-person consultation today. We can come to you or come by our office.