Do not take dog bites lightly. Any time the bite breaks the skin, it could cause serious medical conditions that require significant medical attention.
A dog bite might seem not important and a lot of them are minor injuries but sometimes especially with big dogs, the bite can cause serious physical harm as well as medical problems from diseases the dog can transmit to the person that was bitten.  An experienced dog bite attorney will know the state and local laws that govern dog bites and the responsibilities of the dog owner.  Additionally, homeowner policies can cover dog bites and help in getting compensation for medical bills, lost wages and other financial burdens resulting from a significant dog bite.
What should I do if a dog bites me?
1. Call 911, get medical attention immediately.
Call emergency services and get medical treatment immediately.
Dog bite wounds can become infected by the bacteria that enter through the wound itself.
Dog bite injuries can be very dangerous if they are not properly treated by medical professionals.
Don't talk to anyone.
2. Call Personal Injury Attorney Javier Marcos.
You should call the office as soon as possible.
Our office is open 24 hours every day of the year.
Call now 713-999-4444 / 1(800) 444-8118.
Attorney Free Consultation
3. Don't talk with the dog owner or the insurance company.
Personal Injury Attorney Javier Marcos will take care of talking with them.
Remember that they will use anything you say against you.
Personal Injury Attorney Javier Marcos knows how to talk to them and protect your interest.
4. Personal Injury Attorney Javier Marcos will help you consult a doctor.
It's important that you quickly call Personal Injury Attorney Javier Marcos so that you can commence your medical treatment, do not worsen your position, preserve evidence, and learn your rights.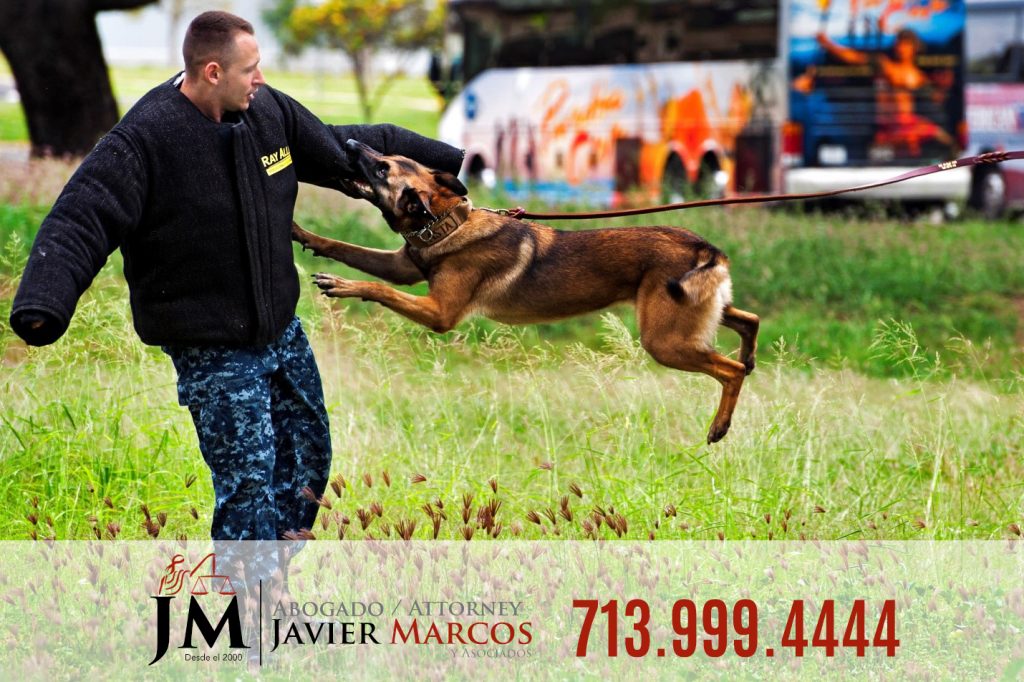 Dog Breeds that commonly Attack:
Once a dog is considered dangerous, it is necessary that the owner register the dog with the Department of Animal Control, and the owner have it tied or pinned up at all times.  Remember, even if minor, a dog bite needs to be documented so that the dog can be registered as prone to violence just in case the next time is not just minor.
Presa Canarios (Canary Mastiff).
And others…
What information would be helpful after a dog bite?
You need to make a report of the incident by calling 911.
It is necessary to call the Animal Control Department since they will create a report to identify the dog, investigate the vaccinations, tie it up and identify the dog owner.
It is necessary to collect all the information about how the dog attack happened.
Write the names, addresses and telephone numbers of the witnesses that were there when the dog attack occurred.
Obtain photographs of the dog attack.
How do I know if the dog that bit me has rabies?
Rabies is a virus that dogs have in their saliva. Rabies is preventable through vaccination. Unfortunately, not many people vaccinate their dogs. If you are bitten or scratched by a dog with rabies, the virus is passed to the person.
To know that the dog that bit you has rabies, you will have symptoms. If you have been bitten by a dog with rabies, the symptoms are drooling, pain, seizure, fever, hyperactivity, loss of sensation, tingling and burning in the affected area. Go to the doctor immediately when suffering from any of the mentioned symptoms.
Schedule your free video or in-person consultation today. We can come to you or come by our office.
This lawyer firm is amazing. They not only fight for your rights but do it in a professional manner and recommend you the best services possible. Javier is always willing to work with you and are responsive about your case. They're additionally very kind and supportive, while it also helps the firm being bilingual helping anyone no matter the background. They will fight for your rights no matter what, and I would highly recommend. Thank you Javier Marcos for helping me and my family.
My experience with Attorney Javier Marcos is one of the best attorneys I will ever cross. In my book I think he is the best. And that is from my heart. He helped me with within 18wheeler accident. I am so happy I came to his office. I recommend him as a truck accident attorney. I have been to other attorneys and what a difference. This firm is where to go to.
By far the best Lawyers you could find, very helpful and friendly all around. Very professional and always available when you have any questions. They truly go out of their way to give you an amazing and facilitated experience throughout your case.
I experienced nothing but the best, they kept me updated on my case and if any changes they would tell me. They made sure I got the best of care when it came to medical attention too, which was great! Isabel was an amazing case manager and was always ready to answer any questions I had about my case. 10/10 would definitely recommend them to anyone in need of an attorney!
Amazing experience and they keep you up to date with everything you need! After my accident they fought deliberately for me and even got me compensation! 100% recommended 😃 Thank you Javier Marcos and Company!
I am really thankful with Javier Marcos and his team. They actually gave me more for my case than I thought! They are really nice and the best law firm team in Houston. Thank you so much for your service and will recommend for any family who just had a car accident! Thank you so much one more time!
Javier Marcos 45 North Freeway
10700 North Fwy
Houston, TX 77037
Phone: (713) 999-4444
228 Westheimer Rd
Houston, TX 77006
Phone: (713) 999-4444