Lyft Accident Attorney
Many wonder; If I was in an accident with a Lyft car, can I sue? The simple answer to that question is: yes. You can sue your Lyft driver or the company itself if you get into a car accident. This applies whether you were a passenger, or got hit by a Lyft. However, you need to know the facts and understand the laws of your particular state or country in these situations. Whether you sue the driver or Lyft itself will also depend on the scenario and damages of your accident, and so will the amount of insurance money that will be available. A Lyft Accident Attorney like Javier Marcos can help you receive the maximum compensation for you accident case.
Attorney Javier Marcos
An accident can occur at any time. Its important to know who to call when it happens. Attorney Javier Marcos is a personal injury attorney in Texas that can help you with any accident case. His office is recognized for having great customer service. As soon as an accident happens, its important to call a Lyft accident attorney. Do not call insurance companies, as they will focus on giving you the minimum compensation. Let the attorney speak with them. Our office is open 24 hrs. There is no payment unless we win the case and we go to you. In here, we all speak Spanish, even the attorney.
Español- Abogado de Accidentes de Lyft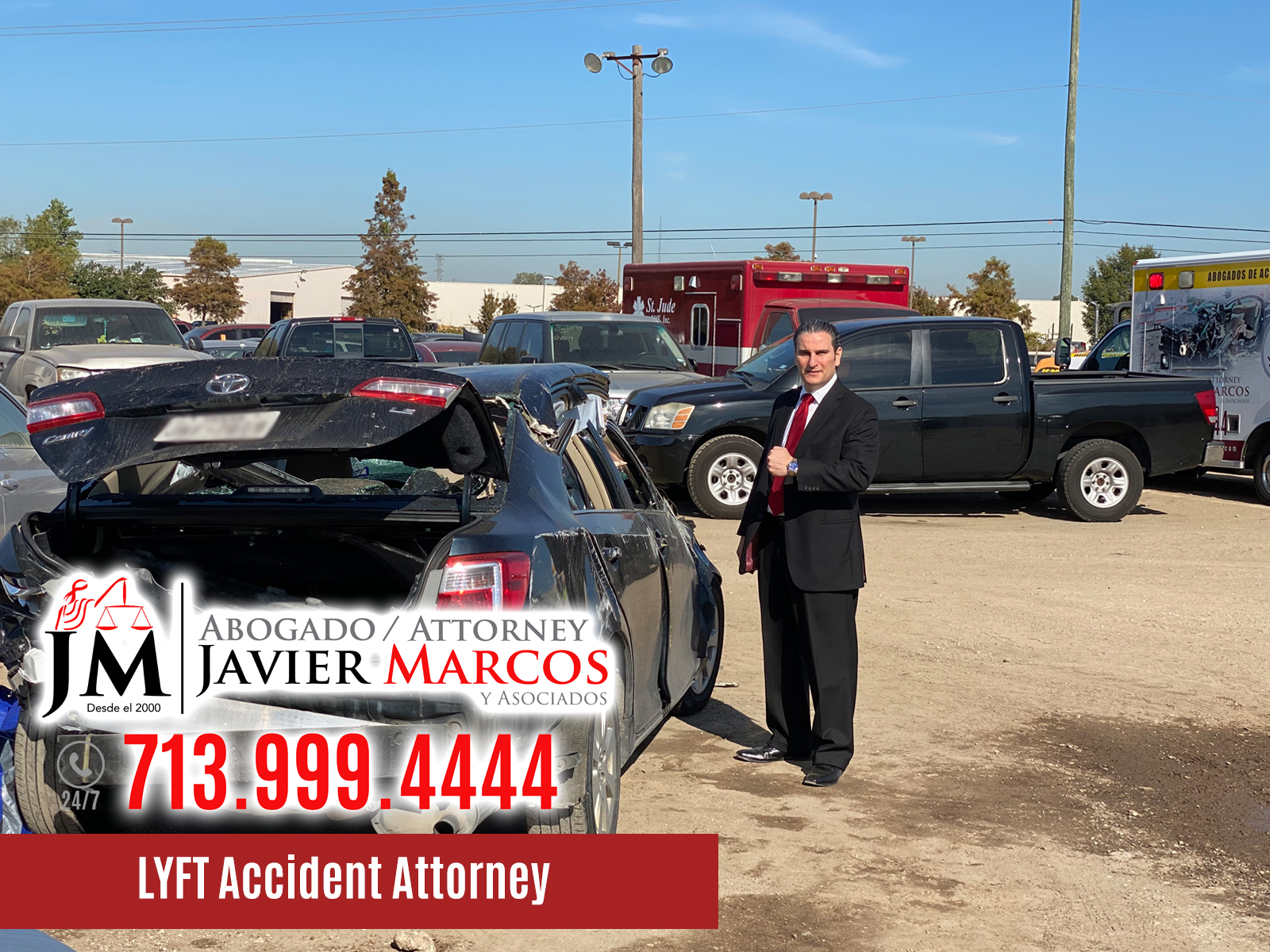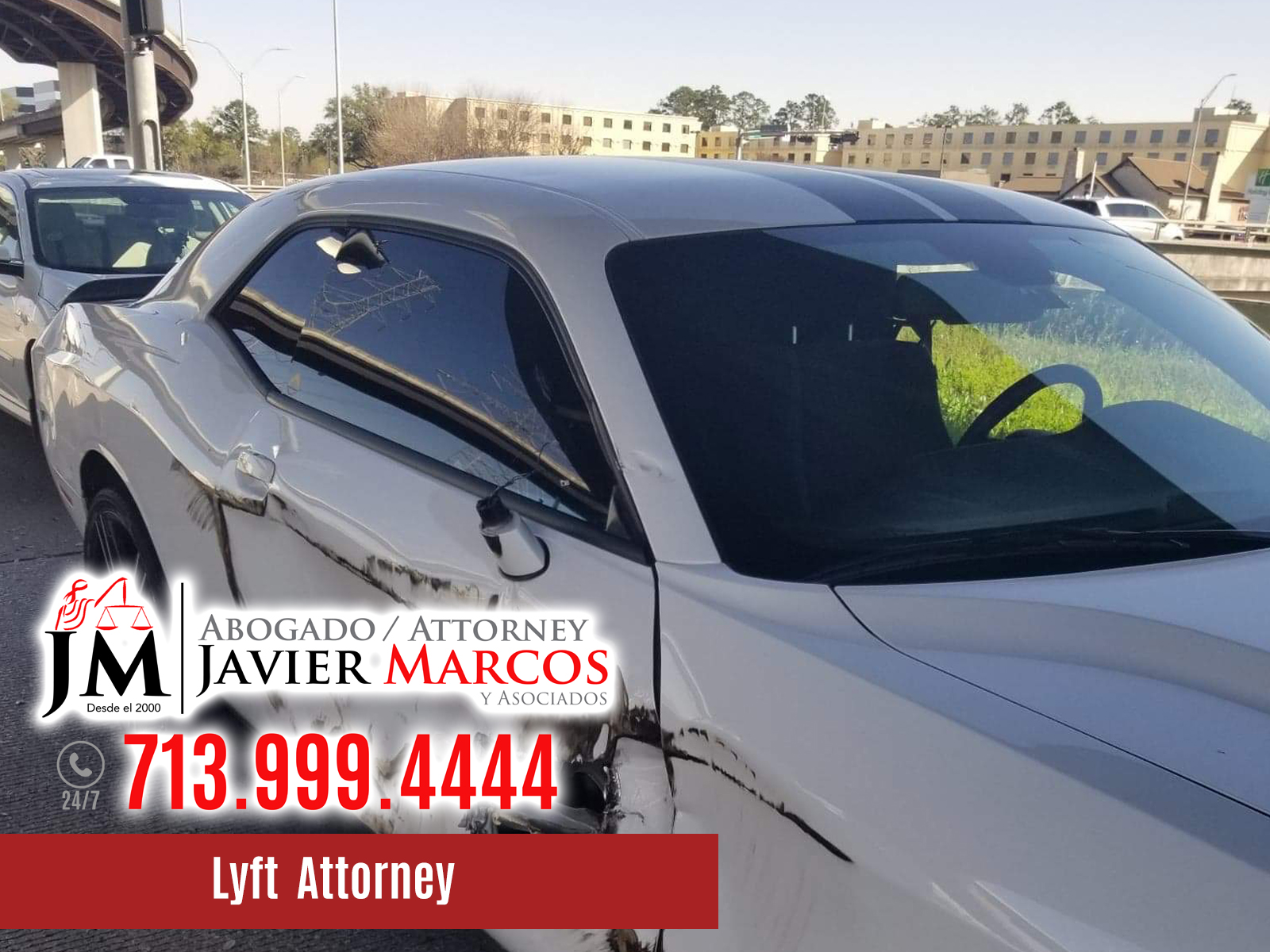 How Does Lyft Insurance Work in Case of Your Accident?
There are three insurance policies that cover a Lyft driver, that depend on the status of the driver at the time of the accident. These situations are:
The first scenario is when the driver is 'off the clock', which means that they aren't available to accept rides at the moment. During this time, the policy that will apply would be their own personal car insurance. In this case, Lyft's insurance coverage would not apply to you, even if the car that hit you has a Lyft sticker on it.
The second scenario is when the driver is on the clock, but doesn't have a passenger. The driver's personal car insurance policy will still apply to you, but some contingency insurance will be applied on Lyft as well. So if you get hit by a passenger-less Lyft, technically you get to sue the driver as well as the company.
The final scenario is when the driver is carrying a passenger. In this case, the full weight of the insurance coverage is on Lyft. In monetary terms, this means that there is a $1,000,000 in liability and $1,000,000 in property damage coverage that you can avail. This applies whether you were a passenger in the accident, or the person who got hit.
All of these factors need to be considered before you decide to sue the driver or the company. Also note that these policies only apply if you were injured or had some sort of property damage. If there isn't any visible proof of the damage the accident caused, then the insurance claims don't apply to you.
es muy confiable y habla español y es muy comprometido con tus casos y es muy entregado en su trabajó
Great lawyer i recommend him
Ive had the best experience with this office! Amazing customer service! Javier Marcos really cares about ALL his clients and is the best attorney in Texas.
Es muy buen abogado. El servicio al cliente muy bueno. El abogado habla español.
There Very Professional and We've been given Exceptional services each time we use them for whatever our needs may be.. We won't use anyone but and highly recommend them for your legal services whatever it may be
Javier is a real straight shooter and works hard to get you your money. The staff are always pleasant and helpful. Highly recommended!
I recommend hiring this attorney for any personal injury matters he is a excellent attorney an his staff is very helpful and professional and caring so if you have a need for a personal injury attorney he is the man to go to, too get the most dedicated attention for your case Javier Marco's & Associates !!!
Very helpful honest lawyer. Yes I know honest and lawyer usually don't go together. Very knowledgeable in various practice areas.
Very recommended. He knows what he is doing. An attorney you can trust.
Lo recomiendo. El Abogado Javier Marcos se entiende con la gente Hispana.
El Abogado Javier Marcos es mi abogado. Siempre que quiero hablar con el esta disponible. lo recomiendo
Me parecio muy bien. Me gusta quw el abogado habla espanol. Es buena persona.
Is using Lyft safe?
Statistically, it is safe to use ridesharing and taxi services to get around Houston.  Studies have showed that in 2018, there were 58 fatalities in ridesharing vehicles out of 1.3 billion rides.  So using Lyft is safe for the most part.  But if you have been injured as a result of an Lyft driver, then it is highly recommended that you seek legal advice from a personal injury attorney like Javier Marcos.
The law office will gather together the evidence in your case and represent you to the insurance companies.  Javier Marcos will also make sure that you are fairly and completely compensated for your injuries and loss.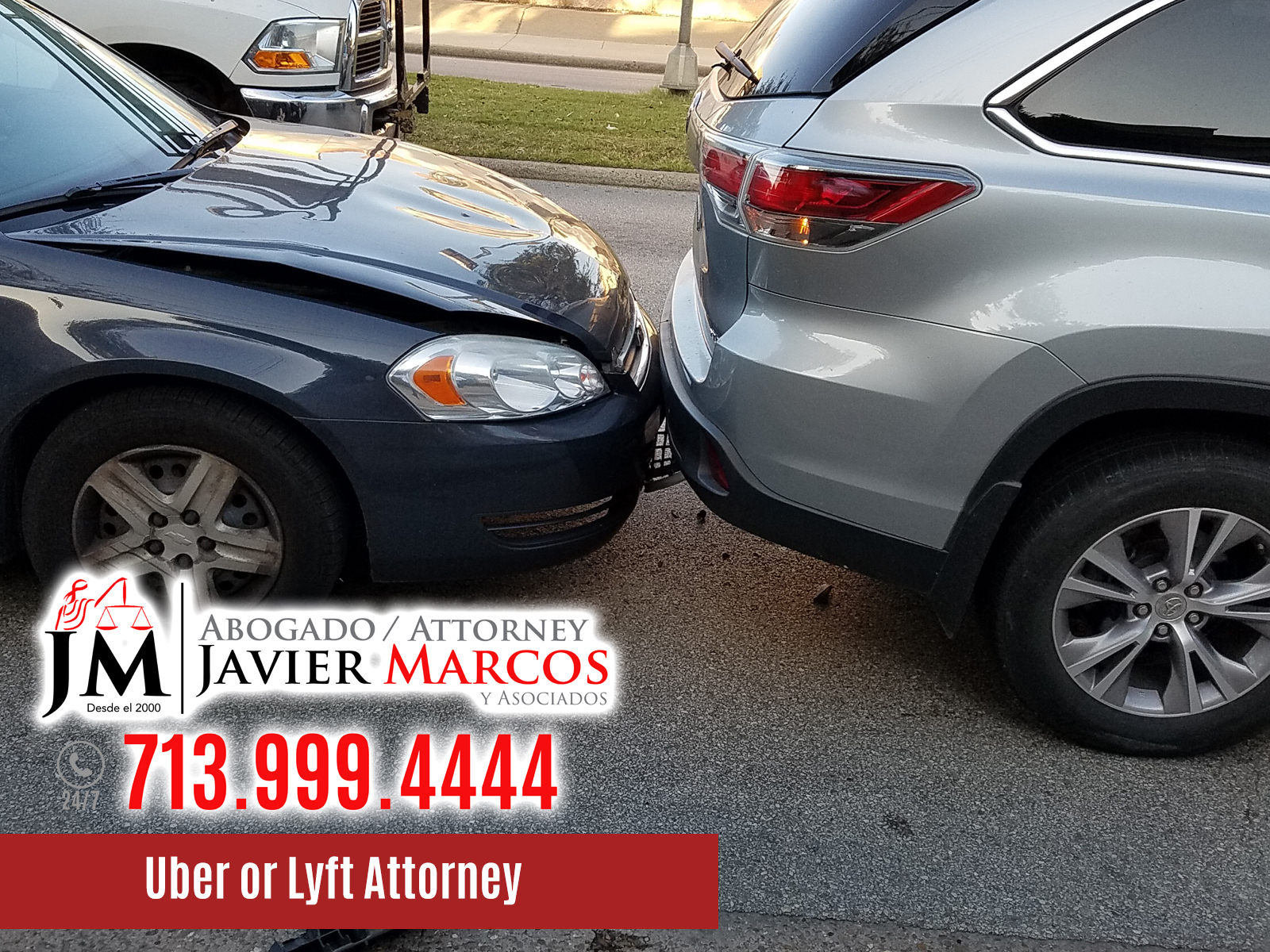 These are the steps that you need to take after a Lyft accident:
1. Examine the Situation
Getting into a car accident is far from being a pleasant experience. So it makes sense if you aren't able to function rationally afterwards. However, it is important to stay calm in such situations. As soon as you are able to make sense of the situation, it is important that you try to examine everything that is going on.
First and foremost, check yourself for any apparent injuries. In case you have sustained one, just stay in place until help arrives. If you aren't injured and can move around, check if other people who were involved in the accident need any assistance.
2. Call 911
Call 911 as soon as possible to report the incident. The situation may already be very tense, so wait for help to arrive without making any more hassle. They will send medical help as well as police to the location as fast as possible.
3. Gather Information
While you wait for help to arrive, collect as much information of the accident as you can, as this will later help you file a strong case. Ask for details about your Lyft driver as well as the other car if one came into collision. Note down names, phone numbers, license numbers, models of the cars, number plates, etc. The more information you gather, the stronger your case will be.
4. Collect Documentation of the Accident in One Place
It is important to document the accident and keep all of the proof and receipts in one place. This should include all the receipts for the treatment of the injuries you sustained during the accident or any damages you had to pay for. All of these can be included in your claim to make it stronger. If possible, take pictures of the accident scene right after, and include them here as well. Keeping all the documentation in one place will make it easier for you to access it when required.
5. Hire an Attorney
After all of the above steps have been taken, there isn't much more you can do. This is where you need to hire a good attorney to take your case forward. Find a good attorney who is experienced in this area and hand over all the information you have to them. They will then help you create a strong case.
Attorney Javier Marcos is a good option to consider if your accident took place within Houston. We specialize in car accidents and have a 24-hour consultation service so that you can talk to them before making the decision to hire them. He doesn't require you to pay unless you win the case.
If you've suffered an accident, you have a right to file a lawsuit to recover your losses, medical expenses, treatment, pain & suffering, lost wages, inability to work or function, property damages, and others. If Spanish is your first language, do not worry, Attorney Javier Marcos is fluent in Spanish and everybody in the office speaks Spanish fluently and are available 24 hrs a day, seven days a week.
It's important that you call attorney Javier Marcos as soon as possible so that you can start your medical treatment, improve your legal position, preserve evidence, and learn your rights.
Attorney Free Consultation,  receive money for your accident, its ok if you do not have any papers, we all speak Spanish, you do not have to pay anything unless we win the case, speak directly with Attorney Javier Marcos, receive medical attention at no cost, WE GO TO YOU 24 HRS. A DAY SEVEN DAYS A WEEK.  Your information is 100% confidential and we'll visit the accident site, your home, or the hospital.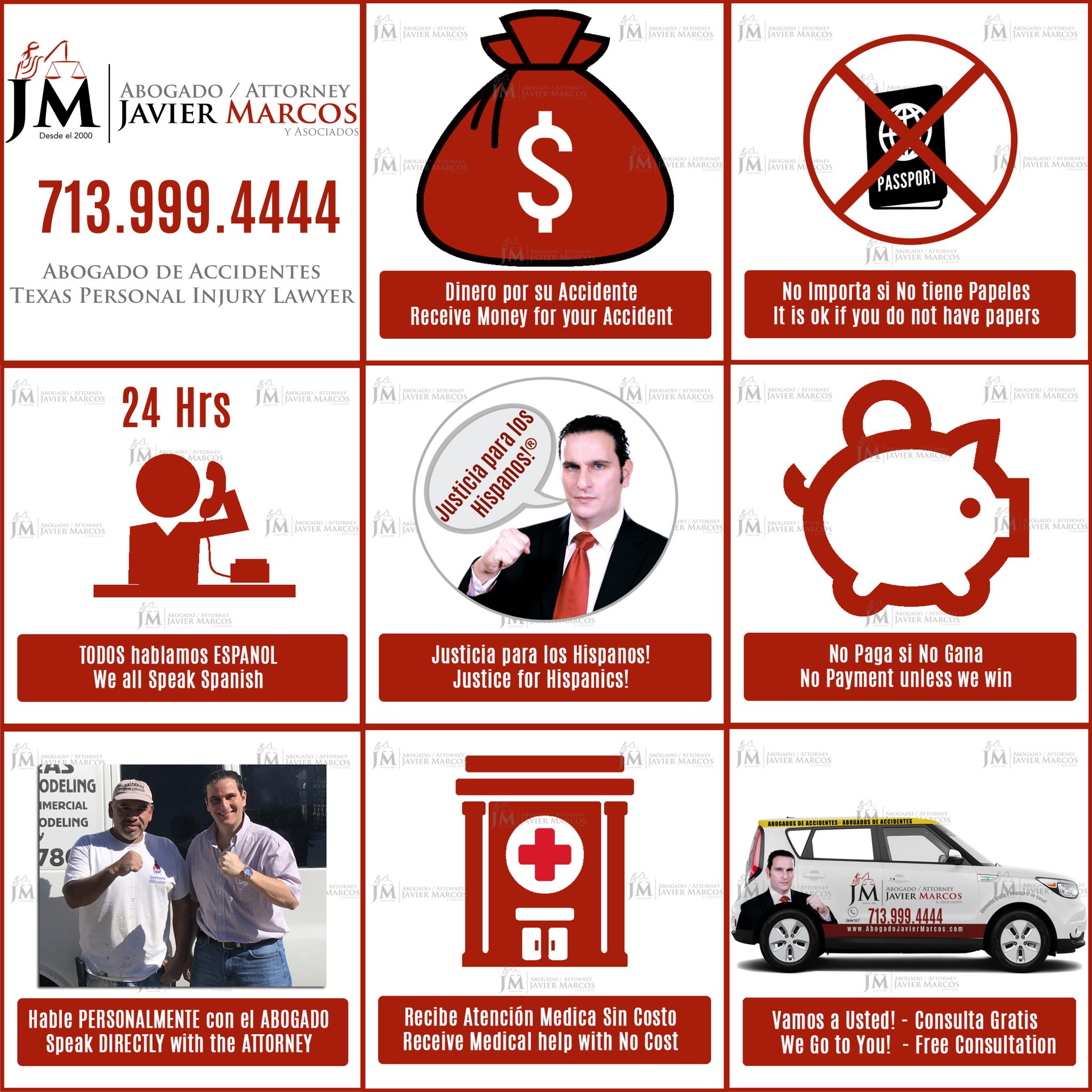 webadmin
The reason behind most of the road accidents that take place is fairly common: negligent driving. Everyone knows that this is wrong, but still people continue to exhibit negligent behaviors while driving, leading to more and [...]
webadmin
More often than not, the last thing you care about after getting into a car accident is thinking who was behind the wheel. You just want the compensation for any injuries or damages caused by [...]
webadmin
The holiday season is finally upon us. It is time to celebrate with family and friends, attend gatherings, or head off on vacation. This also often means traveling on rain covered roads and highways with [...]
Frequently Asked Questions about Rideshare Accidents
Question:  Should I call an attorney after an accident involving an Lyft driver?
Answer: Yes, it's good idea to contact an attorney when you have been involved in an accident with a ridesharing service. Insurance coverage for Lyft drivers vary and can be complex depending on what status the driver was in when the accident occurred.  Additionally, the driver's insurance may not cover the accident if they did not indicate to their insurance company that they use their vehicle as part of a job or ridesharing contract. It is important that you have a good accident attorney to get the most compensation to pay for your injuries and damage to your property.
Question:  What do I do after a Lyft accident?
Answer: First seek medical attention. Then get contact information from the other driver as well as witnesses. Next, take pictures of the accident scene. The police will make a report and provide you with a number. Afterwards, if you have serious injuries and/or damage to your vehicle, it is highly recommended that you call a personal injury attorney.  He will be able to represent your best interest against the insurance companies that will be working to minimize the amount of financial liability.  A good personal injury attorney like Attorney Javier Marcos will ensure that you get the medial attention.
Question:  Can I sue Lyft for a car accident?

Answer: Each company has different ways they handle their drivers and injury claims that come up when one of their drivers gets into an accident.  Drivers for both services are contracted people that are required to maintain their own insurance in the event of an accident.  Also, it depends upon the "status" that the Uber of Lyft driver was in when the accident occurred.  It may become complicated. It's a good idea to hire a personal injury attorney in these cases so that you can recover as much as possible.