Uber Accident Attorney
Ridesharing has become a booming industry.  People love the convenience of simply getting on a phone app and calling for a ride from one place to another using the two main ridesharing companies: Uber.  If you have been injured as a passenger in an Uber car or you have been injured as a result of an Uber driver hitting your vehicle, you may have a entitled to significant compensation depending on the nature of the accident. It's a good idea to hire a Uber Accident Attorney in these cases so that you can recover as much as possible.
Uber has complicated insurance rules in place on liability in the event one of their drivers causes and accident where injuries are sustained.  The best course of action is to retain the services of an experienced personal injury attorney with knowledge specific to ridesharing accidents.  Attorney Javier Marcos is very familiar with ridesharing accidents and has successfully represented many clients that have been involved with accidents caused by Uber drivers.  His clients have been passengers and drivers of the cars and trucks hit by Uber drivers.
Attorney Javier Marcos
It's good idea to contact an attorney when you have been involved in an accident with a ridesharing service. Insurance coverage for UBER drivers vary and can be complex depending on what status the driver was in when the accident occurred. Attorney Javier Marcos is a personal injury lawyer in Texas who can help you with any accident case.  A personal injury attorney will help you recover as much compensation as possible. Call our office 24hrs, we go to you, there is no payment unless we win the case and we all speak Spanish.
Español- Abogado de Accidentes de Uber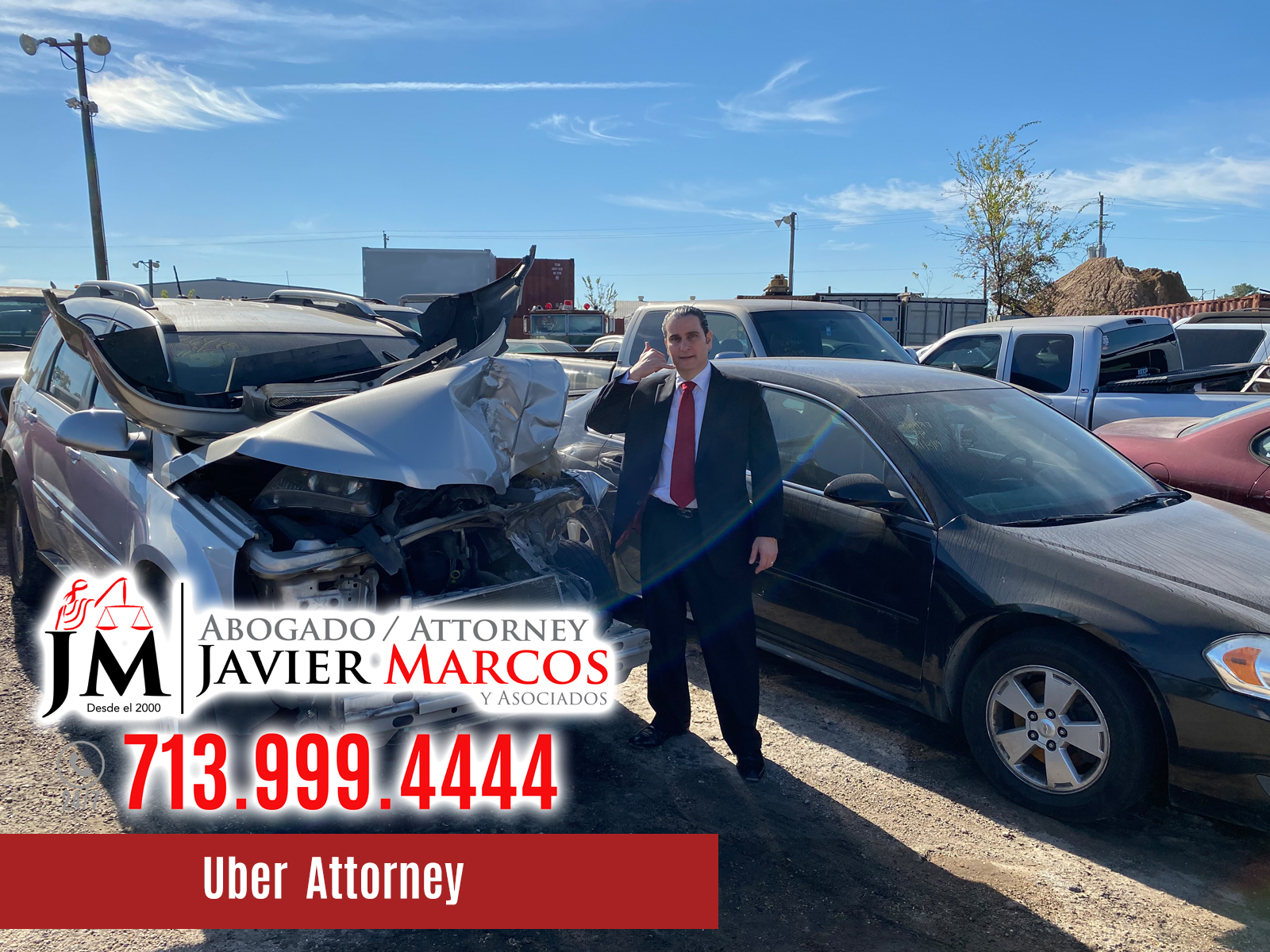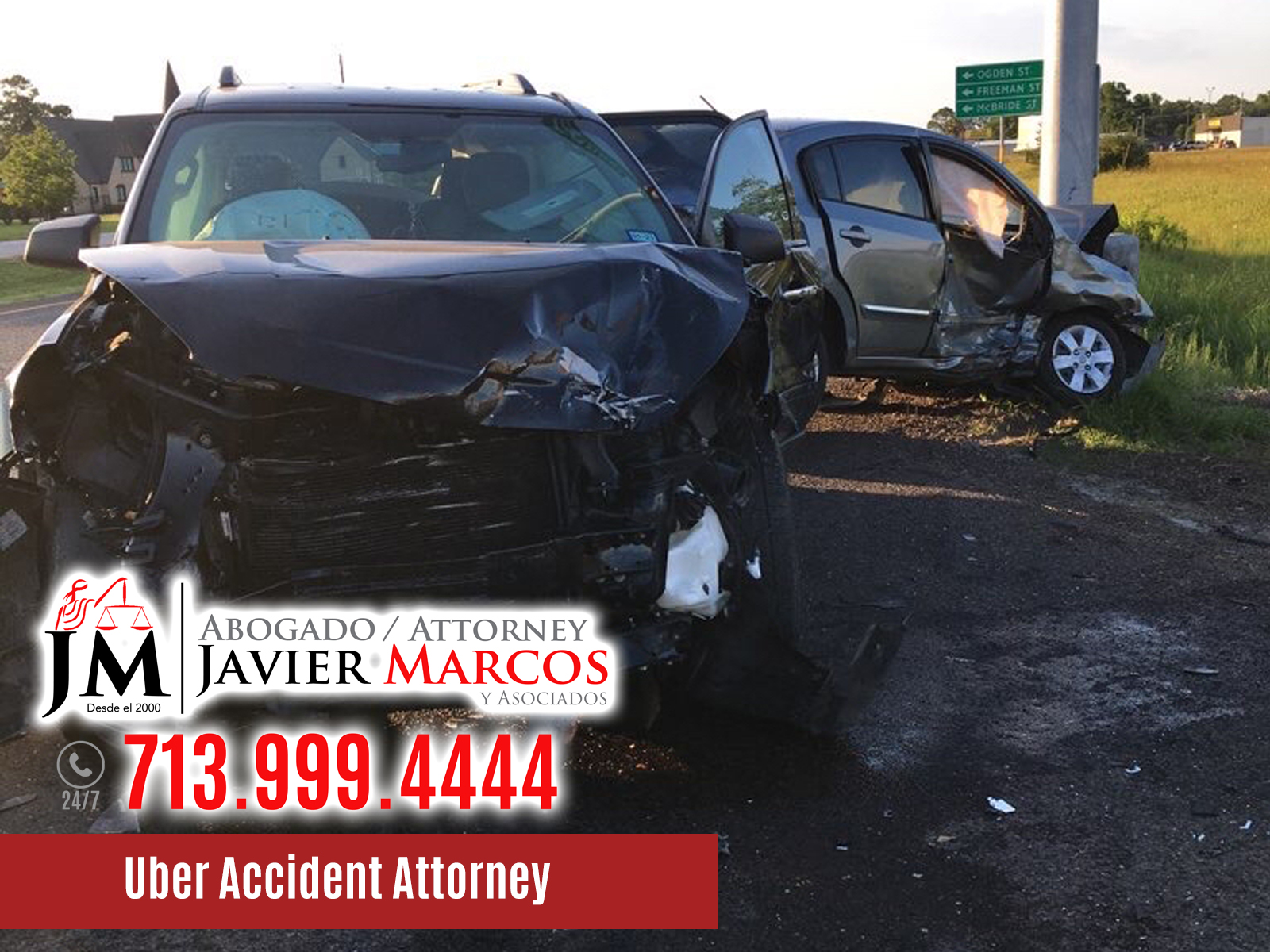 Do I really need an attorney for Uber accidents?
Absolutely.  Depending on the nature of the accident, an Uber driver's personal insurance may be who is responsible for claims.  In other cases, the company's insurance is responsible which usually means higher limits.  Additionally, if there are multiple claims in the case due to injuries to multiple people, then its usually first come first served until the limits are reached.  Attorney Javier Marcos will aggressively represent your case and get you maximum compensation for your injuries and property loss.  Time is very important in these types of cases.
Getting Hit by an Uber Driver
If you get hit by an Uber car, whether as a pedestrian or while driving another car, you will face an uphill battle. Uber only holds itself liable when you are hit by the car while the driver is online; this means that they are either driving a passenger, or are available to pick up a passenger.
So in case there isn't a passenger in the car, it would be difficult to hold Uber at fault. In this case, the driver's personal insurance will be applicable to pay your damages. It is important to take as many details from the driver on the spot of the accident, in case you can hold Uber responsible.
es muy confiable y habla español y es muy comprometido con tus casos y es muy entregado en su trabajó
Great lawyer i recommend him
Ive had the best experience with this office! Amazing customer service! Javier Marcos really cares about ALL his clients and is the best attorney in Texas.
Es muy buen abogado. El servicio al cliente muy bueno. El abogado habla español.
There Very Professional and We've been given Exceptional services each time we use them for whatever our needs may be.. We won't use anyone but and highly recommend them for your legal services whatever it may be
Javier is a real straight shooter and works hard to get you your money. The staff are always pleasant and helpful. Highly recommended!
I recommend hiring this attorney for any personal injury matters he is a excellent attorney an his staff is very helpful and professional and caring so if you have a need for a personal injury attorney he is the man to go to, too get the most dedicated attention for your case Javier Marco's & Associates !!!
Very helpful honest lawyer. Yes I know honest and lawyer usually don't go together. Very knowledgeable in various practice areas.
Very recommended. He knows what he is doing. An attorney you can trust.
Lo recomiendo. El Abogado Javier Marcos se entiende con la gente Hispana.
El Abogado Javier Marcos es mi abogado. Siempre que quiero hablar con el esta disponible. lo recomiendo
Me parecio muy bien. Me gusta quw el abogado habla espanol. Es buena persona.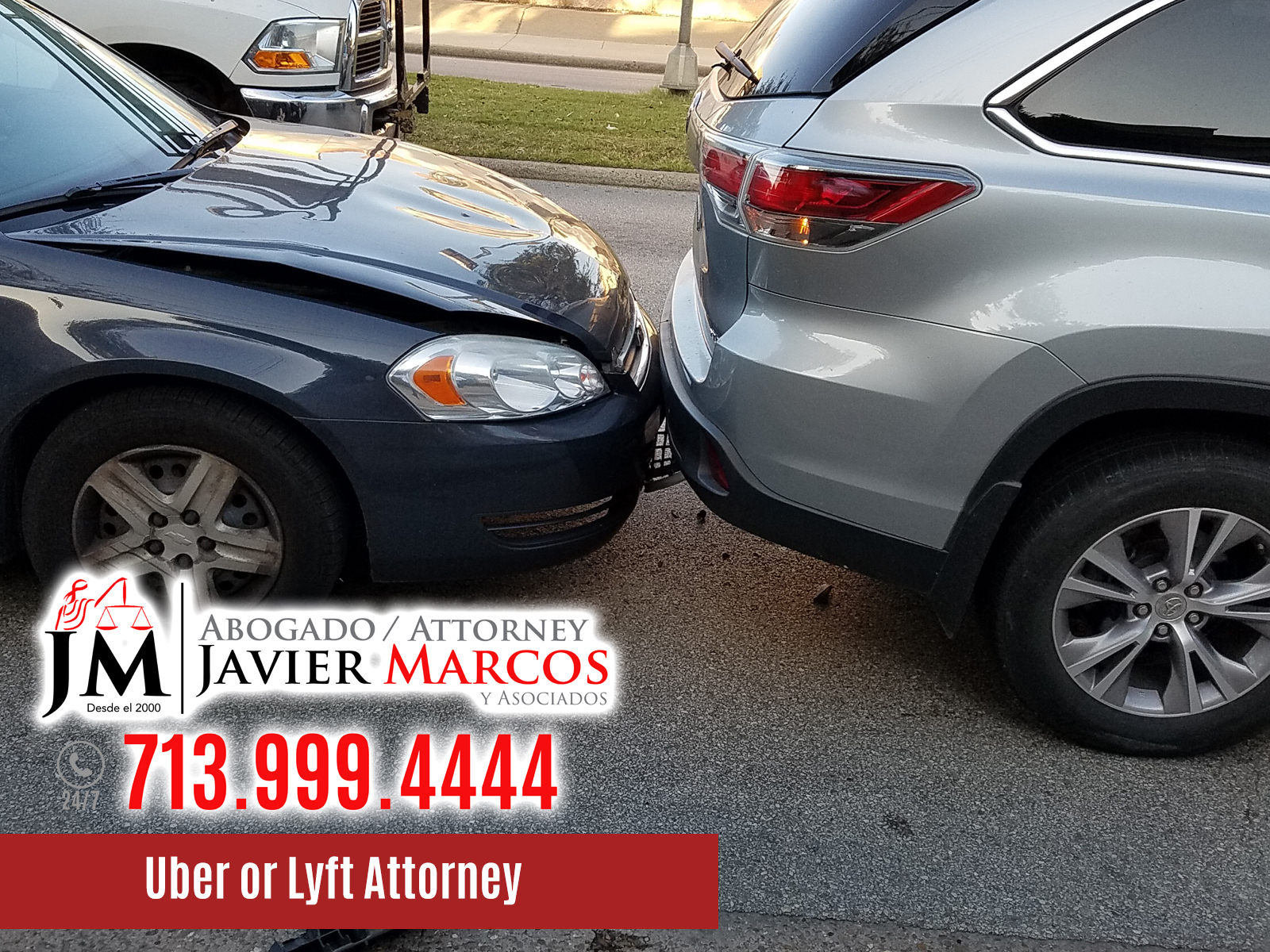 With ridesharing apps like Uber being on rise, the number of accidents caused by Uber drivers are also increasing by the day. Although, to their credit, Uber has somewhat improved on properly vetting their drivers, the list of Uber-related accidents and damage is still very long.
What Causes All These Accidents to Occur?
The single main cause behind a majority of these accidents taking place is the distracted driver behind those wheels.
Generally speaking, distracted driving is one of the biggest reason behind accidents throughout the country. The laws against texting while driving aren't that strict, which makes people think they can get away with it if there are no police around, which could significantly increase the risk of an accident.
Other causes behind these distractions could be conversing too much with the passenger, or listening to loud music while driving.
How are these Different to Other Transports like Taxi?
Some may argue that most of these risks are present even when you take a taxi, or ride any vehicle for that matter. But the difference is that most taxi drivers don't operate independently like Uber drivers do.
One huge difference this makes is that the amount of rides and distance a taxi driver has to cover is closely monitored by the company to not overwork their drivers. This helps the drivers work at a pace that is suitable to stay active through their shifts.
Whereas Uber driver can take as many rides a day as they want without taking any breaks in between. They may get tired, yet end up taking more passengers. This can cause them to get sleepy and lose concentration while driving, which can quickly get dangerous.
What about if I was hurt in a Uber accident in Houston?
If you have been seriously injured in a Uber accident in Houston, Attorney Javier Marcos can help you get maximum compensation by negotiating with the  company insurance provider.  Many details need to be investigated and documented to present the best case.  Insurance companies will work hard to minimize their payouts, so it is imperative that you seek legal help to competently represent your side of the case.
Common Types of Injuries in Uber Accidents
Car accidents result in many times of injuries.  Speed, size and many other variables lead to possible serious injuries from auto accidents.  Some common injuries include:
Neck and Back Injuries.
Broken Bones.
Strained Muscles.
Cuts and Bruises.
Internal Organ Damage.
Brain Injuries.
Amputations.
Permanent Disfigurement.
Disability.
Who is Liable for Accidents Caused by Distracted Uber Drivers?
Legally speaking, both, the driver as well as Uber is held liable for an accident caused by a distracted Uber driver. The problem is that determining the liability isn't always easy.
There are certain clauses that determine whether the company will be held liable, or would it be treated like a regular accident. The driver has to be operating as an Uber Driver at the time of the accident. This means one of these has to be true.
The driver had a passenger who was picked up through the app.
Driver was online on the app, and was available to accept a ride.
In these cases, you are liable to claim compensation for any injuries caused by the accident, whether yo were a passenger in the Uber or were hit by the driver. In the latter case however, it is necessary to prove that the driver was at fault.
There is a third possible case, in which you may see an Uber sticker on the car that hit you, but the driver didn't have a passenger and was neither available to accept a ride. In this case, Uber will not be held responsible for the accident, and the driver's personal insurance policy will be used to compensate your injuries.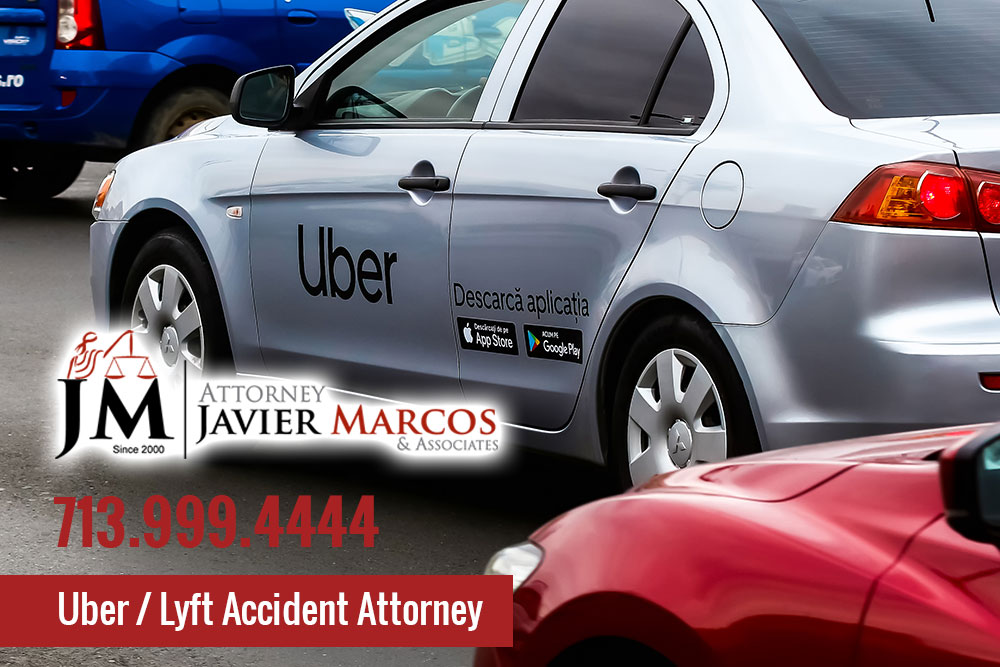 What About The Penalties?
In case of it being proven that the driver was at fault and was operating as an Uber driver at the time, Uber carries a $1 Million insurance policy to cover the damaged caused by its drivers whenever online.
Along with this, the driver's own insurance policy will also be used to cover the damaged you have obtained.
In case the driver was not online, than only their own insurance policy will cover you.
Steps to take after an Uber Accident
1. Seek Medical Help
The first thing you should do in any kind of accident is seek medical attention. Even if you aren't evidently hurt, it is necessary to get yourself checked professionally in case you have suffered an internal injury.
2. Report the Accident
Next, it is important to report the accident. If you call 911, they will send you medical help as well as Law Enforcement Officers who will take a Traffic Collison Report (TCR). A TCR is basically a police report that will help you file a case in the future. Obtain a copy or the number of the TRC for future reference.
3. Determination of the Liability
Thirdly, it is necessary to determine who is it fault; your driver, the driver of the other car, or both. Depending on your situation, your damages will be paid using one of the following policies:
Uber's Liability Policy
The Uber's Drivers' Liability Policy
Company Uber's Uninsured/Underinsured Motorist Policy
Third-Party Motorist's Insurance Company
4. Call a Good Uber accident Attorney
This is the most important thing. Hiring a good attorney with experience in dealing with cases of road accidents will assure that you will be able to file a good case and get your damages paid properly. Attorney Javier Marcos has more than 20 years of experience. His office is ready to help you 24 hrs. We go to you and no payment unless we win the case.
Is using Uber safe?
Statistically, it is safe to use ridesharing and Uber services to get around Houston.  Studies have showed that in 2018, there were 58 fatalities in ridesharing vehicles out of 1.3 billion rides.  So using it is safe for the most part.  But if you have been injured as a result of an Uber driver, then it is highly recommended that you seek legal advice from a Uber accident attorney like Javier Marcos.  He will gather together the evidence in your case and represent you to the insurance companies.  Javier Marcos will also make sure that you are fairly and completely compensated for your injuries and loss.
If you've suffered an accident, you have a right to file a lawsuit to recover your losses, medical expenses, treatment, pain & suffering, lost wages, inability to work or function, property damages, and others. If Spanish is your first language, do not worry, Attorney Javier Marcos is fluent in Spanish and everybody in the office speaks Spanish fluently and are available 24 hrs a day, seven days a week.
It's important that you call attorney Javier Marcos as soon as possible so that you can start your medical treatment, improve your legal position, preserve evidence, and learn your rights.
Attorney Free Consultation,  receive money for your accident, its ok if you do not have any papers, we all speak Spanish, you do not have to pay anything unless we win the case, speak directly with Attorney Javier Marcos, receive medical attention at no cost, WE GO TO YOU 24 HRS. A DAY SEVEN DAYS A WEEK.  Your information is 100% confidential and we'll visit the accident site, your home, or the hospital.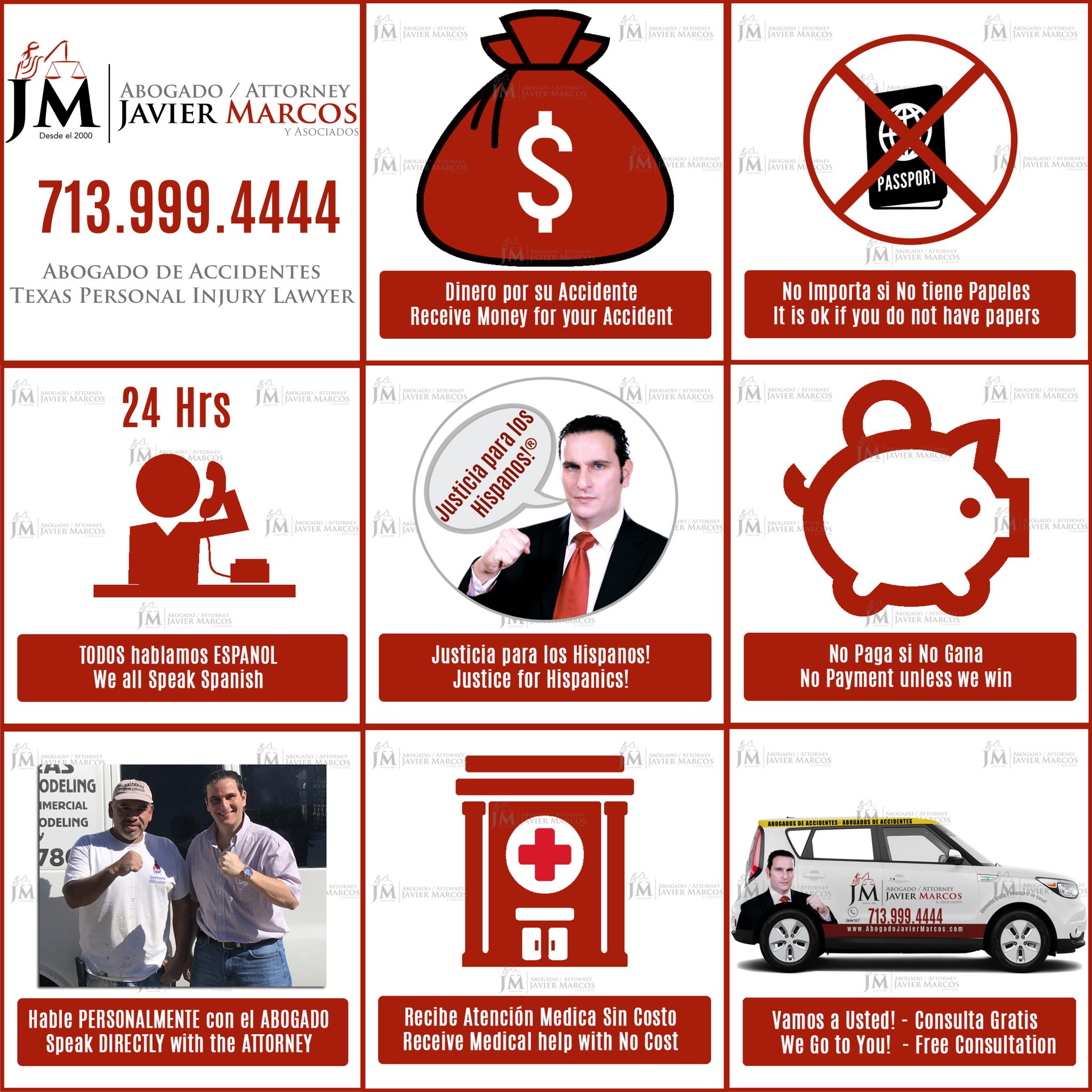 webadmin
You never expect to get into an accident, but you can never predict when you find yourself at the center of this unfortunate event. And afterwards, it can be a traumatic experience.  There are some [...]
webadmin
Getting into a motorcycle can be a life-changing incident, and not in a good way. These accidents can be a lot more fatal than car accidents, or any other vehicle for that matter. Distracted driving [...]
webadmin
Delivering food at your doorstep services are basically a gift from heaven. It has become so easy and so affordable to order food which gets delivered to your doorstep within minutes. That people use these [...]