Latino Bus Accident Attorney
Houston Metro bus system operates over 1200 buses each day. Although a reliable method of transportation, bus accidents can create a serious injury situation.
In every major city, people take buses to get from one place to another.  METRO provides the majority of buses within the city but there are many bus providers that offer trips to outlying towns such as The Woodlands or Katy from Houston. If you have been seriously injured while riding a bus in Houston. Your best chances of getting proper compensation is to retain the services of an experienced bus accident attorney like Attorney Javier Marcos.
Also, there are several bus carriers that provide transportation throughout the United States and Mexico. Nonetheless, if you have been injured in an accident while riding a bus, who is at fault?  How can you get compensated for injuries you sustained while riding a bus?  To determine that, you will need to know who is at fault.  Was it the bus driver or the driver of the other vehicle?  Many times there may be multiple persons at fault and other issues such as defective equipment.
Attorney Javier Marcos is your bus accident lawyer
An accident can change your life in an instant. When getting on a bus, one trusts that they are responsible for keeping passengers safe. But unfortunately accidents happen. Attorney Javier Marcos has represented clients injured in Greyhound, METRO and school bus accidents.
As soon as the accident happens, it is better to call a bus accident lawyer. You can call the office 24 hours a day and ask for free. We send someone to your home and we also visit the hospital. Do not sign anything with the insurance company as they try to give you the minimum amount of money. Attorney Javier Marcos is a Spanish speaking bus accident attorney ready to help you.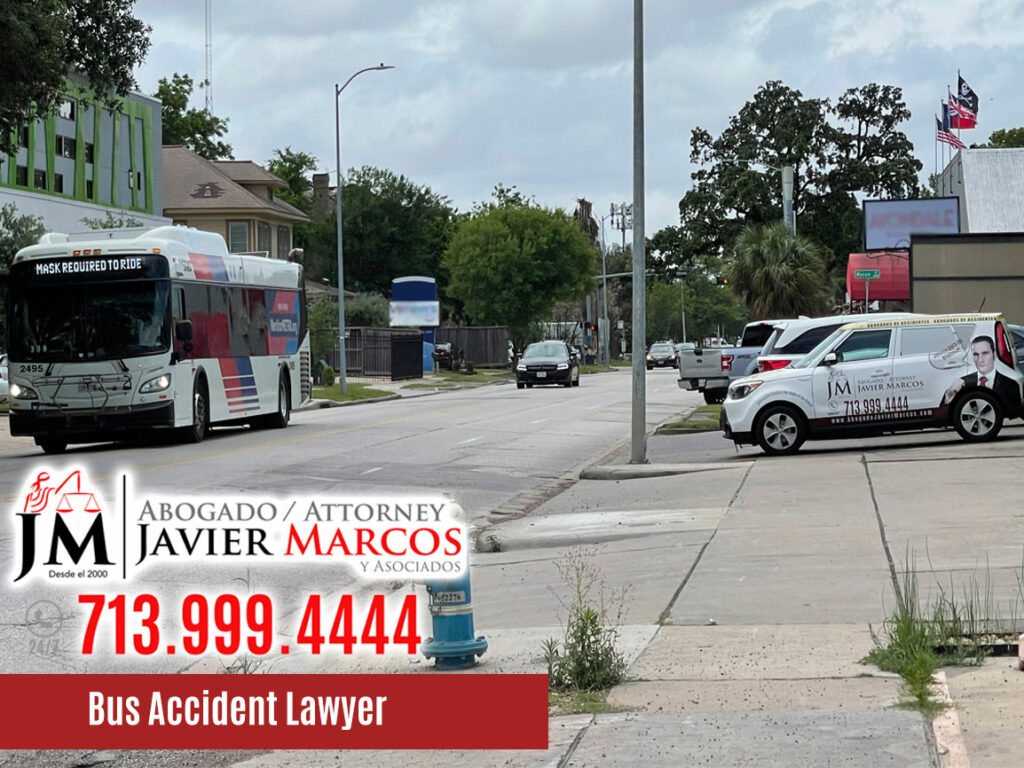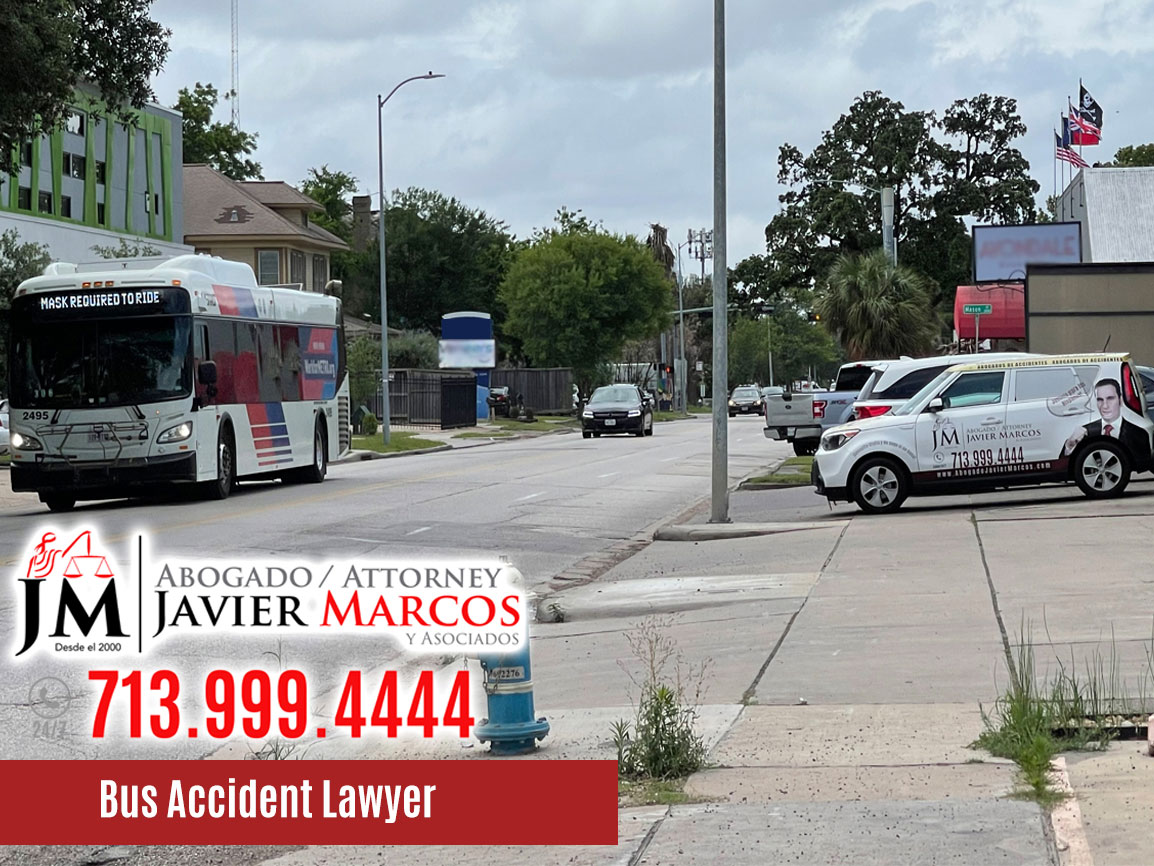 Why hire a Houston bus accident lawyer?
Whether you were involved in an accident caused by someone else's negligence or at your workplace. You are definitely entitled to receive a certain amount of compensation for your injuries. However, fighting your personal injury claim alone, proving the negligent party's fault in court, and negotiating a good deal is not an easy task. For this reason, this is where an auto accident lawyer can provide their assistance.
Personal injury lawyers offer legal representation to individuals who have been injured because of the intentional or negligent acts of others. Evidently, an experienced bus accident lawyer will fight your case. On your behalf, to make sure you get the compensation you deserve.
For one thing, serious accident in buses usually result in serious injuries due to the number of people involved and the lack of restraint usage.  Since buses are public transportation, accident statistics are well documented.  According to the National Safety Council (NSC), there was 117 fatalities involving school buses alone along with  over 13,000 reported injures in 2018.  Furthermore, a report released by the Bureau of Transportation shows that there were over 235 bus occupant fatalities from 2015 to 2019.  These statistics by the BoT only account for occupants of the bus and not fatalities or injuries to pedestrians and drivers of other vehicles that the bus may have hit.
Injured in a bus accident?
Overall, transportation by buses is a safe mode of transportation.  But it is important to remember that if you have been injured while riding on the bus or as a result of a bus hitting your vehicle or while you were a pedestrian. Clearly you will need an experienced bus accident attorney to help you build the best case possible.  That includes gathering evidence and reports, looking at the accident from all angles to determine who or what was at fault. And then of course navigating the legal hurdles to get the compensation you deserve for your injuries.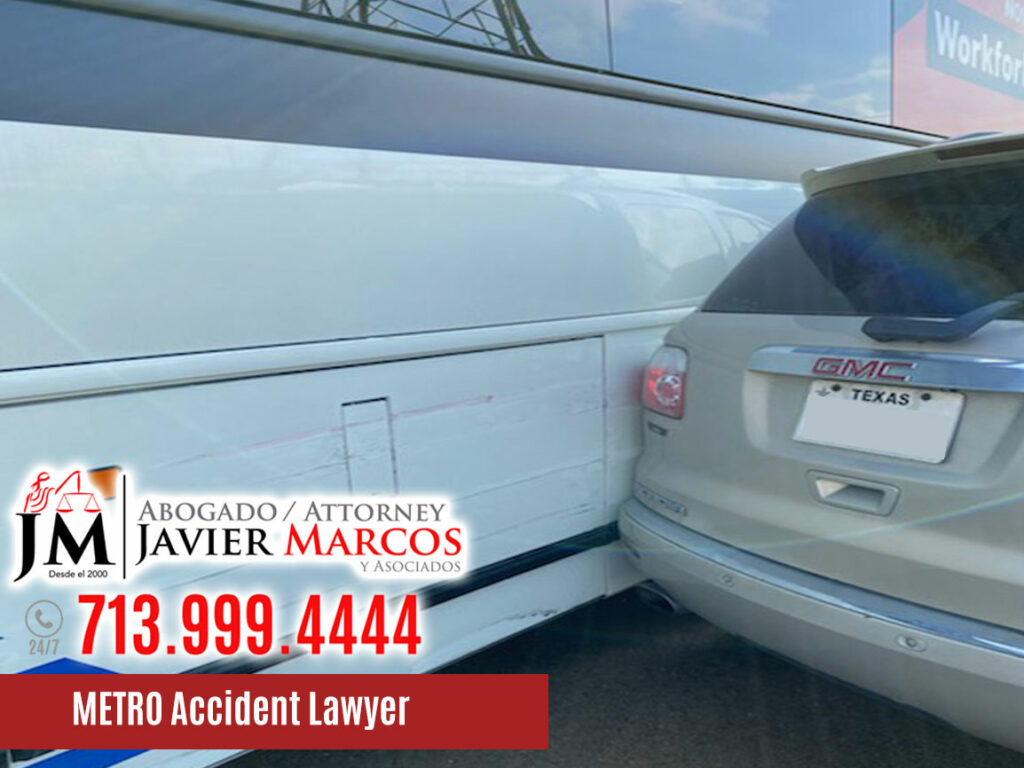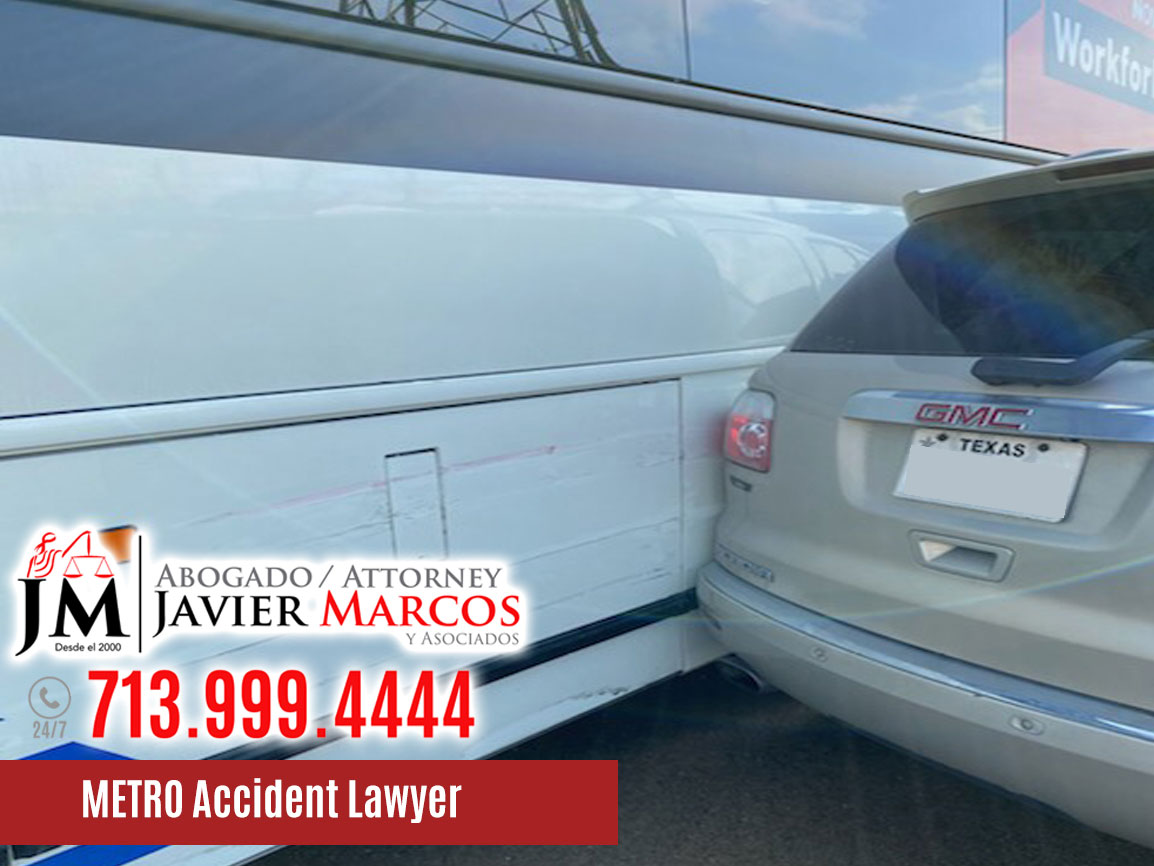 Like any other accident bus accident are caused by the negligent actions of drivers.  Excessive speed, distracted driving, driving while tired or under the influence can cause accidents on Houston's congested roads and highways.  But there are other reasons why bus accidents occur.
In some cases, the bus may not have been properly maintained.  Buses are operated everyday so proper maintenance is a must.  Public transportation companies like METRO have maintenance programs in place to keep their fleets running at peak efficiency.  When these programs are not followed or if the buses are not properly inspected before use, mechanical failure can cause accidents.
On average, there are over 180 bus accidents in the United States every day.  Due to their size, any significant accident causes serious injuries.  Typically, bus accidents are caused by unsafe acts by drivers or mechanical failure.  Either way, if you have been injured on a bus or as a result of a bus hitting you in Houston. Seek the counsel of an experienced bus accident attorney.  It can make a huge difference in the amount of compensation you receive.
Type of Injuries at Bus Accidents
Due to the lack of restraints found in buses, common injuries sustained by the occupants of a bus accident in Houston include head injuries from hitting other objects or windows within a bus as well as spinal injuries which are common when head injuries occur. Of course, you can also sustain bad sprains and broken bones if you have fallen. Typically, injuries sustained in bus accidents are serious and even more so. If the bus travels from city to city since they usually are driving at a higher rate of speed. Bus accidents on highways often result in fatalities due to the speed.
Who is at fault in a Houston Bus Accident?
Determining fault in any accident is the most important factor in eventually getting compensation and determining how complicated a case gets.  When it is individual drivers, it is fairly straight forward.  Once businesses and government agencies get involved then the rules change.  An experienced Houston Bus Accident Attorney can help you navigate through these laws and processes.  Finding fault in a bus accident can be difficult.  In a bus accident, the fault can lie in the bus driver, the bus company, other drivers, pedestrians and bicyclists or even the town or city if the roads are in poor condition.  As you can see, it can get complicated at who is at fault in many accidents.  Attorney Javier Marcos will ensure that all necessary actions will take place. As well as build the best possible case for your injury claim.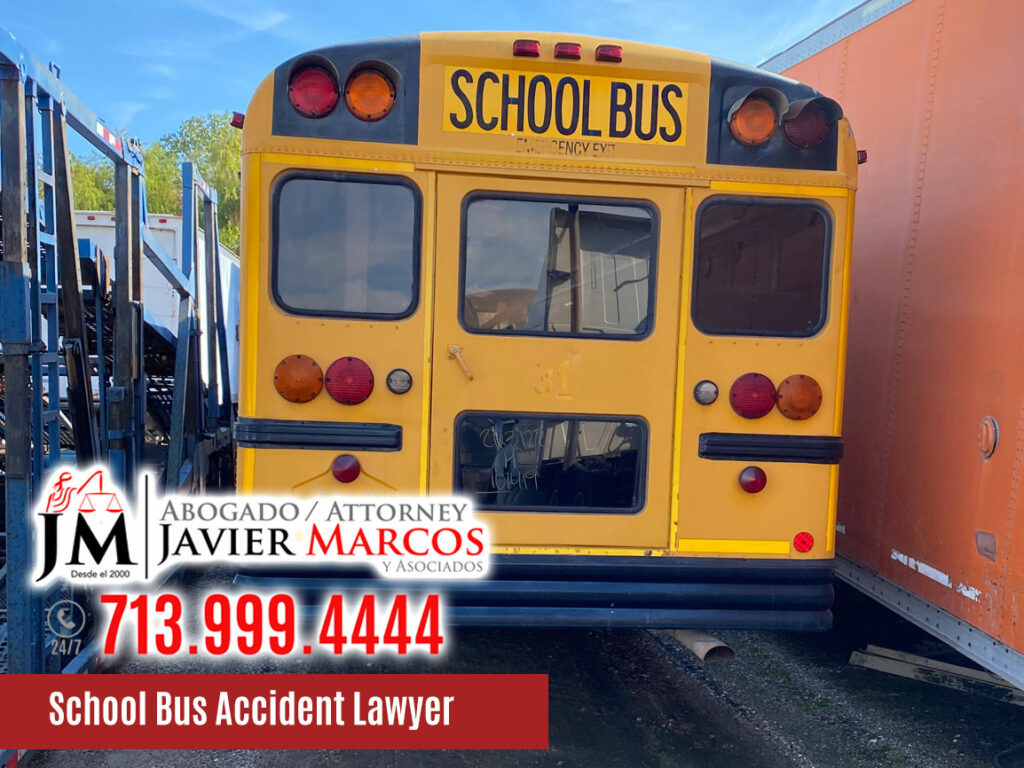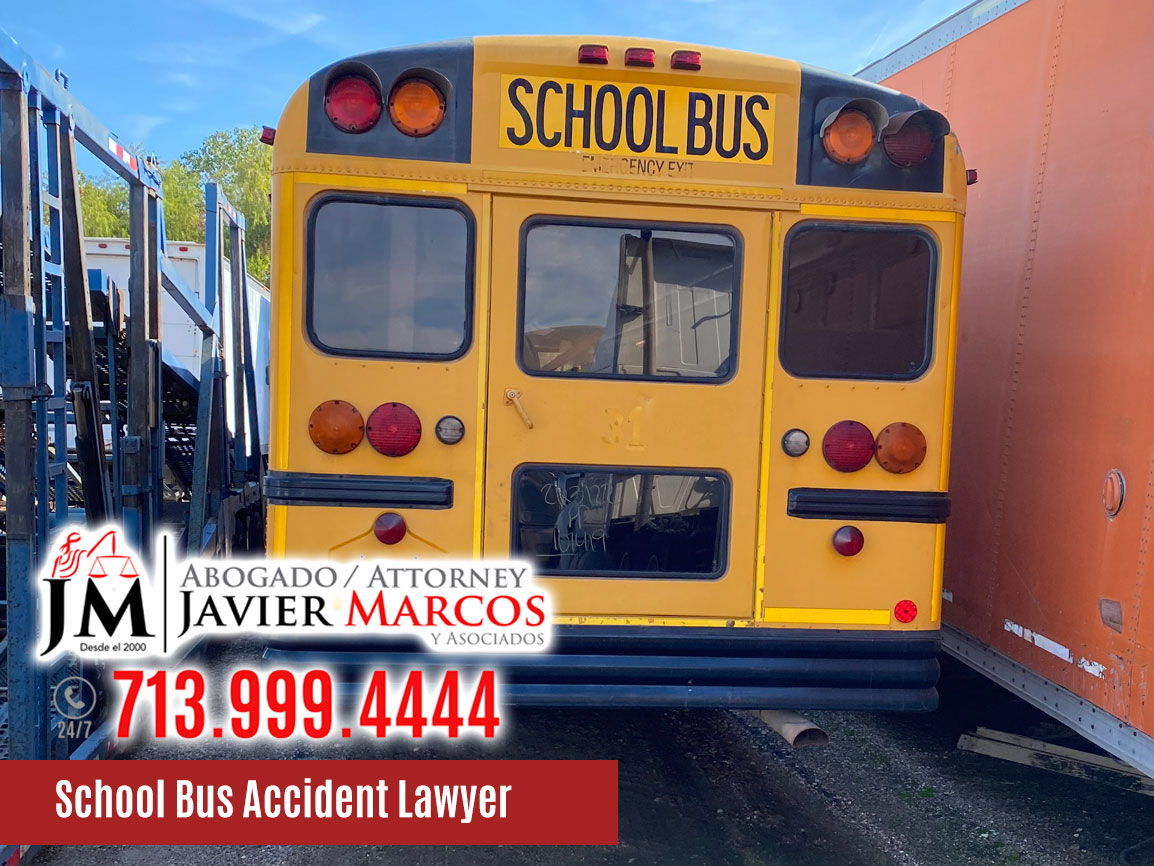 Should I Hire an Attorney for my Bus Accident?
Yes. We always recommend you retain an attorney to help you with your case if you have been seriously injured in a bus accident or any other type of accident in Houston.  Many laws are in place to protect the business and insurance companies' main priority is to pay out the smallest claim possible.  So a personal injury attorney is on your side.  It's a mutual relationship since the attorney works on a contingency basis which means they get paid only if you get paid.  A good personal injury lawyer like Attorney Javier Marcos will ensure that your interests are always being represented during the investigation. As well as with the insurance companies and in court should the case go to trial.
There are many hurdles to overcome in any accident that involves serious injuries or property damages.  You can be assured that the other side is doing as much as possible to minimize their exposure and the claim.  Your personal injury lawyer will work for you to maximize your compensation.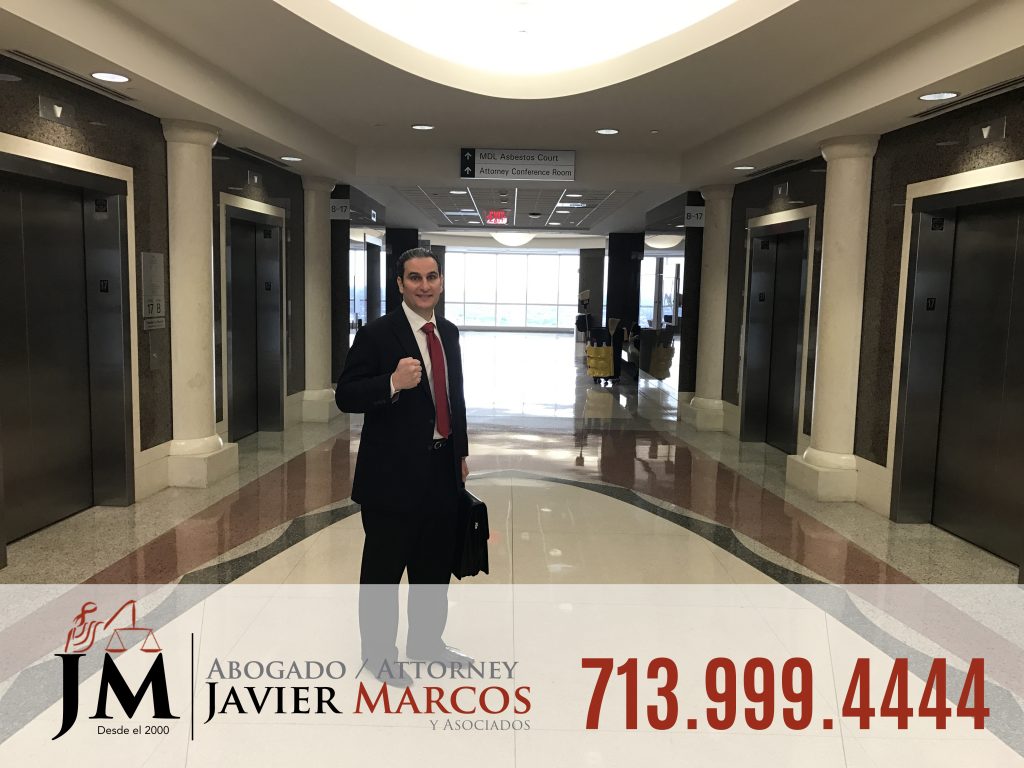 Frequently Asked Questions for Bus Accidents
The first thing you should do if you were a passenger on the bus or a driver hit by the bus is to seek medical attention if needed.  Otherwise, you or someone you know should try and gather as much information as possible. Like the buses license plate or bus number, the bus driver's name, witnesses, street address, etc.  The police should also get a lot of information if you are unable.  Safely take photos with your phone if possible.  Take photos of the damage as well as the area around the accident. Like intersection photos, lights and take note of weather or traffic conditions.
It all depends on who was at fault.  You can sue any of the drivers that may have contributed to the accident.  The bus company who employs the bus driver may be at fault if there is a situation where the driver was unqualified or the bus was in poor maintenance.  Even the bus manufacturers may be sued if a defective part or manufacturing process led to the accident.  It is always a good idea to retain a experienced bus accident injury lawyer if you have been injured in an accident with a bus.
A bus is considered a common carrier and the bus company has a special duty of care.  This duty of care can start at the bus stop and ends when you step off the bus.  They are highly regulated to keep you safe.  If you have been injured while a passenger on a bus. We can look to see if the bus carrier took all the steps necessary to provide safe transportation services for you.
Benefits of hiring an attorney that speaks fluent Spanish and English
Attorney Javier Marcos is a Latino lawyer.  He can speak Spanish and English fluently but being of Hispanic descent, he understands the nuances of the language and culture.  These can be important in any legal case.  Be assured the Attorney Javier Marcos understands the difficulties Latinos can face when trying to get justice.
Schedule your free video or in-person consultation today. We can come to you or come by our office.
This lawyer firm is amazing. They not only fight for your rights but do it in a professional manner and recommend you the best services possible. Javier is always willing to work with you and are responsive about your case. They're additionally very kind and supportive, while it also helps the firm being bilingual helping anyone no matter the background. They will fight for your rights no matter what, and I would highly recommend. Thank you Javier Marcos for helping me and my family.
My experience with Attorney Javier Marcos is one of the best attorneys I will ever cross. In my book I think he is the best. And that is from my heart. He helped me with within 18wheeler accident. I am so happy I came to his office. I recommend him as a truck accident attorney. I have been to other attorneys and what a difference. This firm is where to go to.
By far the best Lawyers you could find, very helpful and friendly all around. Very professional and always available when you have any questions. They truly go out of their way to give you an amazing and facilitated experience throughout your case.
I experienced nothing but the best, they kept me updated on my case and if any changes they would tell me. They made sure I got the best of care when it came to medical attention too, which was great! Isabel was an amazing case manager and was always ready to answer any questions I had about my case. 10/10 would definitely recommend them to anyone in need of an attorney!
Amazing experience and they keep you up to date with everything you need! After my accident they fought deliberately for me and even got me compensation! 100% recommended 😃 Thank you Javier Marcos and Company!
I am really thankful with Javier Marcos and his team. They actually gave me more for my case than I thought! They are really nice and the best law firm team in Houston. Thank you so much for your service and will recommend for any family who just had a car accident! Thank you so much one more time!
Javier Marcos 45 North Freeway
10700 North Fwy
Houston, TX 77037
Phone: (713) 999-4444
228 Westheimer Rd
Houston, TX 77006
Phone: (713) 999-4444
Schedule your free video or in-person consultation today. We can come to you or come by our office.