Latino Attorney for Accidents involving Amazon Trucks
Amazon has quickly become one of the largest logistics companies in the United States with delivery trucks and vans across America.
From 18-wheelers delivering products to their massive hubs and smaller vans delivering boxes to residential homes and businesses, Amazon seems to be everywhere.  They run on tight schedules due to their guaranteed delivery promises.  So what happens when you have been involved in an accident caused by an Amazon driver?  Who is responsible?  Its it Amazon?  Is it the driver or company contracted by Amazon?  These accidents involving Amazon drivers and vehicles can be very complicated.  Your best course of action if you have been injured in these types of accidents should be to contact a personal injury lawyer like Attorney Javier Marcos.  He will be able to properly guide you and represent you to get the maximum compensation.
Attorney Javier Marcos is an accident lawyer in Houston that speaks Spanish. He can help you in your accident case 24 hours a day. Offering free consultation, we go to you wherever you are, you can call 24 hours a day, visit the doctor at no cost, speak personally with the lawyer and the best customer service. Try not to talk to the insurance company, as they will try to give you the minimum amount of money. Let the Attorney Javier Marcos talk to the insurance company. For any accident where you have been hurt or injured, call Attorney Javier Marcos.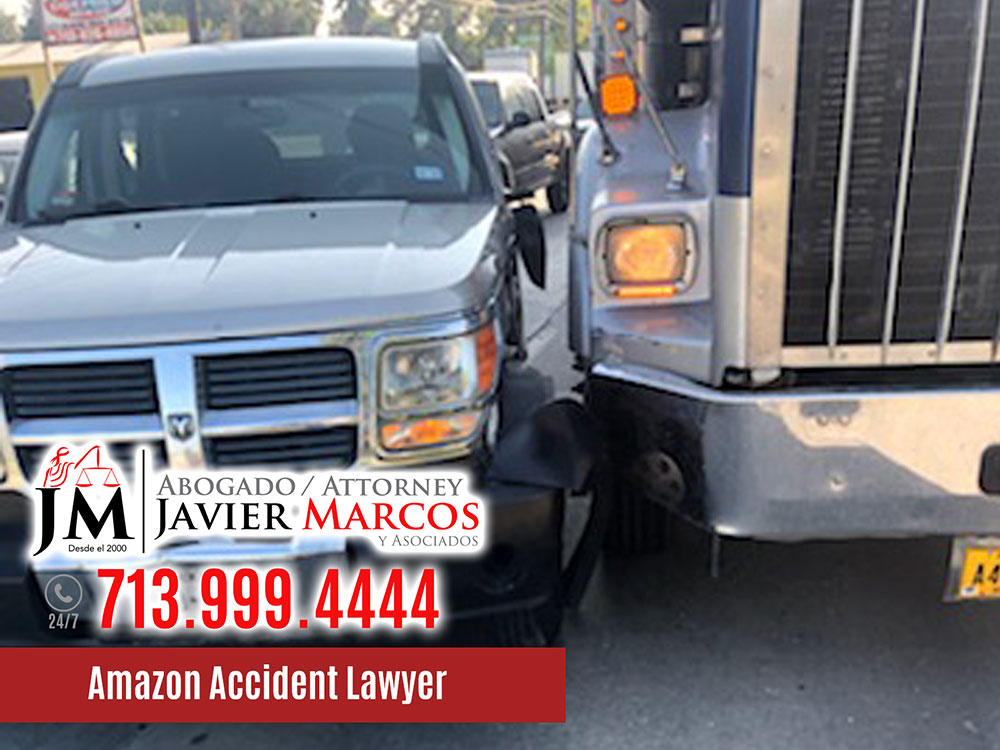 How often do Amazon truck accidents happen?
Accidents involving the larger 18-wheeler trailer trucks are more rare but cause greater damage and injury.  From 2018 to 2021, there have been over 50 serious Amazon truck accidents resulting in 14 deaths and 60 serious injuries.  Accidents involving the smaller Amazon delivery vans are even greater since there are many more of them and they drive around populated inner city streets.  There are many Amazon "last-mile" hubs in and around the Greater Houston metroplex that includes nearby cities like Bellaire, Sugar Land, Katy, Pasadena and Kingwood.  In addition to trucks that you know are Amazon because of the markings, Amazon contracts out thousands of on-demand drivers that also deliver Amazon purchases.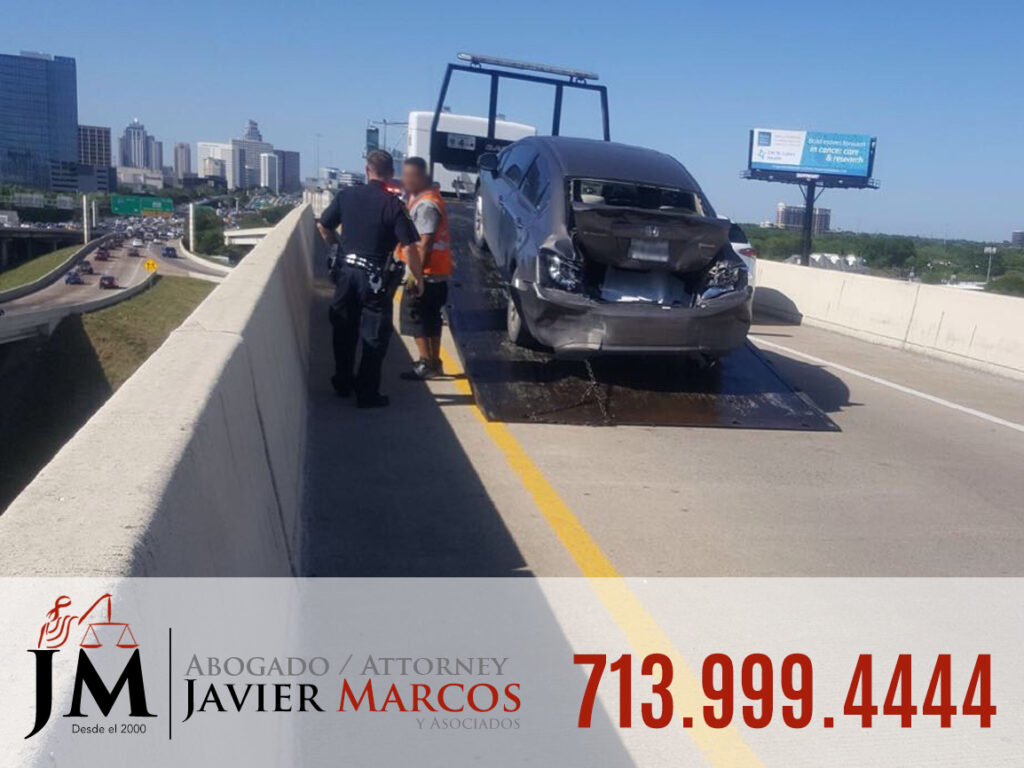 Who is liable in an accident involving an at fault Amazon Truck Delivery Driver?
If you get hit by a vehicle or truck that is delivering products for Amazon, do you know who is responsible to pay for damages?  The driver might work for a company that is contracted by Amazon and therefore, Amazon is not directly responsible.  Amazon provides free liability insurance for its drivers and many companies that contract out for Amazon are large with significant financial capability. 
The best way to navigate the complexity of getting into an accident with an Amazon truck is to talk to Attorney Javier Marcos.  He is experienced and understands the law when it comes to accidents involving an employee or contracted driver.
The driver – many times it is the driver who is primarily at fault due to distracted or reckless driving.  They can be sued for damages if they are an independent contractor.  In serious accidents, there is a good chance that their insurance maximums may not cover all damages.
The trucking company – if the driver is an employee of a trucking or delivery company contracted by Amazon, then they can also be held liable for damages if it can be shown that they contributed to the accident by not following safety standards in maintaining vehicles, hiring or training drivers, etc.
Vehicle manufacturer – more rarely, if a defect in the vehicle or any part of the vehicle significantly contributed to the accident, they can be held liable as well.  This is a complex issue that should be investigated by an experienced attorney.
Accidents involving Amazon owned vehicles
As we have stated, we cannot stress enough the complex issues surrounding accidents involving Amazon owned or contracted trucks.  The use of contracted drivers and on-demand drivers is still relatively new. Laws and interpretation of laws governing these types of accidents are still being tested.  Additionally, Amazon like all big companies make it difficult to get the fair amount of compensation for accidents.  Your best chance is to retain an experienced truck accident lawyer like Attorney Javier Marcos.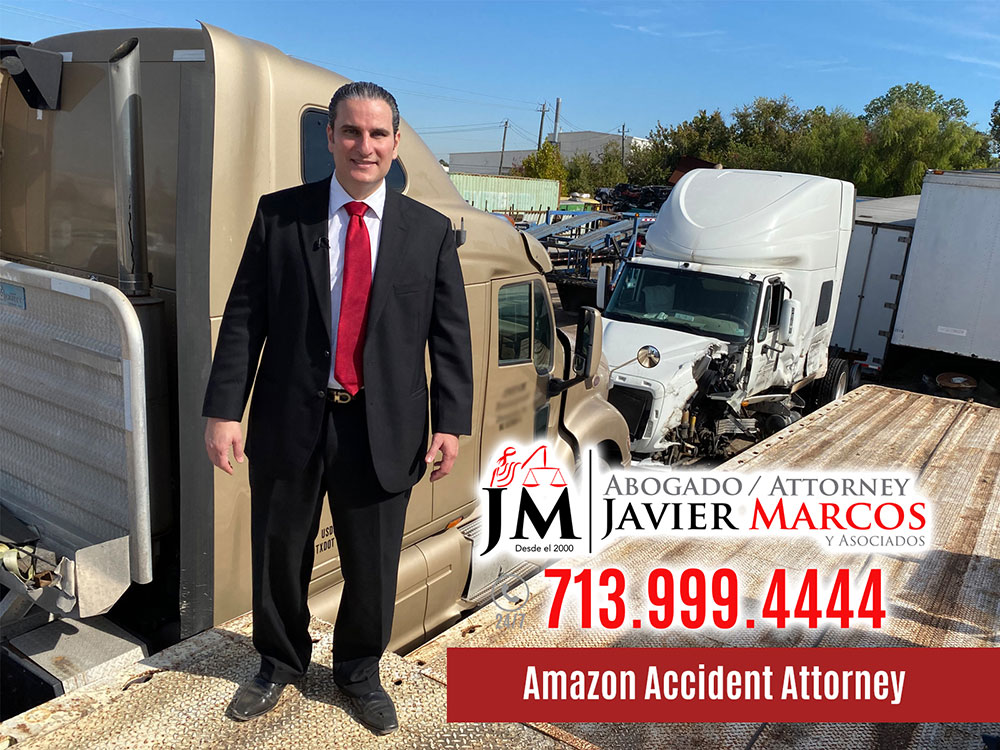 Steps to take if you have been in an accident with an Amazon truck
Schedule your free video or in-person consultation today. We can come to you or come by our office.
This lawyer firm is amazing. They not only fight for your rights but do it in a professional manner and recommend you the best services possible. Javier is always willing to work with you and are responsive about your case. They're additionally very kind and supportive, while it also helps the firm being bilingual helping anyone no matter the background. They will fight for your rights no matter what, and I would highly recommend. Thank you Javier Marcos for helping me and my family.
My experience with Attorney Javier Marcos is one of the best attorneys I will ever cross. In my book I think he is the best. And that is from my heart. He helped me with within 18wheeler accident. I am so happy I came to his office. I recommend him as a truck accident attorney. I have been to other attorneys and what a difference. This firm is where to go to.
By far the best Lawyers you could find, very helpful and friendly all around. Very professional and always available when you have any questions. They truly go out of their way to give you an amazing and facilitated experience throughout your case.
I experienced nothing but the best, they kept me updated on my case and if any changes they would tell me. They made sure I got the best of care when it came to medical attention too, which was great! Isabel was an amazing case manager and was always ready to answer any questions I had about my case. 10/10 would definitely recommend them to anyone in need of an attorney!
Amazing experience and they keep you up to date with everything you need! After my accident they fought deliberately for me and even got me compensation! 100% recommended 😃 Thank you Javier Marcos and Company!
I am really thankful with Javier Marcos and his team. They actually gave me more for my case than I thought! They are really nice and the best law firm team in Houston. Thank you so much for your service and will recommend for any family who just had a car accident! Thank you so much one more time!
Javier Marcos 45 North Freeway
10700 North Fwy
Houston, TX 77037
Phone: (713) 999-4444
228 Westheimer Rd
Houston, TX 77006
Phone: (713) 999-4444
Schedule your free video or in-person consultation today. We can come to you or come by our office.