Truck Accident Attorney in Houston Texas
Houston is the 4the largest city in the United States and is a huge hub in the transportation industry.  With the Ship Channel and Oil Industry presence in Houston, our freeways have thousands of commercial trucks and 18 wheeler drive on Houston highways daily. In most cases, these experienced drivers safely navigate our freeways. But often there are accidents involving 18-wheeler and other large commercial trucks with consumer cars and trucks. Because of their sheer size, damages and injuries are magnified in these large truck accidents.  Therefore accidents with an 18 wheeler are the main cause of death and injury in the United States. An experienced truck accident attorney can help you build the best case to get maximum compensation.
Attorney Javier Marcos
You will need a truck accident attorney with a lot of experience and knowledge to defend your rights. Truck accident attorney Javier Marcos is ready to help you 24/7. Attorney Javier Marcos is an experienced personal injury attorney. He has decades of dealing with commercial vehicle accidents that result in serious injuries. Not only but also he is knowledgeable about the laws that govern commercial truck drivers. Clearly he can help you get the most compensation on accidents involving large commercial trucks and 18-wheeler accidents. Offering great costumer service that is available to help you 24 hrs.
En espanol: Abogado para Accidente de Camion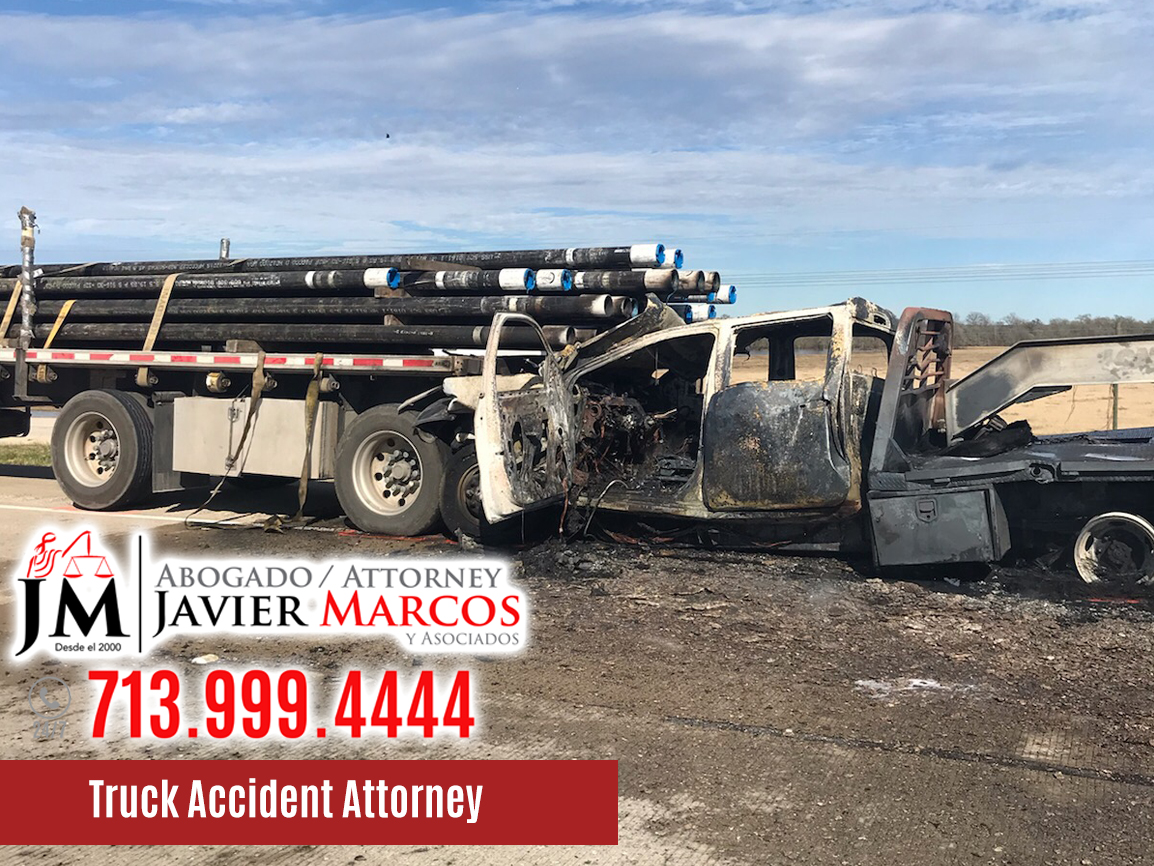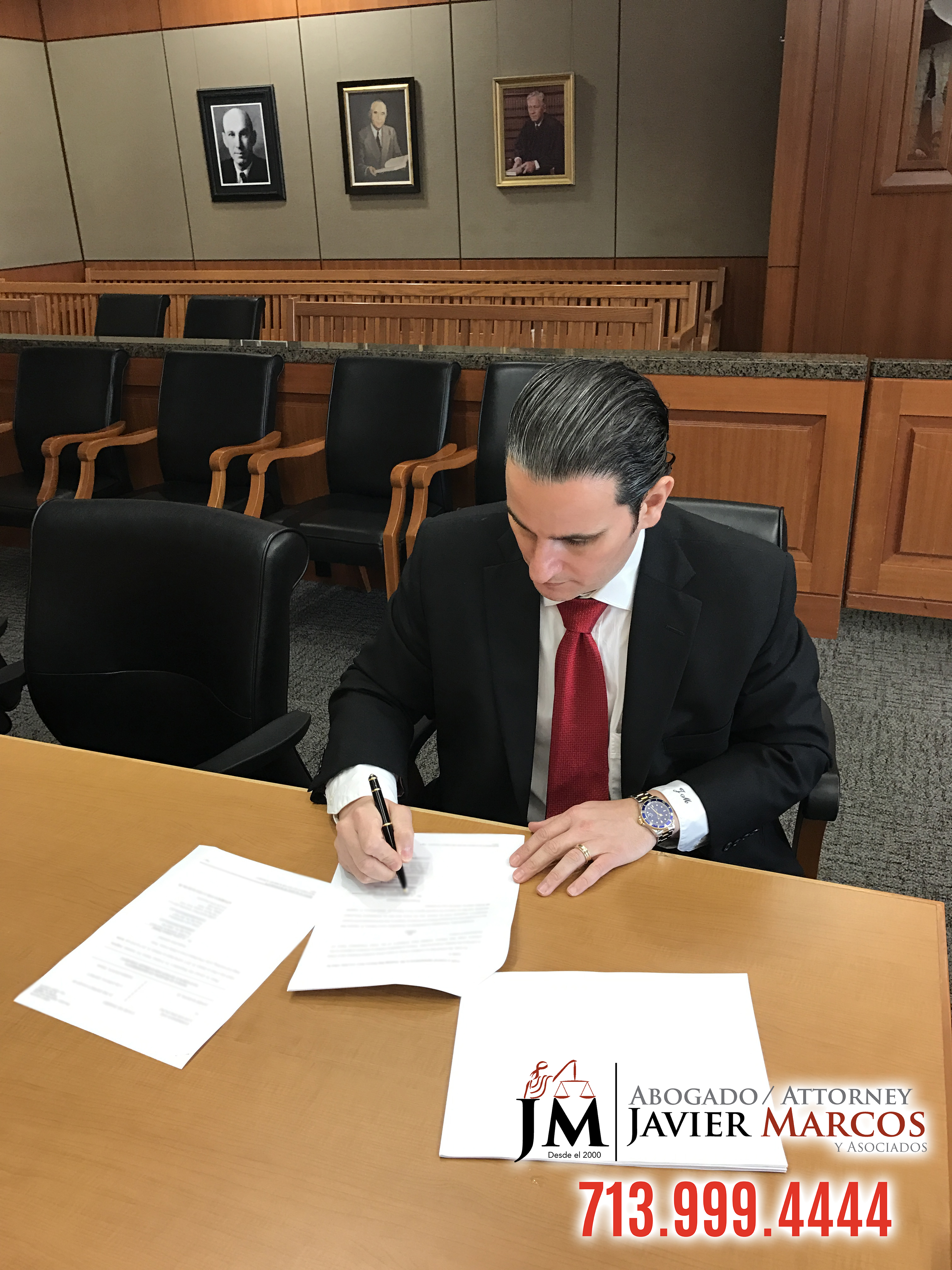 Do I need to Hire a Truck Accident Attorney in Houston?
A commercial truck accident can get complicated depending on who is liable for the truck accident.  Which could include the driver, the trucking company, the broker who hired the trucking company and even the trucking manufacturer in case of defective equipment.
In any case, if you have been seriously injured in a truck accident. Definitely the best thing you can do is to get hire an experienced truck accident injury attorney.  Especially to represent you when dealing with insurance companies, law enforcement and other drivers.
Two years statue of limitation
First and foremost, seek medical attention for your injuries.  Just keep in mind that there is limited time for filing a lawsuit.  In Texas, personal injury claims must be filed within two years.  This seems like a long period of time, but the sooner an experienced truck accident attorney can get started on a case, the better the outcome.  Secondly, the personal injury attorney will gather evidence, request police reports and interview witnesses as well as gather medical treatments that you received.  It should be noted that the more time that passes makes it that much harder to get accurate information.
es muy confiable y habla español y es muy comprometido con tus casos y es muy entregado en su trabajó
Great lawyer i recommend him
Ive had the best experience with this office! Amazing customer service! Javier Marcos really cares about ALL his clients and is the best attorney in Texas.
Es muy buen abogado. El servicio al cliente muy bueno. El abogado habla español.
There Very Professional and We've been given Exceptional services each time we use them for whatever our needs may be.. We won't use anyone but and highly recommend them for your legal services whatever it may be
Javier is a real straight shooter and works hard to get you your money. The staff are always pleasant and helpful. Highly recommended!
I recommend hiring this attorney for any personal injury matters he is a excellent attorney an his staff is very helpful and professional and caring so if you have a need for a personal injury attorney he is the man to go to, too get the most dedicated attention for your case Javier Marco's & Associates !!!
Very helpful honest lawyer. Yes I know honest and lawyer usually don't go together. Very knowledgeable in various practice areas.
Very recommended. He knows what he is doing. An attorney you can trust.
Lo recomiendo. El Abogado Javier Marcos se entiende con la gente Hispana.
El Abogado Javier Marcos es mi abogado. Siempre que quiero hablar con el esta disponible. lo recomiendo
Me parecio muy bien. Me gusta quw el abogado habla espanol. Es buena persona.
What should I do at the scene of a truck accident?
In case of an 18-wheeler car accident, it is important to get in touch with an experienced truck accident lawyer to help fight your case like Attorney Javier Marcos. Additionally, here are a few things you should do if you are involved in a truck accident to make your case stronger:
What are Common Types of Injuries in Truck Accidents?
Truck accidents without a doubt result in many types of injuries. In particular speed, size and many other variables also lead to possible serious injuries from auto accidents. There are thousands of large trucks on the freeways everyday.  Nonetheless it is just a matter of time before an accident occurs with a car and 18-wheeler.  Damages and injuries can be very severe.  It is important that people involved in truck and 18-wheeler accidents in Houston. Contact an attorney as soon as possible.
Some common injuries include:
Neck and Back Injuries
Broken Bones
Strained Muscles
Cuts and Bruises
Internal Organ Damage
Brain Injuries
Permanent Disfigurement
Amputations
Permanent Disability
For all the previous reasons, it's clearly important and necessary that you call the office of Truck Accident Attorney Javier Marcos as soon as an accident happens.
What are Common Causes of Truck Accidents?
With all the construction on Houston freeways and roads, there are many ways to get into an accident with an 18-wheeler or large commercial truck. Clearly some include:
Truck Drivers driving under the influence of alcohol or drugs
Without a doubt, driving and being under the influence of alcohol or drugs also can result in a truck accident. When driving, the alcohol level should definitely not exceed 0.08% on the BAC test. While being under the influence, the driver may experience loss in concentration, blurry vision and or lack of hand and feet coordination.
Turning accidents with Truck Drivers not clearing the lane
Changing Lanes Abruptly
While it is understandable that you would want to reach your destination early, abrupt lane changes can result in devastating crashes.
Tired or Fatigued Truck drivers
Truck drivers work long hours and even in continuous shifts, which affect their sleeping patterns and impair their judgment on the road. The hours expected from their boss are 70 hours in 8 days. Letting them drive 14 consecutive hours after being away of the job for 10 consecutive hours. Which causes truck drivers being fatigued.
Distracted Driving
Using cell phones, eating or drinking, talking to the passenger, checking out the scenery, and other such activities while driving is a major cause of such accidents. 80% of truck accidents occur because of distracted driving.
Wrong Cargo Loading
When cargo is loaded in a truck incorrectly, it can lead to sudden shifts that can unbalance the truck. In addition to this,the cargo might fall off the truck entirely creating an even more devastating accident.
What Happens During A Truck Accident Claim?
First of all Police/EMS is notified.
The local police should be contacted in the event of an auto accident resulting in injuries in addition to EMS personnel.  The police will file reports which both parties will use to determine fault.  In addition if possible, take pictures of the vehicles and immediate surroundings.  At this time the police may gather witness information.  If not, try and get any witness information to help corroborate your story.
Seek medical care
If you have been hurt and an ambulance shows up,  definitely go get checked out via ambulance.  Despite if your injuries are not that significant, even so seek medical care. Especially to make sure that there are not injuries you are not aware of. Without a doubt, car accidents cause lots of stress and you may not feel hurt at the time.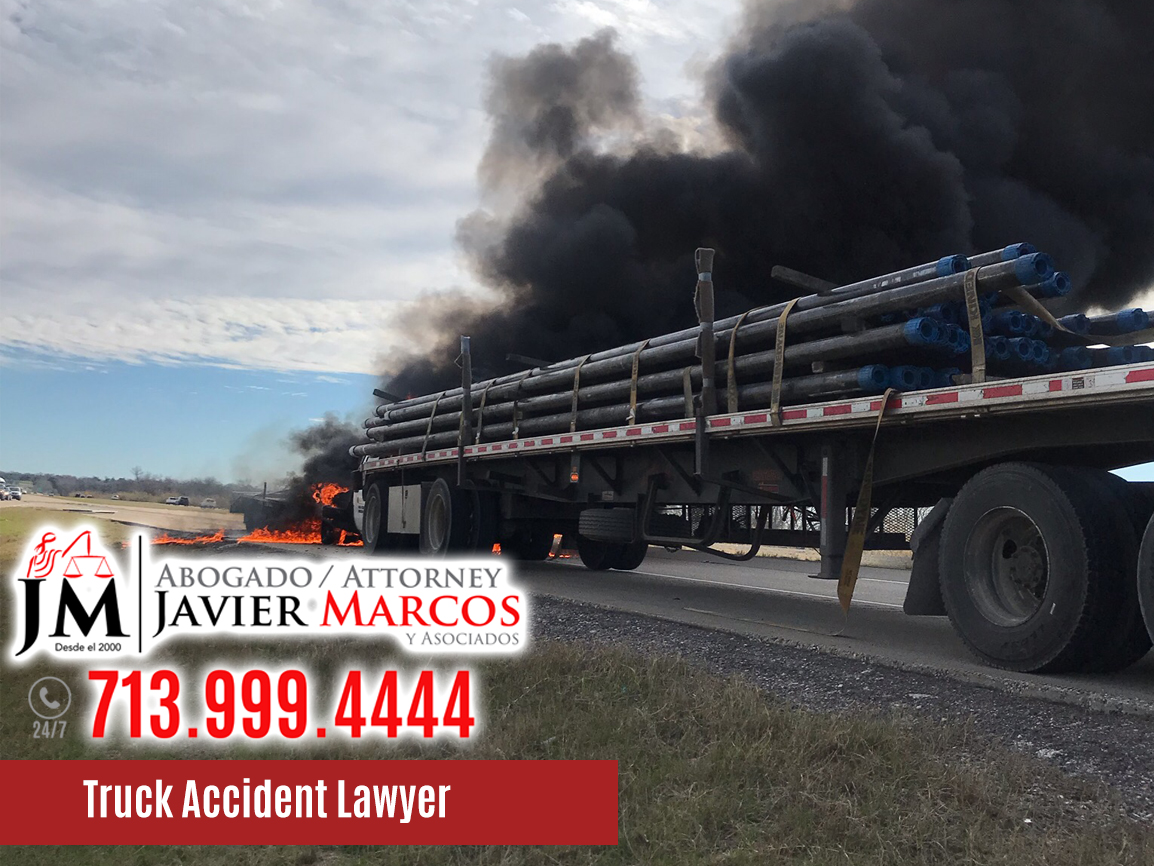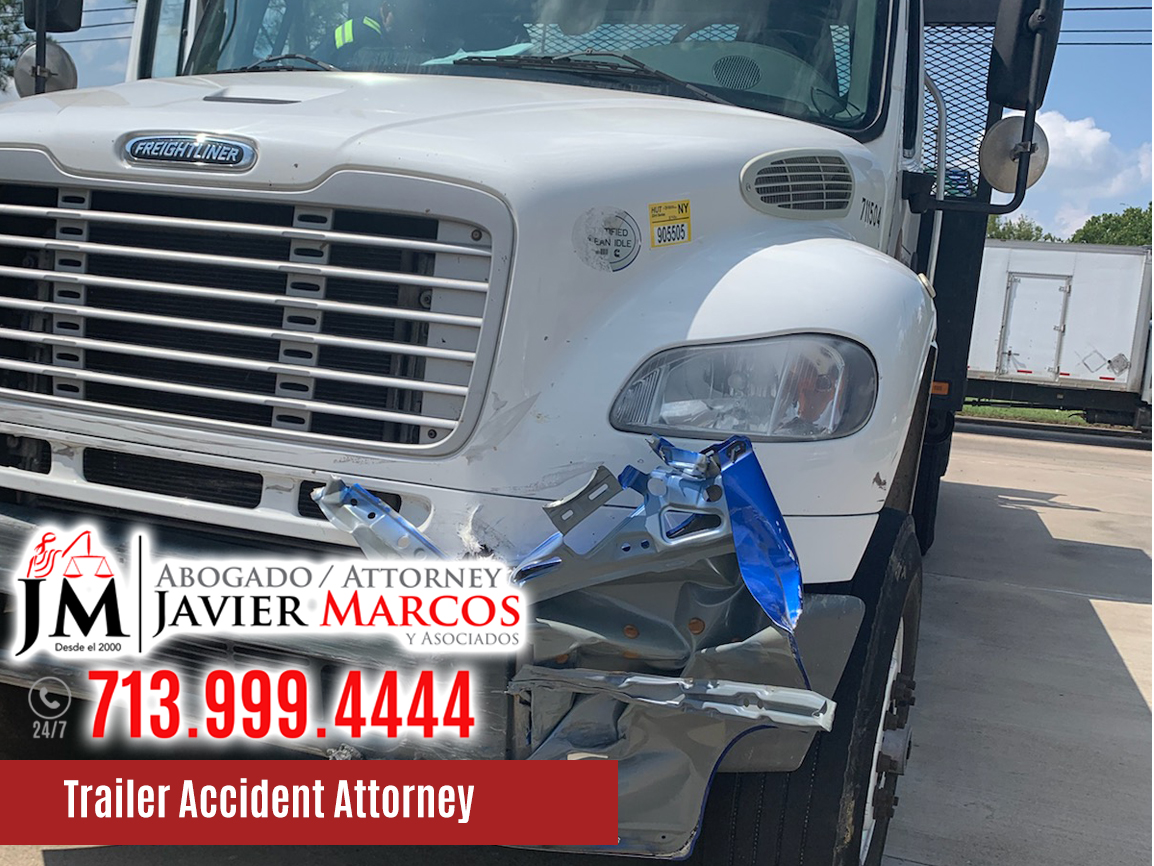 What should I do in the days following a truck accident?
First Seek Legal Advice
Before talking to any insurance representative or adjusters, contact an experienced, licensed personal injury attorney like Attorney Javier Marcos.  Clearly, not all attorneys are alike.  An experienced car accident attorney can greatly impact the amount of compensation you receive from your car accident injury claim. Call 24 hrs, do not let time pass. Start your case today.
Subsequently Go to the doctor
Delaying the medical treatment might be taken as foul play by the insurance company. Not only but also this can have a negative impact on your final settlement or your case might even be disputed. Indeed refusing medical attention can make your legal claim seem invalid.
Not only but also do not speak with the insurance company
For instance, let Attorney Javier Marcos and his office speak with the insurance company. While it might appear that the insurance adjuster is on your side, they always have their own best interests. Also keep in mind that they are evaluated by their companies by the amount of money they saved for the company. This is the reason why they will always try to reduce your settlement amount, while assuring you that they will get you a fair settlement.
The information that Truck Accident Attorney Javier Marcos will attain is:
First obtain the information of how the accident happened.
Second get the police report.
Thirdly, see what damage the vehicle suffered in the accident.
Following obtaining photographs of the accident.
Subsequently, obtain the "Black box".  This is a box installed in many 18 Wheelers and commercial trucks.  It's a box that saves the hours of operation of the 18 Wheeler and when it was out of service, the speed at certain times, arrival at and departure from different destinations, when cruise control was on or off; as well as, will tell you when the 18 Wheeler was in danger and what the reaction to correct the danger was.
Driver history, if he/she has used alcohol or drugs.
Investigate the 18 Wheeler driver's activities on the GPS system.
Gather receipts and bills of lading.
Obtain maintenance records from the 18 Wheeler or commercial truck.
Last but not least, examine the company records of 18 Wheeler or commercial truck.
Can I sue a trucking company without a lawyer?
Truck accidents are often complex and can get distressing for the victim. Undoubtedly, there are plenty of investigations, negotiations, and paperwork involved which you might not be in the right emotional state to tackle. Therefore, you need an experienced truck accident lawyer to do the legwork for you to ensure you get the best out of filing the claim for damages.
Not convinced? Here are the major reasons you need to hire a truck accident lawyer after the accident:
What is the average settlement for a truck accident?
In many truck accidents, people just let the insurance company take control of the situation and accept whatever is awarded.  The fact is that when it comes to truck accidents, insurance adjusters are there to minimize the money that insurance companies must award.  They are here to offer you the lowest settlement possible.  The best course of action at the time of the car accident is to give the other party your basic contact and insurance information.  Then if you have been hurt in the accident, seek medical attention and work on getting an experienced commercial truck accident attorney on your side.
The insurance company may contact you to offer a settlement.  It may be tempting to accept this settlement but realize that once you do, you cannot typically go back to them and ask for more if you have more out of pocket expenses.  It is very important that you consult with a truck accident attorney BEFORE you accept any settlement offer.
The personal injury attorney will assure that you are properly and fully compensated including:
Current and possible future medical treatments
Any lost wages and any possibly diminished future earnings
Pain and suffering
Punitive damages for negligence
Wrongful death damages, if applicable
Other expenses you may have incurred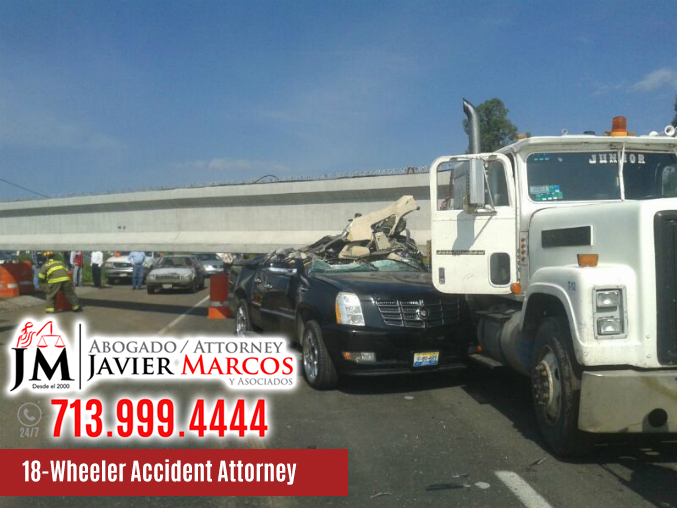 Truck Accident Attorney | Attorney Javier Marcos
If you have been involved in an accident, it is recommended that you consult an experienced truck accident attorney like Attorney Javier Marcos. Whether the accident was your fault or caused due to someone's negligence. Your lawyer will have your best interest and will ensure that your rights are protected. Moreover, having an experienced professional at your side ensures you receive the justice you rightfully deserve.
Truck accident pose greater risk for everyone involved as compared to other automobile accidents. Along with being a victim of a truck accident means you are entitled to receive a hefty settlement. Which is why it is best to hire an experienced truck accident lawyer like Attorney Javier Marcos to ensure you recover the right amount of damages you deserve.
What are ways to Avoid Truck Accidents?
It is highly important for your own safety and the safety of others to abide by the traffic rules and be cautious when driving your truck. Checking your truck thoroughly before driving can help in minimizing the risk of an accident when you are on the road. To avoid such accidents, it is important for drivers to take some precautions.
Ways to avoid truck accidents
Avoid using cell phones, as well as other such distractions.
Drive within the speed limit.
Never switch lanes abruptly, give other drivers enough time to maintain a safe distance when you are about to change the lane.
Maintaining some distance between other vehicles.
Always check the breaks before heading out on a long journey.
Maintain the regular checkups of your truck to ensure everything is properly working.
Load the cargo carefully and secure it properly. Always double check.
Take breaks between long shifts. A quick nap and food at a stopover can refuel your energy.
Never drive the truck after consuming a few drinks.
If the weather is harsh, avoid driving.
If you've suffered an accident, you have a right to file a lawsuit to recover your losses, medical expenses, treatment, pain & suffering, lost wages, inability to work or function, property damages, and others. If Spanish is your first language, do not worry, Attorney Javier Marcos is fluent in Spanish and everybody in the office speaks Spanish fluently and are available 24 hrs a day, seven days a week.
It's important that you call attorney Javier Marcos as soon as possible so that you can start your medical treatment, improve your legal position, preserve evidence, and learn your rights.
Receive money for your accident, its ok if you do not have any papers, we all speak Spanish, you do not have to pay anything unless we win the case, speak directly with Attorney Javier Marcos, receive medical attention at no cost, WE GO TO YOU 24 HRS. A DAY SEVEN DAYS A WEEK.  Your information is 100% confidential and we'll visit the accident site, your home, or the hospital.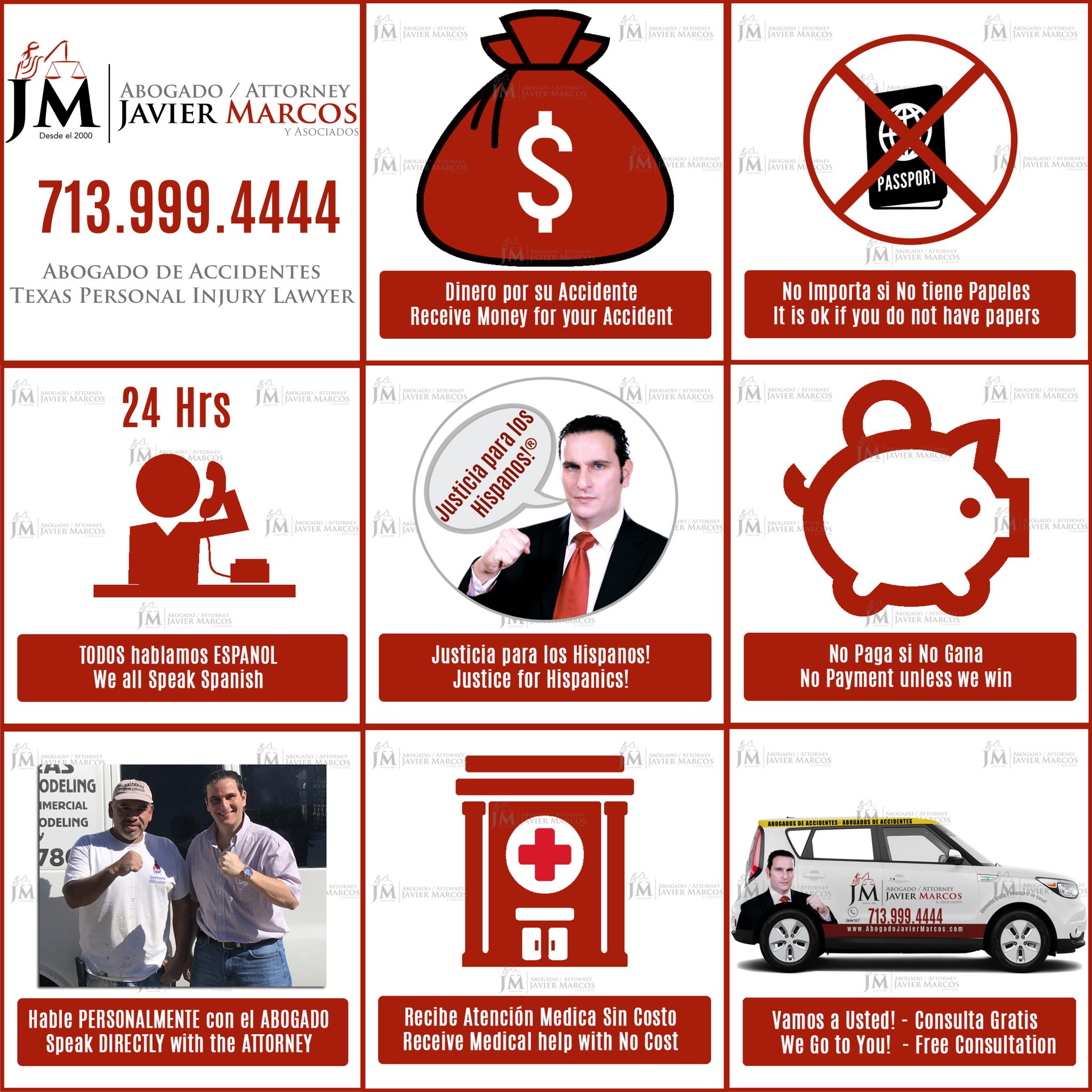 webadmin
The reason behind most of the road accidents that take place is fairly common: negligent driving. Everyone knows that this is wrong, but still people continue to exhibit negligent behaviors while driving, leading to more and [...]
webadmin
More often than not, the last thing you care about after getting into a car accident is thinking who was behind the wheel. You just want the compensation for any injuries or damages caused by [...]
webadmin
The holiday season is finally upon us. It is time to celebrate with family and friends, attend gatherings, or head off on vacation. This also often means traveling on rain covered roads and highways with [...]
I've been involved in an accident with an 18-wheeler!  What now?
If you have been injured in an accident involving a commercial truck and the truck was at fault, you will need a personal injury lawyer that has experience in commercial trucking lawsuits.  There are many local and federal laws that regulate the transportation industry, so a personal injury lawyer that knows those complicated laws will be in a better position to get you the proper compensation for your pain, suffering and loss.
What if the police find me partially at fault for an accident with a commercial truck?
Police officer determination of fault is not binding.  If you feel that the truck driver was at fault in your accident, consult an experienced personal injury lawyer with a track record of commercial trucking accidents to review your case.  Texas is a proportionate responsibility state and you could still recover money.  An attorney that knows Texas trucking laws will have an advantage representing you.
Who pays damages in an accident involving a commercial truck?
In most cases, the insurance company of the driver at fault pays for any settlements or judgements.  If the insurance adjuster contacts you about any settlements or anything regarding the accident, it's in you best interest to seek the advice of a personal injury attorney experienced in commercial trucking accidents.  Insurance adjusters look out for their insurance company, not your best interests.