Motorcycle Accident Attorney in Houston Texas
For people that drive cars or commercial vehicle it can be difficult to see a motorcyclist on the street.  Especially when drivers are not paying attention while driving or if they don't care about motorcyclists. When a car, truck, or commercial vehicle doesn't see a motorcyclist, an accident ending in tragedy can occur. In case of an accident, you will need a motorcycle Accident Attorney like Attorney Javier Marcos.
Attorney Javier Marcos
Attorney Javier Marcos is an accident lawyer in Houston that speaks Spanish. He can help you in your motorcycle accident case 24 hours a day. Offering free consultation, we go to you wherever you are, you can call 24 hours a day, visit the doctor at no cost, speak personally with the lawyer and the best customer service. Try not to talk to the insurance company, as they will try to give you the minimum amount of money. Let the Attorney Javier Marcos talk to the insurance company. For a motorcycle accident, call Attorney Javier Marcos.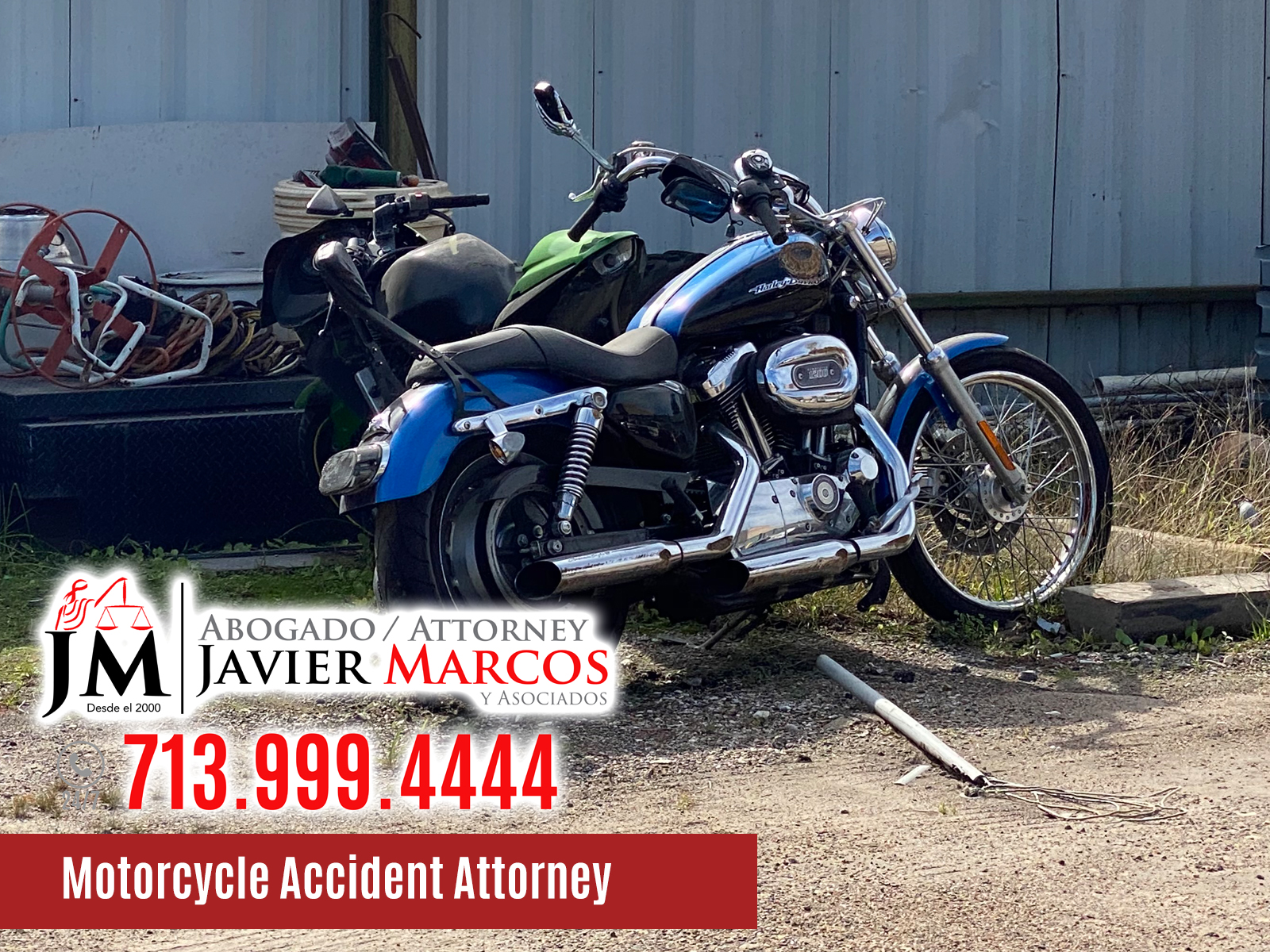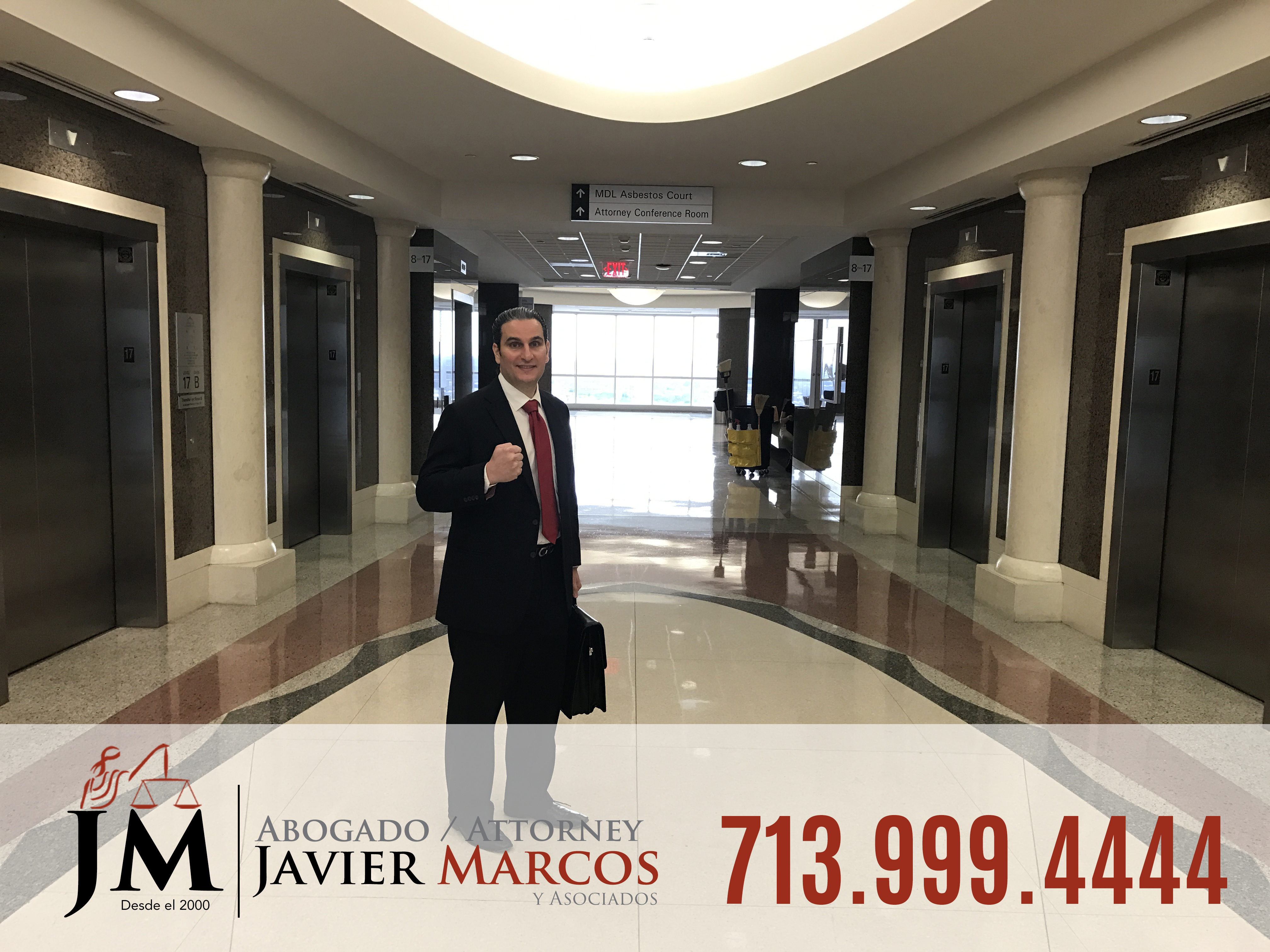 Attorney Javier Marcos
As exciting as it can be to ride a motorcycle, it is good to be aware of the risks that come with this vehicle. In fact, you'd be surprised to learn that motorcyclists are 27 times more likely to sustain a serious injury in a collision as compared to the passengers in a car, and 5 times more likely to die.
Read on to find out why there is such a huge difference in the risks involved. Attorney Javier Marcos  knows that motorcyclists have the same right to be on the road as any other driver.
The biggest cause of motorcycle accidents are caused by speeding or alcohol use. Since the motorcycle does not give much protection to the rider, accidents are more likely to result in very serious injury or even death.
es muy confiable y habla español y es muy comprometido con tus casos y es muy entregado en su trabajó
Great lawyer i recommend him
Ive had the best experience with this office! Amazing customer service! Javier Marcos really cares about ALL his clients and is the best attorney in Texas.
Es muy buen abogado. El servicio al cliente muy bueno. El abogado habla español.
There Very Professional and We've been given Exceptional services each time we use them for whatever our needs may be.. We won't use anyone but and highly recommend them for your legal services whatever it may be
Javier is a real straight shooter and works hard to get you your money. The staff are always pleasant and helpful. Highly recommended!
I recommend hiring this attorney for any personal injury matters he is a excellent attorney an his staff is very helpful and professional and caring so if you have a need for a personal injury attorney he is the man to go to, too get the most dedicated attention for your case Javier Marco's & Associates !!!
Very helpful honest lawyer. Yes I know honest and lawyer usually don't go together. Very knowledgeable in various practice areas.
Very recommended. He knows what he is doing. An attorney you can trust.
Lo recomiendo. El Abogado Javier Marcos se entiende con la gente Hispana.
El Abogado Javier Marcos es mi abogado. Siempre que quiero hablar con el esta disponible. lo recomiendo
Me parecio muy bien. Me gusta quw el abogado habla espanol. Es buena persona.
Mistakes Motorcyclists Make That Cause Accidents
Cruising around on a motorbike can be a thrilling experience, mainly due to the adrenaline rush that comes from speed. Unfortunately, this may also prove dangerous with lack of caution, experience, and even a slight miscalculation.
Often, bikers get carried away and end up making mistakes that lead to serious accidents. These mistakes can easily be prevented if motorcyclists are cautious when riding. Here are some of the most common mistakes that bikers make:
No matter how experienced you are at riding a motorcycle, wearing proper gear is crucial. Investing in the right gear, especially a well-fitting helmet can save you from severe head injuries in case of an accident.
Using wrong gear would not just cause injuries during an accident, but may lead to an accident. For instance, the wrong-sized helmet or a faulty helmet may result in a distorted view of traffic, which can affect your judgment on the road.
A bike that is not regularly maintained can be a major cause of an accident. Every vehicle needs proper maintenance and care to prevent malfunction or unpredictable breakdown during a ride.
While riding, bikers often neglect to pay attention to other vehicles on the road. Cars and trucks often make lane changes unexpectedly, which could cause a collision if the biker is not paying attention.
Indeed, it is tempting to speed when riding a bike. But, this is one of the major causes of motorcycle accidents. The more the speed, the greater the impact, and more severe consequences.
There can be road blocks, potholes crumbling pavements, or other such hurdles on the road. While signs are placed on roads, motorcyclists often ignore or fail to see those signs while speeding around traffic. This results in sudden brakes, causing severe or even fatal accidents.
DUI of drugs or alcohol contributes to high rates of accidents around the world. Rider fatigue is another factor for accidents. It is essential to be on high alert when riding your motorcycle to prevent potential accidents.
Must-Do Things after a Motorcycle Accident
Motorcycle accidents can lead to serious injuries, especially for the rider. No matter who caused the accident, it is important to take certain steps right after the collision for your safety and to ensure you get the maximum amount of compensation for the damages. A motorcycle accident attorney can help you with your case.
1. Seek Medical Attention
Whether you are injured or not, call 911 immediately and make sure you get yourself checked by medical personnel as soon as possible. You will not be automatically held responsible if you called 911 first. Seeking medical attention will also help you in your damage claim later.
2. Taking Photos of the Accident Scene
If it is safe to take photos, then try to capture the accident scene from as many angles as possible. These photos will prove useful when you file for the personal injury claim. However, be careful. Putting yourself or others to more risk just to take photos is not advisable and may have a negative impact on your claim.
3. Moving Your Vehicle if it's a Hazard
If your motorcycle is a hazard for other vehicles, then it is important to move it towards safety. Otherwise, avoid moving your vehicle until the emergency services arrive and you get a go-ahead from the police in charge.
4. Collecting Details
Try collecting as many details as you possibly can. Talk to the witnesses, passengers, other drivers, and the police officers at the scene. Make sure that you note down the contact details of the witnesses, the license numbers of the vehicles involved, contact information of other drivers involved, the name and badge number of the police officer, as well as the details of the involved drivers' insurance companies.  Keep in mind that you will need an official police report to file for the claim. Therefore, request the police officer to hand you a copy of the report for record keeping.
5. Call a Motorcycle Accident Attorney
The best thing you can do in this situation is hire a professional motorcycle accident attorney. An experienced attorney knows the right way of handling the insurance company, as well as the lawyers from the other parties involved. Be sure to follow their advice so that they can help you in attaining the best possible compensation for the damages you sustained in the accident. Attorney Javier Marcos can help 24 hrs.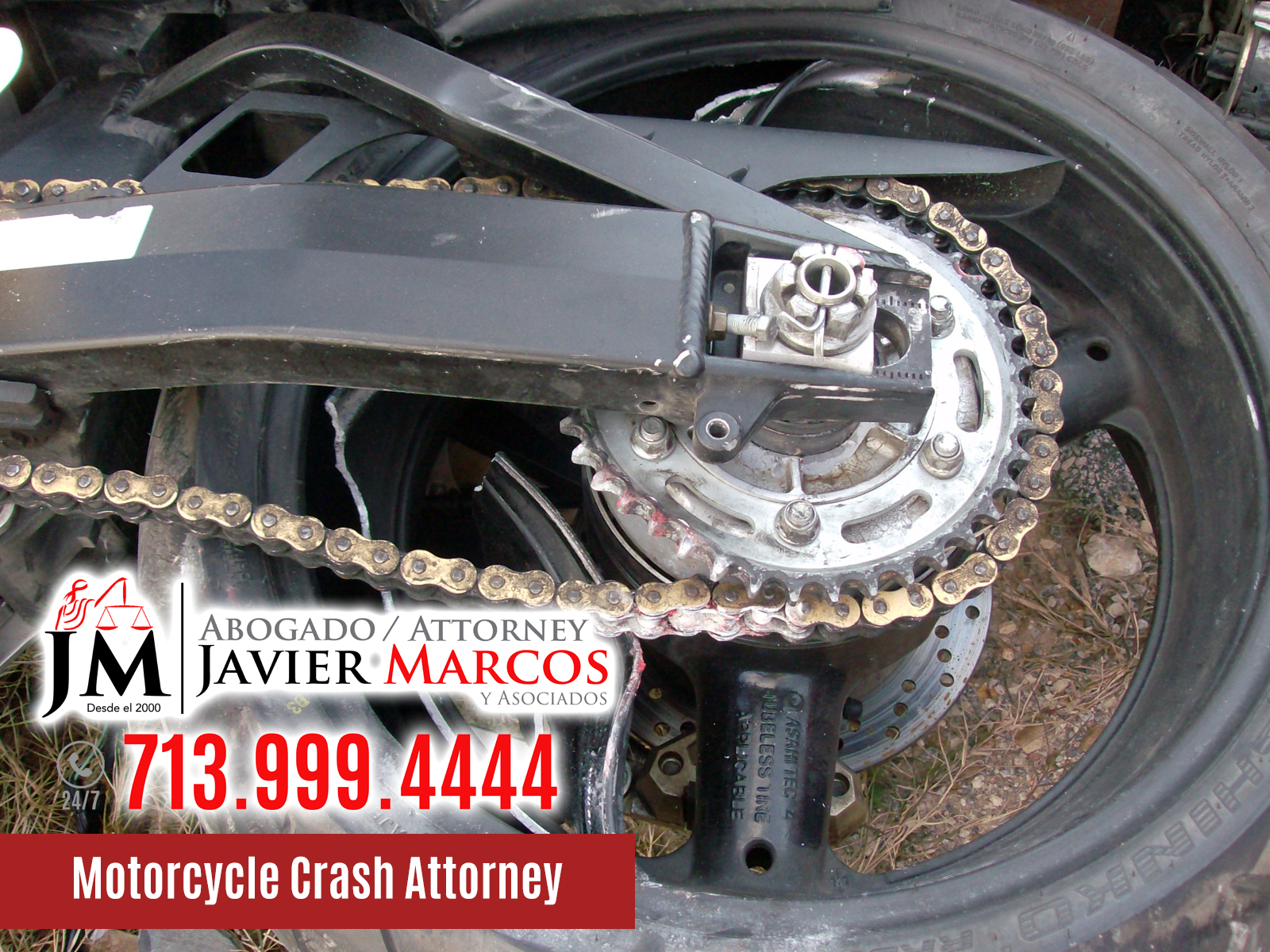 Motorcycles are a popular mode of transportation for many individuals. However, motorcyclists are the ones sustaining the most injuries in an accident. While it is important to be careful while driving, an accident can also be caused due to the negligence of another rider or an auto driver.
It is highly recommended that you consult an experienced motorcycle accident attorney in case of an accident to ensure your rights are not violated. An attorney will help you understand all the legal processes, guide you regarding the next steps you should take and ensure you are properly compensated in case you sustained injuries due to someone else's negligence.
These are some of the worst risks that bike riders face on a daily basis. So if you regularly take your motorcycle out for a spin, it is a good idea to be aware of these things.
·      Motorists Pull in Front of Motorcycles
Car drivers have a hard time figuring out how much farther away motorcycles really are from them, and tend to overestimate the distance behind them. This causes them to misinterpret a turn, assuming the bike is still away from the car when it isn't, and this often leads to an intersection collision.
·      They Even Fail to See Motorcycles at Times
Drivers of other cars usually see motorcycles as smaller threats, so they don't exactly look out for them. Although this is a direct violation of the law, a huge number of people still seem to do it. This becomes an issue for motorcycle riders when car drivers are changing lanes and don't see them, as they may move right over onto a motorcycle and cause the rider to swerve.
·      Distracted Drivers
Another aspect of neglecting the rules of the road that most affects motorcycle riders is that drivers are often distracted while driving. This includes texting, talking, eating or doing other tasks while driving. If a distracted driver is about to come into collision with another car, they have a much higher chance of noticing it in time and stopping than they would if they were coming into collision with a bike.
·      Gravel on the Road
Although generally bikers make their way around corners and narrow lanes much more easily than cars and other vehicles, it becomes an issue when there are obstacles in the path. Things like sticks, dirt and stones can all be very deadly for motorcyclists. It can kill the riders grip within seconds and can easily cause a wreck.
·      Drinking and Riding
According to some studies, motorcyclists are more likely to drink and ride than car drivers; or at least get into more drunk driving related accidents. There may be a misconception among bike riders that they're safe to ride even while intoxicated, as the bikes usually self-stabilize. Nothing could go wrong with a little booze on the side, right? Well, wrong. No matter how safe you think it is to drink and ride a motorcycle, alcohol slows down your reaction time, making you much more likely to get into an accident.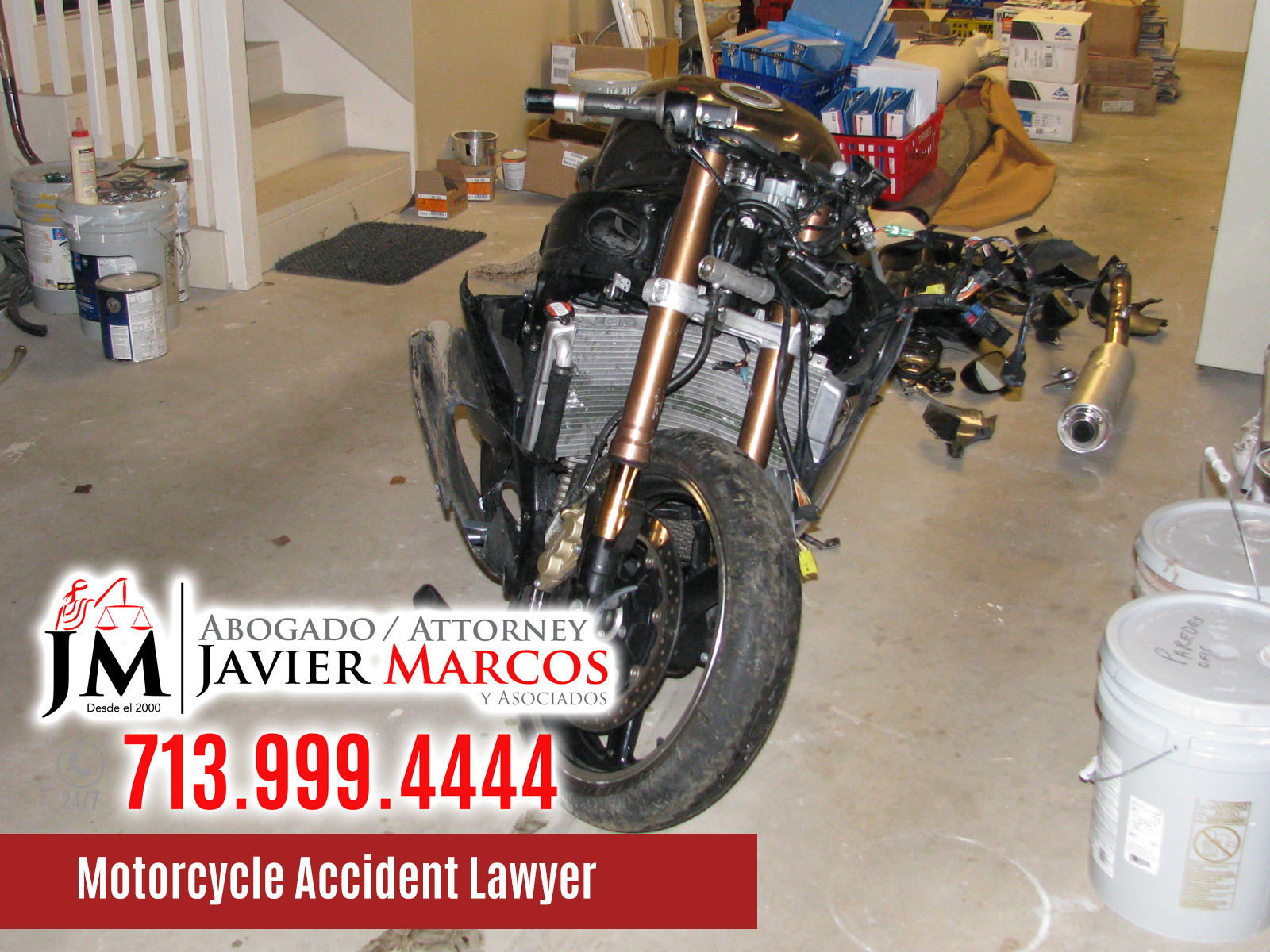 If you've suffered an accident, you have a right to file a lawsuit to recover your losses, medical expenses, treatment, pain & suffering, lost wages, inability to work or function, property damages, and others. If Spanish is your first language, do not worry, Attorney Javier Marcos is fluent in Spanish and everybody in the office speaks Spanish fluently and are available 24 hrs a day, seven days a week.
It's important that you call attorney Javier Marcos as soon as possible so that you can start your medical treatment, improve your legal position, preserve evidence, and learn your rights.
Attorney Free Consultation,  receive money for your accident, its ok if you do not have any papers, we all speak Spanish, you do not have to pay anything unless we win the case, speak directly with Attorney Javier Marcos, receive medical attention at no cost, WE GO TO YOU 24 HRS. A DAY SEVEN DAYS A WEEK.  Your information is 100% confidential and we'll visit the accident site, your home, or the hospital.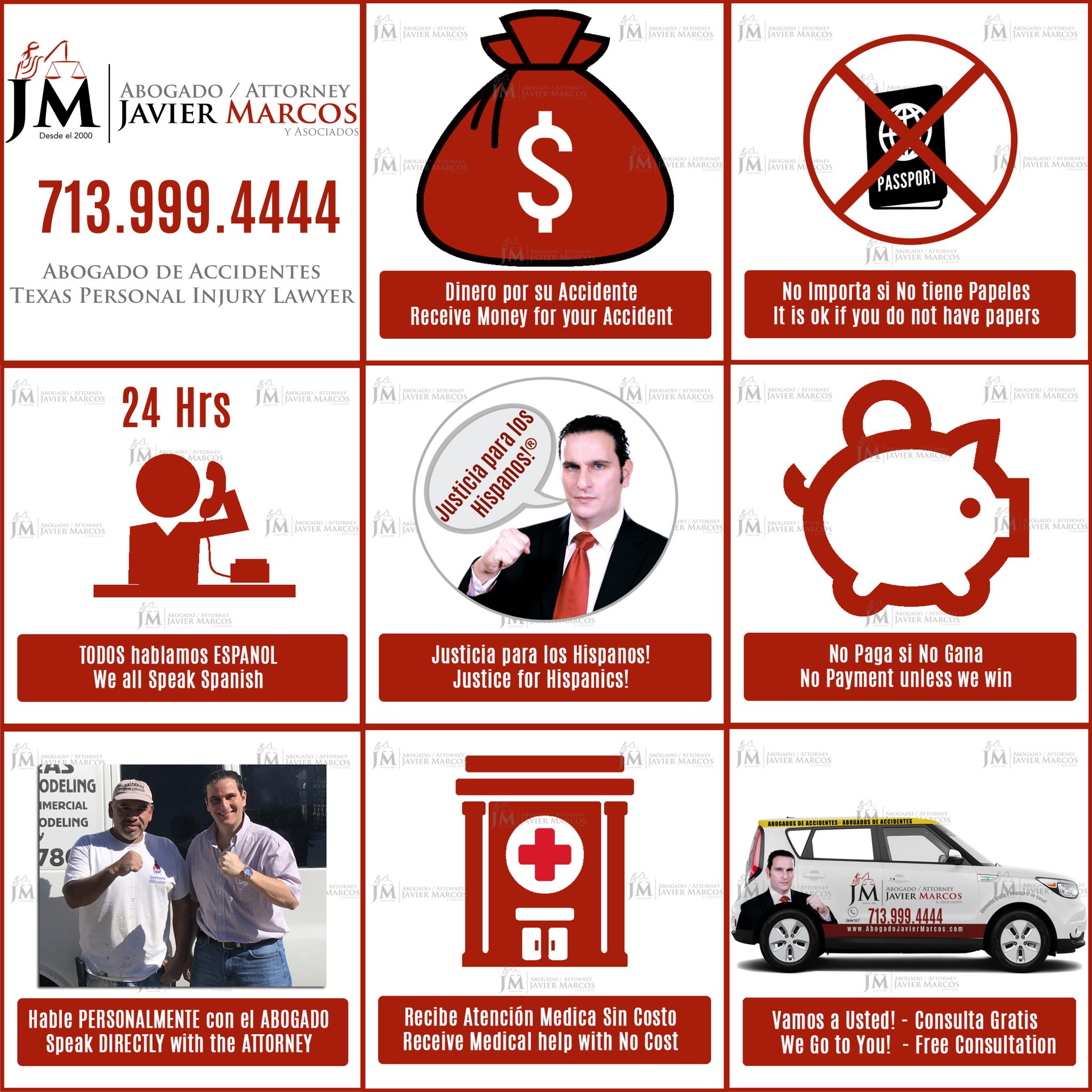 webadmin
The reason behind most of the road accidents that take place is fairly common: negligent driving. Everyone knows that this is wrong, but still people continue to exhibit negligent behaviors while driving, leading to more and [...]
webadmin
More often than not, the last thing you care about after getting into a car accident is thinking who was behind the wheel. You just want the compensation for any injuries or damages caused by [...]
webadmin
The holiday season is finally upon us. It is time to celebrate with family and friends, attend gatherings, or head off on vacation. This also often means traveling on rain covered roads and highways with [...]
Motorcycle Accident FAQs
How do I prove that I am not responsible for my motorcycle accident?
Answer: It seems that insurance companies love to blame motorcycle drivers for accidents by painting a picture of reckless commuters. It is very important if you are able to take photos of your motorcycle accident and the accident scene. Also take photos of your injuries and damage to your motorcycle. Next, get names and phone numbers of people that witnessed your motorcycle accident. The Insurance Information Institute reported 89,000 motorcyclist injuries in 2017 and 5,172 deaths. Motorcycle accidents can cause very serious injuries. It is important to properly document and retain the services of an experienced personal injury attorney to help you navigate the legal pitfalls and get you the compensation you deserve.
How much money should I expect to get from a motorcycle accident I was in?
Answer: There are many variables that come into play when determining compensation and recovery. Some of them are extent of injuries, damages to your property, loss wages and any temporary or permanent disability you may have gotten. Motorcycle accidents are inherently more dangerous than accidents involving cars and trucks because the protection given to the motorcycle operator is very minimal. Your best action would be to retain a personal injury attorney with experience in motorcycle accidents. He or she will help you by gathering evidence, documenting medical services and other costs and maximizing your compensation to cover all your loss. It is very important that you do not settle with insurance companies until you speak to an attorney.
My motorcycle and I were run off the road by a car which drove off from the scene. Do I have a case through my uninsured motorist policy?
Answer: If an unidentified vehicle causes your accident or it was a hit and run vehicle, you can file a claim under your own uninsured motorist policy. If your injuries are significant you may want to talk to a personal injury attorney to see what your options are.