Construction Accident Attorney in Houston Texas
Of all types of work accidents, construction accidents are by far the most prevalent.  According to the Bureau of Labor Statistics (here), there were over 5,333 fatalities in the workplace in 2019.  A worker died every 99 minutes.  Hispanic and Latino workers made up 20% of the fatal injuries during that time.  If the construction company participates in the Texas Workers' Compensation program, then you cannot sue your employer for damages.  They have to provide for your medical care and to make you whole.  But there are circumstances where you may be able to receive compensation from a third party which contributed to your injuries.  If you have been seriously injured or one of your loved ones died as a result of a construction accident, contact Attorney Javier Marcos.  He is very experienced in construction accidents and the Texas laws that pertain to them.
En español: Abogado de Accidentes en Construccion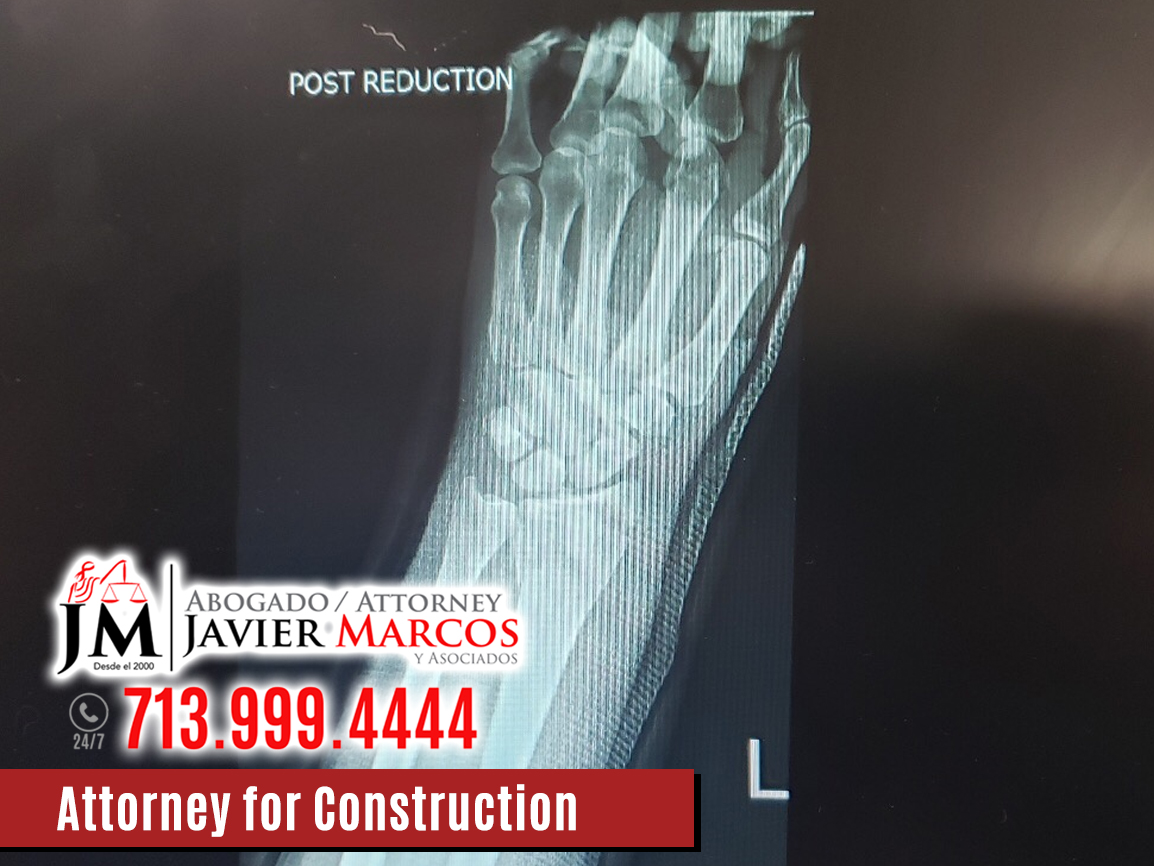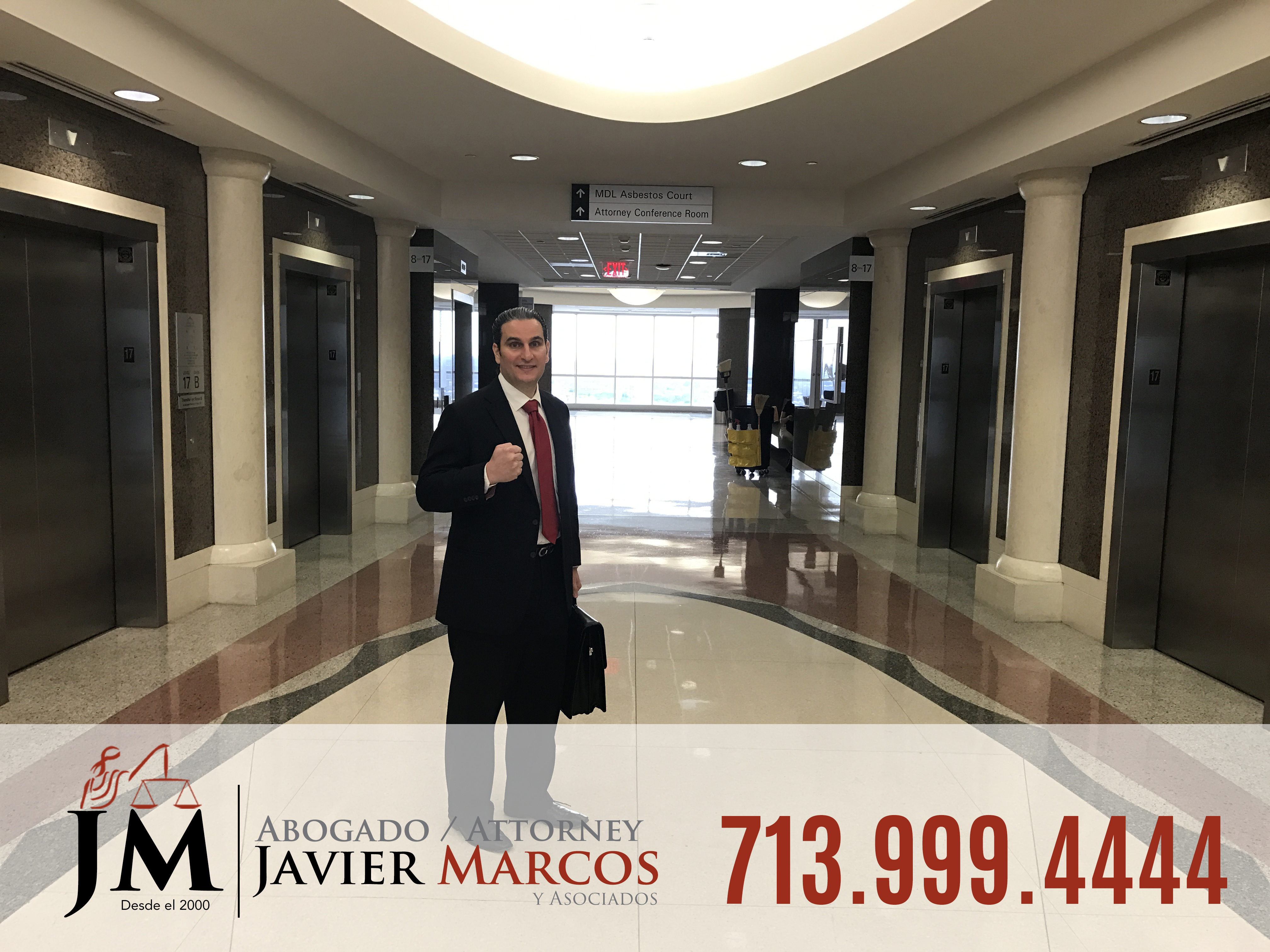 Why hire a Houston construction accident lawyer?
Not all personal injury attorneys are the same.  Attorney Javier Marcos lives and works in Houston.  He is familiar with federal, state and local laws as they pertain to construction accidents.  Many times when it comes to severe injuries or disabilities that come from the injuries, Texas Workers Compensation does not have enough benefits to fully compensate you for your pain, suffering, loss of work and other factors.  An experienced construction accident lawyer like Attorney Javier Marcos will look at the accident from many different angles and find ways to get you more compensation for your injuries.  A personal injury lawyer works on a contingency basis so there is no out of pocket expenses for you.  Attorney Javier Marcos gets paid when you get paid. So it is a win-win situation.
es muy confiable y habla español y es muy comprometido con tus casos y es muy entregado en su trabajó
Great lawyer i recommend him
Ive had the best experience with this office! Amazing customer service! Javier Marcos really cares about ALL his clients and is the best attorney in Texas.
Es muy buen abogado. El servicio al cliente muy bueno. El abogado habla español.
There Very Professional and We've been given Exceptional services each time we use them for whatever our needs may be.. We won't use anyone but and highly recommend them for your legal services whatever it may be
Javier is a real straight shooter and works hard to get you your money. The staff are always pleasant and helpful. Highly recommended!
I recommend hiring this attorney for any personal injury matters he is a excellent attorney an his staff is very helpful and professional and caring so if you have a need for a personal injury attorney he is the man to go to, too get the most dedicated attention for your case Javier Marco's & Associates !!!
Very helpful honest lawyer. Yes I know honest and lawyer usually don't go together. Very knowledgeable in various practice areas.
Very recommended. He knows what he is doing. An attorney you can trust.
Lo recomiendo. El Abogado Javier Marcos se entiende con la gente Hispana.
El Abogado Javier Marcos es mi abogado. Siempre que quiero hablar con el esta disponible. lo recomiendo
Me parecio muy bien. Me gusta quw el abogado habla espanol. Es buena persona.
Construction Accident Process
Attorney Javier Marcos and his team will gather company and medical records regarding your case.  He will obtain any documentation from your supervisor as well as any safety reports that may impact your case.
Attorney Javier Marcos will obtain any evidence that may be on the scene such as security camera footage as well as get witness statements and police records if there is one.  If you have been transported by EMS, he will get a copy of that transport record.
Not everyone knows how to negotiate properly, but a personal injury lawyer is trained and experienced in negotiating with insurance companies and defendants' lawyers. They will go through all the terms and specific details to make sure your rights are protected.
Common Causes of Construction Accidents in Houston?
Houston is a fast growing city.  Our population explosion has created a huge construction industry business.  According to the Texas Department of Insurance, construction remains one of the deadliest industries in Texas.
The cause of construction accidents include:
Falls, slips and trips
Transportation incidents
Exposure to harmful substances
Workplace violence
Getting hit by falling objects
Fires and explosions
Common Types of Injuries in Construction Accidents
Construction accidents occur every day.  Most are minor and cause minimal injuries.  Sometimes the accidents are serious and can cause severe injuries and death.  Some of the more common injuries you can get include:
Head injuries
Neck and back injuries
Broken bones and fractures
Burns
Chemical exposure
Temporary, long-term or permanent disability
Types of Construction Accident Claims?
If you have been injured in a construction accident at work, you may be able to file one or multiple claims.
Workers Compensation Program
Texas has very business-friendly workers compensation laws.  If you have been injured at work and they participate in the workers compensation program, then you will get medical treatment and and further treatment through the workers compensation insurance.  You only need to prove that you got injured on the job to get workers compensation benefits.  These benefits include medical care, follow-up treatments or rehabilitation.  You may qualify for other benefits depending on the severity of your injuries.
Third Party Liability
If a third party such as a product or equipment contributed to your injuries, then you may be able to file a claim against them.  Speak to Attorney Javier Marcos about your options to get additional compensation for your injuries.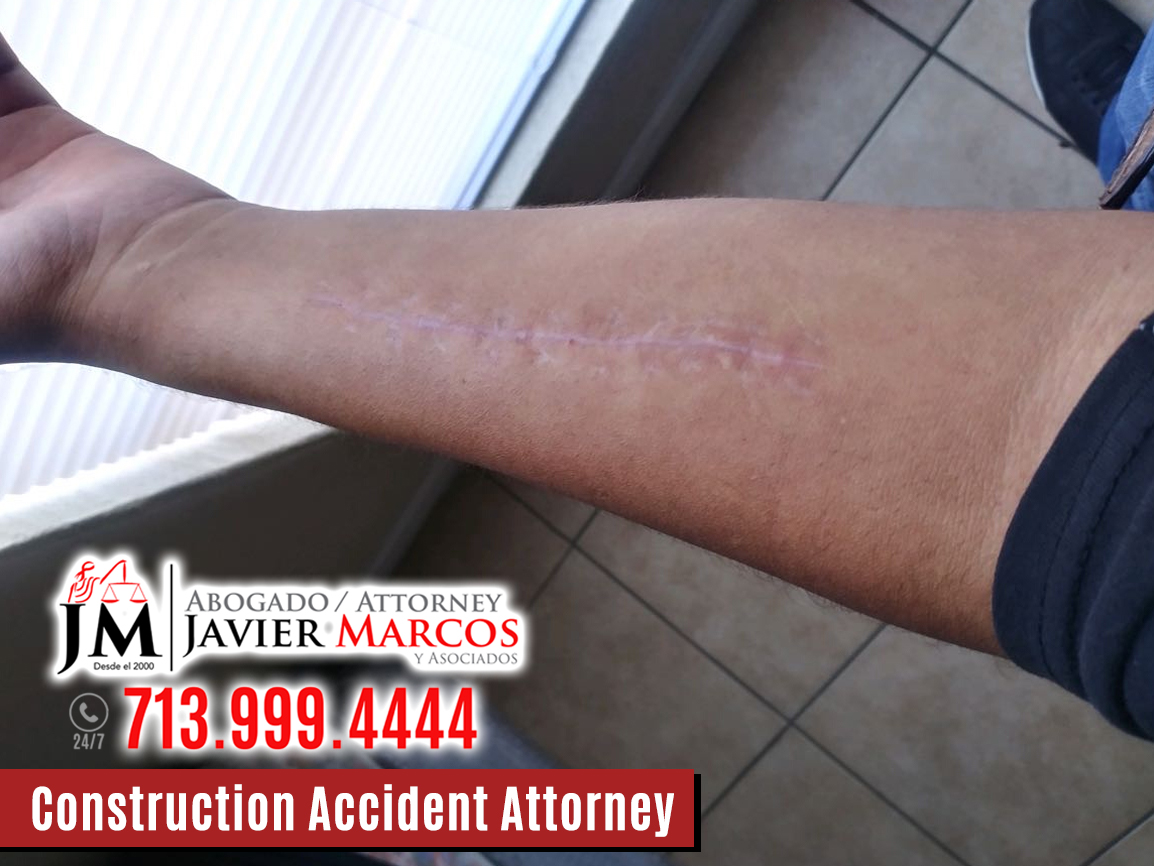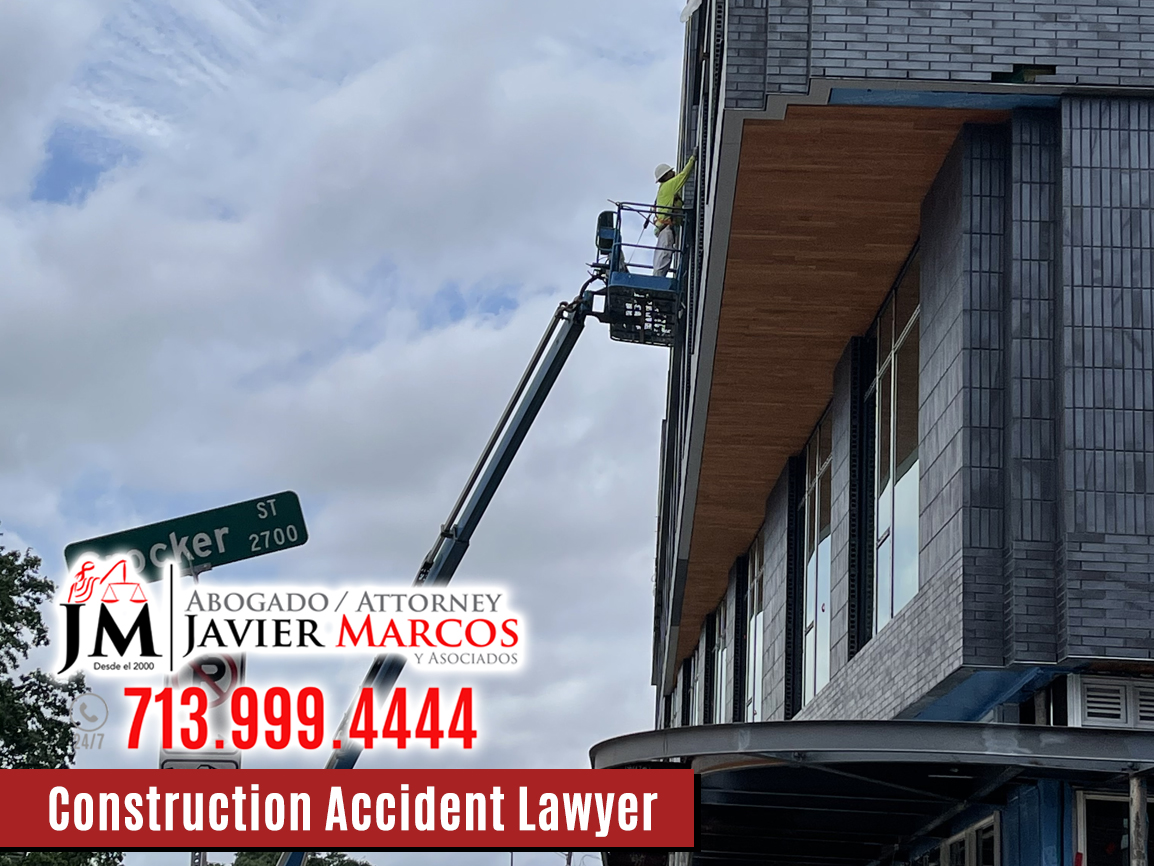 Who can be liable in Construction Accidents?
Construction Site Owner – Liability mainly depends on if the site owner has much control over the activities on the property and if they were aware of any hazardous conditions .
General and Sub-Contractors – Under OSHA regulations, these contractors are required to maintain a safe work environment for their workers.  If through negligence or inaction, they caused an accident to occur that led to injuries then they could be held liable.
Architects and Engineers – In some cases, architects and engineers have a duty to observe progress and ensure compliance with plans and relevant code regulations. To determine whether an architect or engineer may be liable for an injury, it is necessary to establish which duties were outlined by their contract with the construction company.
Manufacturers – Any party in the chain of distribution of a defective product, including manufacturers, retailers, and wholesalers, may be held liable if a defect in their product causes an injury.
If you've suffered an accident, you have a right to file a lawsuit to recover your losses, medical expenses, treatment, pain & suffering, lost wages, inability to work or function, property damages, and others. If Spanish is your first language, do not worry, Attorney Javier Marcos is fluent in Spanish and everybody in the office speaks Spanish fluently and are available 24 hrs a day, seven days a week.
It's important that you call attorney Javier Marcos as soon as possible so that you can start your medical treatment, improve your legal position, preserve evidence, and learn your rights.
Attorney Free Consultation,  receive money for your accident, its ok if you do not have any papers, we all speak Spanish, you do not have to pay anything unless we win the case, speak directly with Attorney Javier Marcos, receive medical attention at no cost, WE GO TO YOU 24 HRS. A DAY SEVEN DAYS A WEEK.  Your information is 100% confidential and we'll visit the accident site, your home, or the hospital.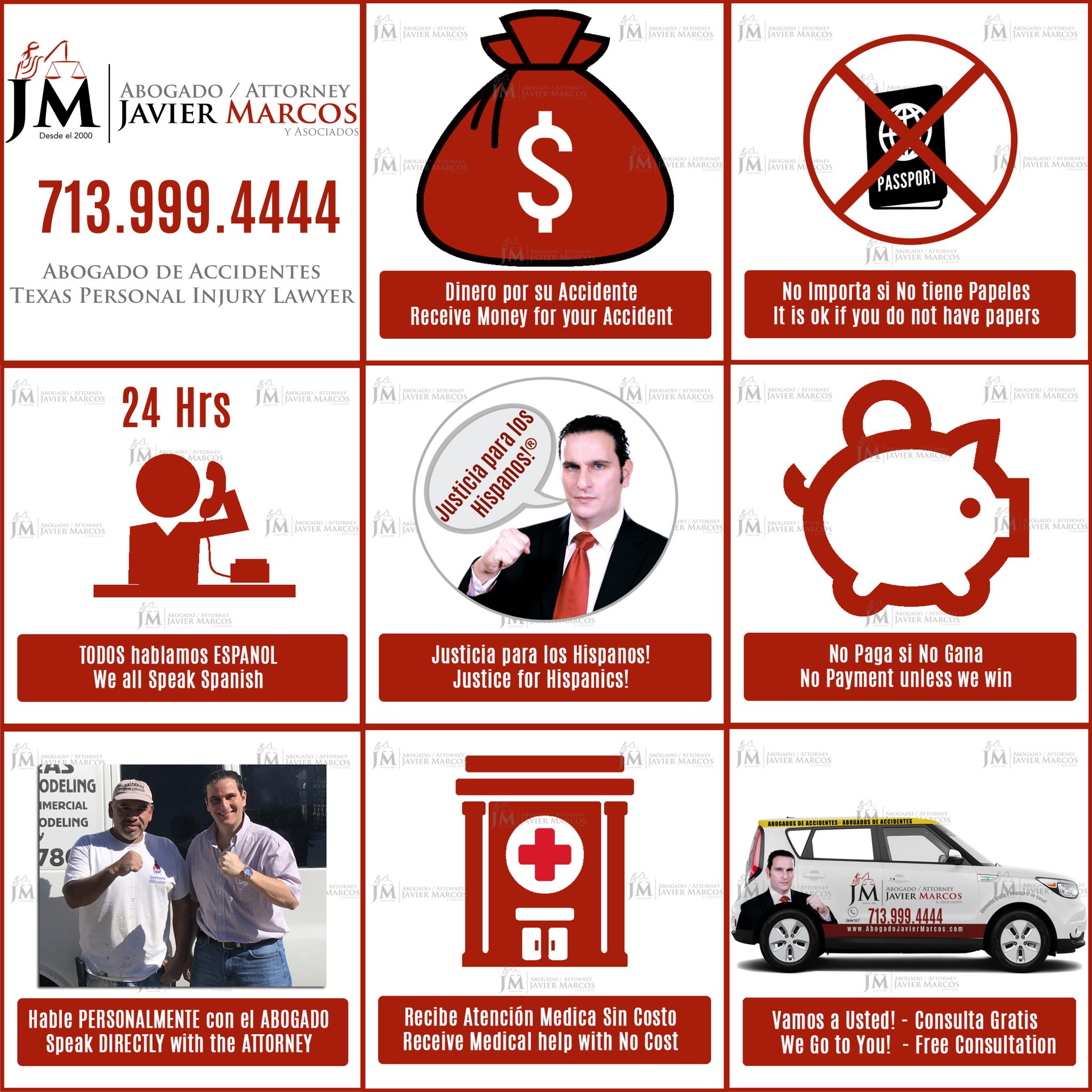 webadmin
Motorcycle accidents are a lot more common that one may think. In fact, according to the statistics by National Highway Traffic Safety Administration (NHTSA), motorcycle riders are 27 times more likely to die in a [...]
webadmin
Houston is the 4th largest city in the United States and every day there are truck accidents. The sad thing about this is that the drivers behind the wheel are not being properly trained by [...]
webadmin
The COVID-19 pandemic has caused drastic changes around the world, and Uber is no different. With the lockdown being lifted, and normal life being resumed. Uber has announced a set of safety measures that would [...]