Bicycle Accident Attorney in Houston Texas
With Houston's mild weather and city sprawl, we have many places where people ride bicycles.  There are also many large communities in and around Houston where kids and adults alike ride bicycles.  In the inner city and urban areas, people use bicycles for work and means of transportation outside of recreational use.  In 2019, the Texas Department of Transportation recorded over 2,500 accidents resulting in over 870 injury accidents with over 60 fatalities.  Harris County topped the list of local areas with the most bicycle accidents. A bicycle accident attorney like Attorney Javier Marcos can help you receive a compensation for your injuries. Along with he can also help with other losses like property damage.
Attorney Javier Marcos
Bicycle accidents can often lead to very serious injuries that can cause long term or permanent disabilities. Undoubtedly, it is important that you have an experienced accident attorney to represent you.  Attorney Javier Marcos is a Houston accident attorney who can help you with your bicycle case. He has more than 20 years of accident experience. Above all, his office focuses on great customer service. He also knows that when someone is involved in a bicycle accident,  life can change completely. We are ready to help you, dial 24 hours a day at 713-999-4444. In addition everyone in the office speaks Spanish not only but also we go wherever you are.
En español: Abogado de Accidentes de Bicicleta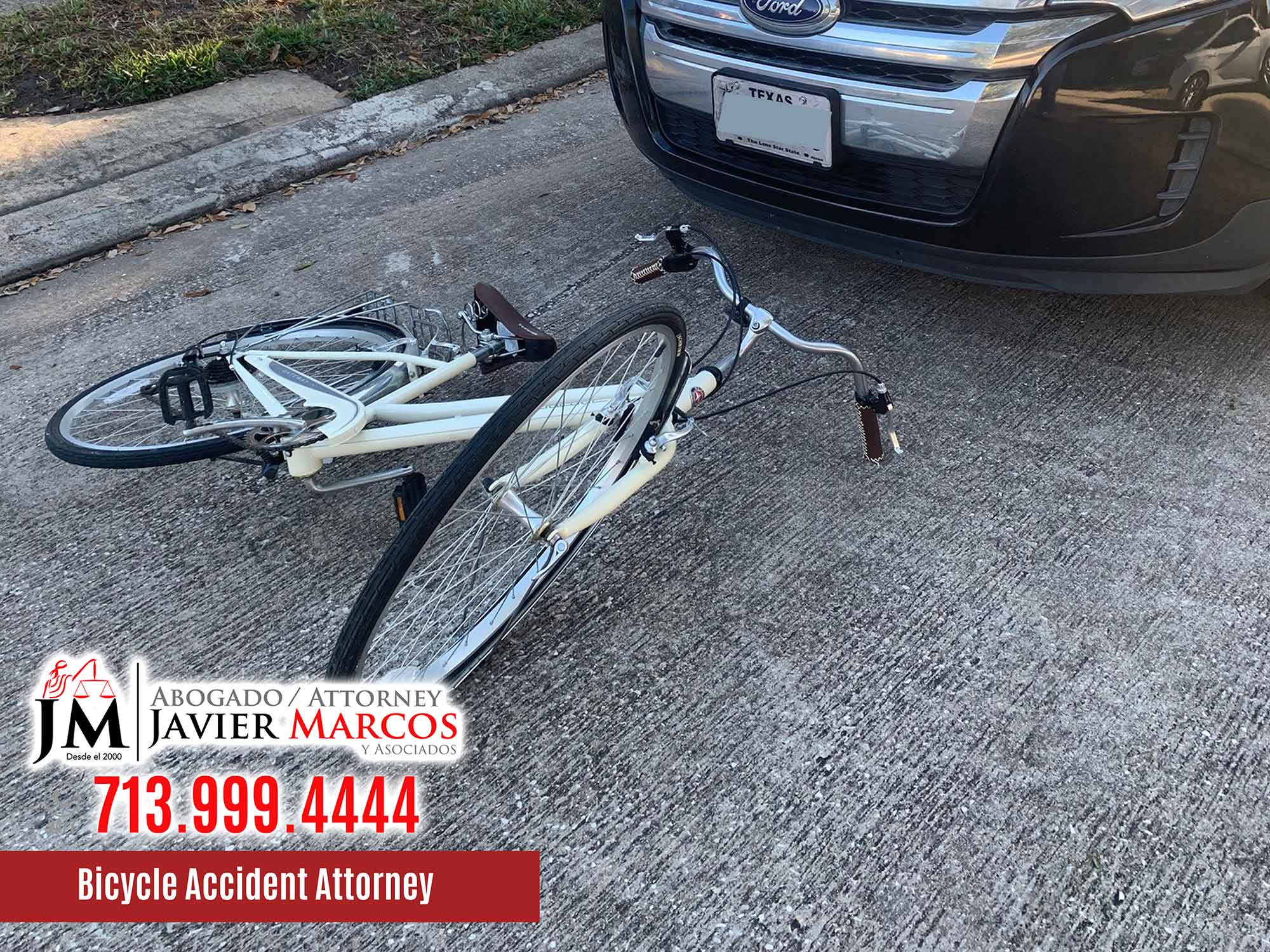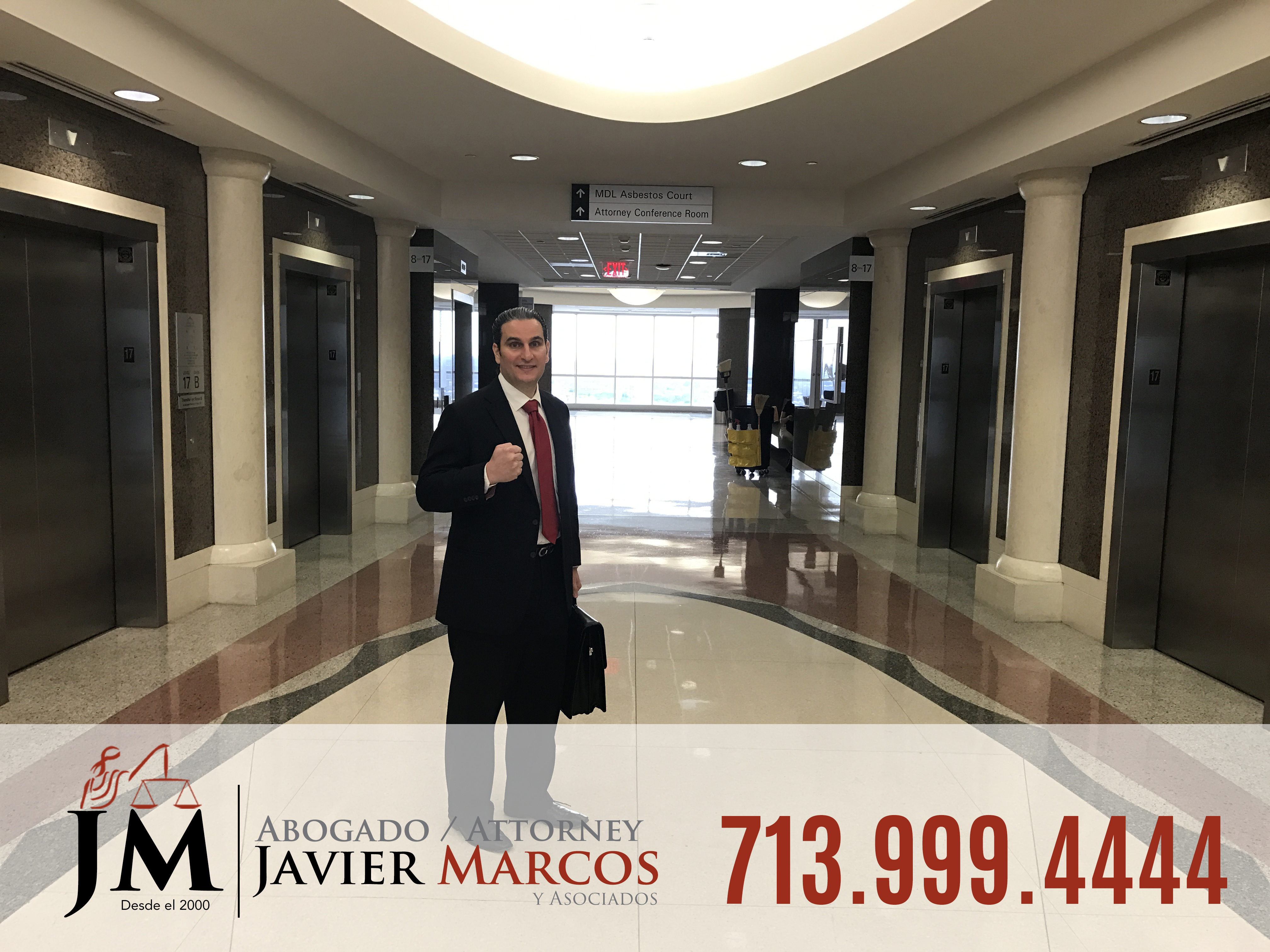 Why hire a Houston bicycle accident lawyer?
Clearly bicycle accidents can result in serious injuries.  These injuries can create problems for many years to come.  A personal injury attorney will ensure that all aspects of your loss will be calculated into the compensation you receive.  Insurance companies are too concerned with saving money and unquestionably will minimize the amount of money they pay out.  It is in your best interest to have an experienced personal injury attorney represent you especially if the case goes to court. At this time your attorney will gather evidence And get witness statements and all other aspects of the case to make sure you have the best advantage when getting compensated for your loss.
Compensation
Additionally, personal injury lawyers work on a contingency basis meaning that they don't get paid unless they win your case.  That is a win-win.  We get our compensation if we get compensation for you.  And we will make sure that your compensation covers all your loss today. And into the future in the event that your injuries have lasting effects.
es muy confiable y habla español y es muy comprometido con tus casos y es muy entregado en su trabajó
Great lawyer i recommend him
Ive had the best experience with this office! Amazing customer service! Javier Marcos really cares about ALL his clients and is the best attorney in Texas.
Es muy buen abogado. El servicio al cliente muy bueno. El abogado habla español.
There Very Professional and We've been given Exceptional services each time we use them for whatever our needs may be.. We won't use anyone but and highly recommend them for your legal services whatever it may be
Javier is a real straight shooter and works hard to get you your money. The staff are always pleasant and helpful. Highly recommended!
I recommend hiring this attorney for any personal injury matters he is a excellent attorney an his staff is very helpful and professional and caring so if you have a need for a personal injury attorney he is the man to go to, too get the most dedicated attention for your case Javier Marco's & Associates !!!
Very helpful honest lawyer. Yes I know honest and lawyer usually don't go together. Very knowledgeable in various practice areas.
Very recommended. He knows what he is doing. An attorney you can trust.
Lo recomiendo. El Abogado Javier Marcos se entiende con la gente Hispana.
El Abogado Javier Marcos es mi abogado. Siempre que quiero hablar con el esta disponible. lo recomiendo
Me parecio muy bien. Me gusta quw el abogado habla espanol. Es buena persona.
What to do after a bicycle accident
Nevertheless, a collision of a bicyclist with a car or a truck is indeed frightening. It may result in devastating consequences. While it can be a nerve-racking experience, the steps you take afterward can have a major impact on your case.
Here are some essential things to do after a bicycle accident:
It is important to stay levelheaded after an accident to ensure you make the right decisions that will help your claim. Seek consultation from an experienced lawyer immediately so that they can guide you throughout the process.
What are Common Causes of Bicycle Accidents in Houston?
It should be noted, each year over 2,000 bicycle accidents occur in Texas alone.  Of those, 34% of accidents that result in some sort of injuries.  Nevertheless, not all bicycle accidents are caused by a collision with a car or truck. Even poorly maintained roads can contribute to accidents as well.
The cause of bicycle accidents include:
Distracted drivers.
Poor road conditions.
Failure to give right of way.
Inclement weather.
Blind spots for drivers.
Common Types of Injuries in Bicycle Accidents
Bicycle accidents result in many types of injuries.  Many times these injuries are severe due to the size of the vehicles compared to bicycles.  Some common injuries include:
Neck and Back Injuries.
Broken Bones.
Strained Muscles.
Cuts and Bruises.
Internal Organ Damage.
Brain Injuries.
Amputations.
Permanent Disfigurement.
Disability that may be permanent.
What can I expect to get if I file a bicycle accident claim?
A good personal injury attorney will look at every aspect of your case to determine the amount of compensation that they go after.  The claim will include medical expenses and immediate losses you sustained from the accident.  Other situations include loss of income from not being able to go to work. As well as pain and suffering along with compensation for any short term, long term or permanent disability you have as a result of the accident.  Moreover, in cases of negligence, we may seek additional compensation as a punitive measure.
Insurance Companies
Without a doubt, insurance companies have adjusters and attorneys that work hard to minimize the amount of money being paid.  Additionally, there are many laws that help the business rather than the person that was hurt.  An experienced personal injury lawyer knows the proper steps and process to get you the most compensation. Importantly, an attorney will advise you whether to settle for the compensation offered or the case may need to go to trial.  Expectation-wise, every bicycle accident case is different. Clearly depending on the injuries sustained and the variables around the accident and why it occurred.  Subsequently, its always best to seek the legal advice of a personal injury attorney when determining if you will be filing a claim.  Our initial consultation is free and we work on a contingency basis.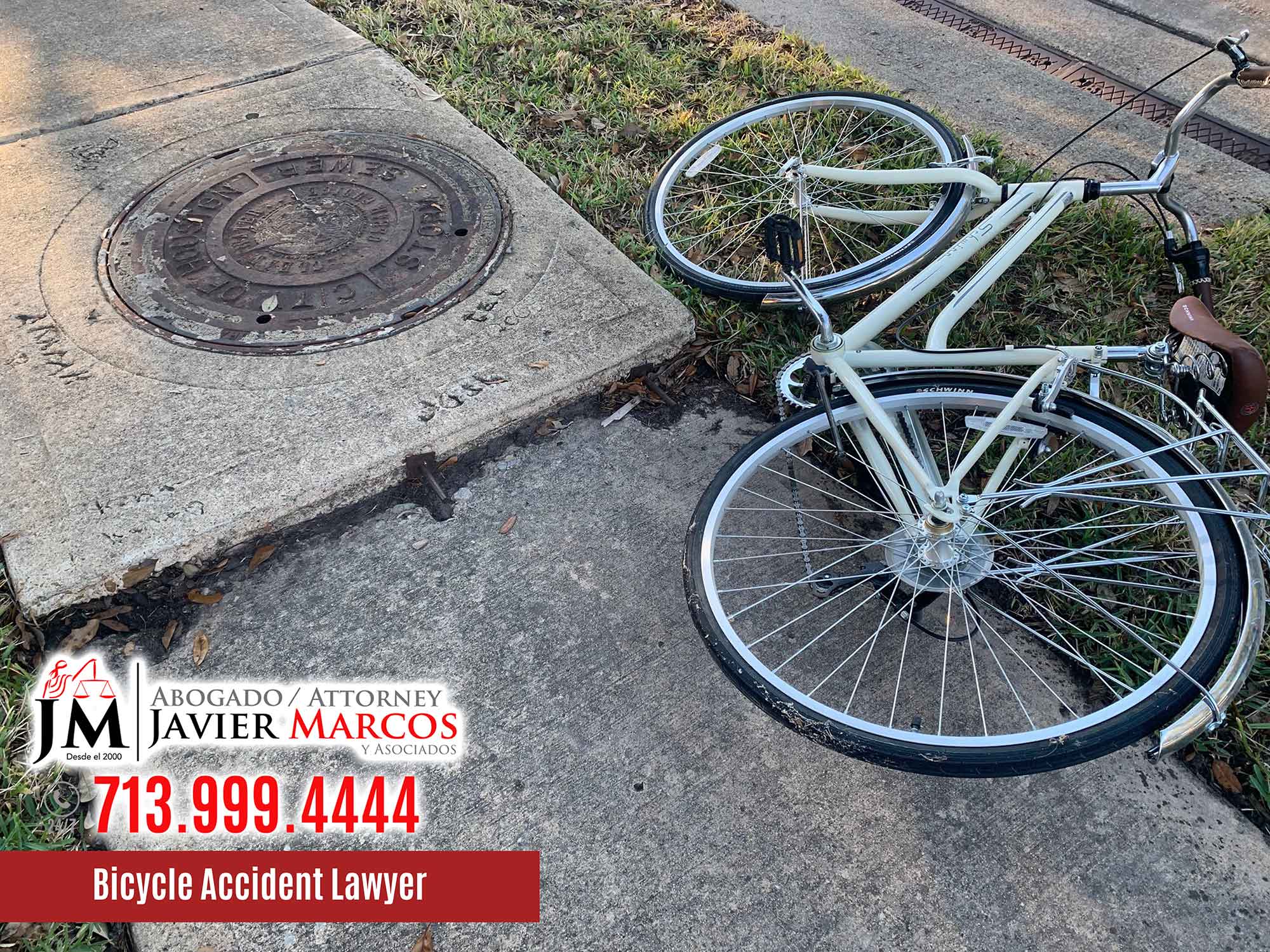 If you've suffered an accident, you have a right to file a lawsuit to recover your losses, medical expenses, treatment, pain & suffering, lost wages, inability to work or function, property damages, and others. If Spanish is your first language, do not worry, Attorney Javier Marcos is fluent in Spanish and everybody in the office speaks Spanish fluently and are available 24 hrs a day, seven days a week.
It's important that you call attorney Javier Marcos as soon as possible so that you can start your medical treatment, improve your legal position, preserve evidence, and learn your rights.
Attorney Free Consultation,  receive money for your accident, its ok if you do not have any papers, we all speak Spanish, you do not have to pay anything unless we win the case, speak directly with Attorney Javier Marcos, receive medical attention at no cost, WE GO TO YOU 24 HRS. A DAY SEVEN DAYS A WEEK.  Your information is 100% confidential and we'll visit the accident site, your home, or the hospital.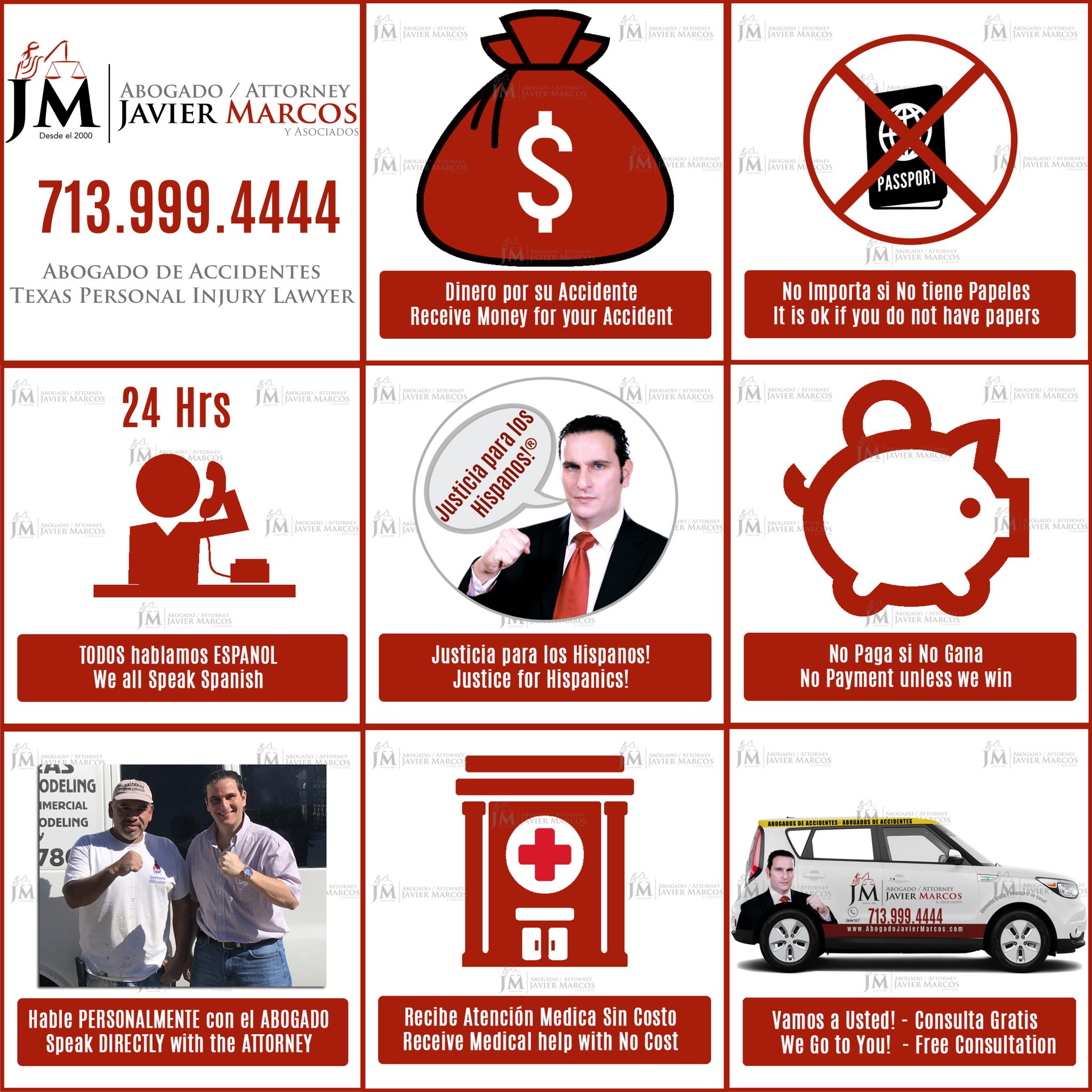 webadmin
You never expect to get into an accident, but you can never predict when you find yourself at the center of this unfortunate event. And afterwards, it can be a traumatic experience.  There are some [...]
webadmin
Getting into a motorcycle can be a life-changing incident, and not in a good way. These accidents can be a lot more fatal than car accidents, or any other vehicle for that matter. Distracted driving [...]
webadmin
Delivering food at your doorstep services are basically a gift from heaven. It has become so easy and so affordable to order food which gets delivered to your doorstep within minutes. That people use these [...]
Bicycle Accident FAQ's
Should I hire an attorney for a bicycle accident?
Yes, if you were seriously injured, it is a good idea to retain an attorney that is experienced in handling bicycle accident claims. A personal injury lawyer will ensure that you receive a compensation for your injuries and other factors such as lost wages and property damage.
How much does a bicycle accident lawyer charge?
Personal injury lawyers that represent victims of bicycle accidents work on a contingency basis which means there are no upfront costs. You give us no payment. The only way we get paid from a bicycle accident claim is if we win your case and you get a compensation.
How long do I have to file a bicycle accident claim?
Texas has a statute of limitations when it comes to filing a claim that you were injured in your bicycle accident. There are different time limits to different types of claims, so it is important that you retain an experienced accident attorney like Attorney Javier Marcos to represent you.
Should I go to the hospital after a bicycle accident?
It is always a good idea to get medically checked out after a bicycle accident. Seeking medical care will help if you sustained injuries, it will help your case legally when you hire a bicycle accident attorney to represent you in an injury claim to recover medical expenses you paid to get treatment.
I wasn't wearing my helmet.  Can I still get compensated for my injuries?
There is no Texas law requiring people to wear helmets while riding a bicycle.  Houston requires that people under 18 wear a helmet when riding a bicycle. If you have been injured while riding a bicycle, you are eligible for a compensation for your injuries and any losses.